Review of JVC Everio Flash Memory Digital Camcorder
Introduction
JVC has recently launched a new digital camcorder with flash memory. It has a recording time of 4.5 hours with a high quality DVD movie video recording. The JVC Everio flash camcorder has an integrated hard disk, having an extraordinary storage capacity. It is very handy and lightweight, which makes it easy to take it anywhere you want. It has an attached battery and it weighs not more then 14 oz.
Features and Specifications (4 out of 5)
The JVC Everio Flash Memory Digital Camcorder has an optical zoom of 35x. The storage capacity of 16GB as internal storage and it has a slot of SD/SDHC that can be extended up to 32GB that is removable. This camcorder is available in two colors that are blue and black. Its laser touch operation makes it classy and easier to use. It has an auto record option for immediate recording. This camcorder has an advanced technology named as Advanced Image Stabilizer that is used for stabilizing the camera shake. Super LoLux in this camcorder maximizes the sensitivity to stumpy or dim light. CMOS sensor is an additional feature. The audio and video file format for this device is MPEG-2 (.MOD) and 2-ch Dolby Digital. The 2.7-inch LCD gives a resolution of 123K dots. One of the special feature of this camera is that is has a recording time of 14 minutes.
The JVC Everio has a rechargeable battery. The battery life is 2 hours and 45 minutes on average. The resolution and sensor size of JVC Everio is 800K pixels and 1/6-inch CCD respectively. This new camcorder is very portable, compact and is very easy to use. Its body looks nice, as it's not made of plastic wholly. Its two attractive colors make it even more attractive and classy. I have my own in black and it looks really nice and graceful.
Design (5 out of 5)
The JVC Everio has a very comfy grip and it really fits your hand. The battery is placed at the back of the camera and there is ample space for the buttons. The start and stop buttons are at the right side of the camera. There is a zoom rocker along with a snapshot button on the top. On the left side of the camcorder, there is a small button that allows you to enjoy added snapshots. To open and close the LCD, there is a power button along with another button to play and record at the left corner. A series of software-controlled buttons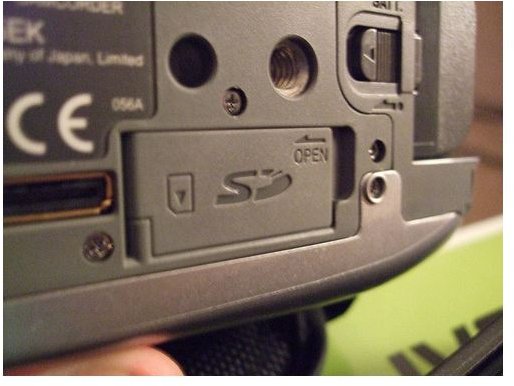 are placed in a row. These buttons are one-touch that are Direct DVD, Upload and Export. This is to upload your videos directly from the camera on you Tube, for that you just have to have this software. It will automatically start uploading a movie when you press the upload button. It will minimize the size of the video according to the site's requirements. The SD/SDHC slot is located at the top left side of the camcorder. It has a strap and a thin grip belt as well. All you have to do is keep the camcorder vertical.
Price to Value
The JVC Everio GZ-HM400 is available at an affordable price of $999. It is no doubt a good choice other high-class models available in the market. The plus point is that you are getting a 5-channel audio recorder with it at an affordable price.