Best Ultra-Compact Camera for Outdoor Enthusiasts: The Canon PowerShot D10
Overview
As the best ultra-compact camera for spanning the gamut of all the outdoor activities under the sun, the Canon PowerShot D10 weighs in as one of the worthiest 2010 rugged compact digital cameras for the reasons mentioned below. The PowerShot D10 also made the Top 10 Point and Shoot Digital Cameras for 2009. It would do you well to read the concise reviews of those offerings as a comparison. However, right off the bat we'll warn you that this isn't the best option for an underwater compact digital, or even those of you more prone to water sports. The reason these best camera options were strung together in this series is because we want to give you several options to choose from since these outdoor pursuits we're keyed in on overlap and excellent features for one activity may not be the best for another hobby.
So be sure and check out the reviews for the Pentax Optio W90 (best for underwater), the Olympus Stylus Tough-8010, and the Nikon Coolpix series we chose as the best cameras for backpacking in the next article in this series. Those models are certainly outstanding 2010 rugged compact digital cameras that might suit your specific purposes better. The thing about these offerings is that one camera might be deficient on one area where the other is excellent, and vice versa. That is why you should check out all the specs at the links we provided and read some customer reviews as well. The best ice fishing camera - the Aqua-Vu 360 - found in article 3 of this series might not seem like it fits with these others, because you won't want to lug that thing around backpacking or hiking, but it's good to know about that camera technology too. Folks who love the outdoors tend to want to be out there all year long engaging in a multitude of seasonal hobbies. Plus, it's a just a nifty gadget anyway.
Design (5 out of 5)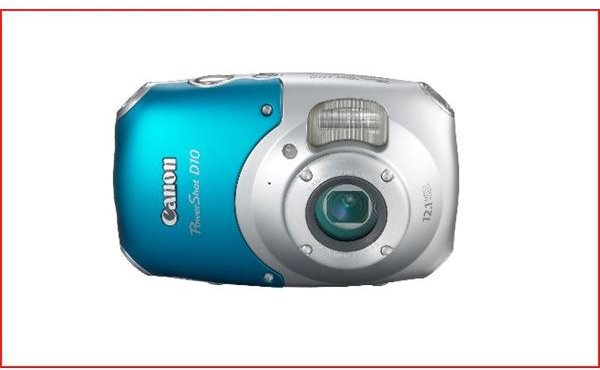 The PowerShot D10 is small and light (7.4 ounces) enough to fit in a bulkier pocket comfortably so it's always ready. Since its freeze-proof down to 14 degrees Fahrenheit, Canon was smart enough to design it so the buttons could be manipulated with gloves on; otherwise the whole point is really defeated. The D10 is shockproof and handles drops from up to 4 feet. It's waterproof to 33 feet, but be sure and pay close attention to the performance section below about that. It's certainly not snazzy looking, but you're not going to be taking pictures of it anyway.
Image Quality (5 out of 5)
This is perhaps the D10s's strongest suit making it the best ultra-compact camera for all around outdoor use because picture quality is sometimes sacrificed in this class of point-and-shoot camera. The sharpness and fine detail in images this 12 megapixels of resolution, 1/2.3-inch CCD unit captures, even when making big prints beyond 8x10, is superior to other compact digital offerings. Colors, white balance, and exposure are all good to go with the D10.
Features (5 out of 5)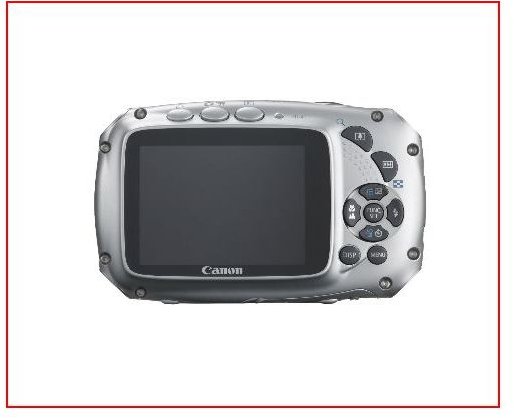 The basics include a 2.5-inch LCD that captures HD movies along with the great images mentioned previously. Smart Auto, Program, Scene, and Movie make up the simplified recording modes and you've got 18 shooting modes at your disposal. The oval buttons for playback, changing shooting modes, and selecting the photos to print when you're back from your adventures are all raised for easy manipulation. Face Detection technology and ISO sensitivity settings up to 1600, and a 3x optical zoom also contribute to making this a top choice for outdoor enthusiasts.
Performance (4 out of 5)
Other cameras in this class can be frustratingly slow, but the D10s capabilities, including a 1.2 second start up, a 0.5 shutter lag (in bright conditions), and a 2 second shot-to-shot without the flash, and 4 second with it aren't too shabby. As previously mentioned, it's easy to use and figure out, with most of the superior functionality Canon is known for. But when it comes to underwater picture taking, this unit is lacking because users have complained that it's leaked and even stopped working after submersion. Not in rain or getting splashed, but in some instances when the owner was taking underwater photos. Not in all cases, but enough to put this warning in and direct you to the Pentax W90 reviewed in the first article in this series if surfing and snorkeling is your main cup of tea. Also, check out your other options by reading The Best Underwater Cameras.
Price to Value (5 out of 5)
At the time of this writing, plenty were available at Amazon.com for $250. So all in all, the rugged durability and functionality of the Canon PowerShot D10 makes it the best choice for the adventuresome who want a great camera to take on all their expeditions without worrying about the elements or an occasional drop.
This post is part of the series: Best Compact Digital Point-and-Shoots for Outdoor Enthusiasts
If you frequent the outdoors enjoying any activity from backpacking to snow boarding and you want a rugged compact digital camera to capture all that beauty, even underwater, this series is for you. We review the best choices - and don't exclude ice fishing folks from the mix either.