The Best Ice Fishing Camera on the Market: The Aqua-Vu AV360
Overview
Obviously, the best portable ice fishing camera has to be designed to withstand the harshest and coldest conditions on earth. Hands down, one of the neatest technologically sound props to distract you from freezing temperatures, and a certain amount of dullness while ice fishing (especially if that monotone uncle of yours is with you), is the Aqua-Vu AV360. This multi-function camera gives you all kinds of underwater viewing and picture-taking abilities. For centuries, ice fishing men and women have routed there holes in thick ice, dropped a line in, and waited for action having no clue what was taking place in that watery world underneath them. Now, technology has made it possible for fishing enthusiasts to discover what is going on down there, and maybe, with a little hope and faith; see a fish or fourteen nosing about as well. We're not talking about a camera that just takes good pictures of the fish you land, plop on the ice surface, and handle for a triumphant pose, but one that can capture the angling action in the water, when the species you're counting on approaches your bait, or dangling lure, and then seizes it with great gusto. The Aqua-Vu AV360 fits this bill, and is certainly worth taking along the trip if you're willing to drop a good chunk of change to acquire one. By the way, if you're curious about the best fishfinders on the market for the other three seasons of the year to mount on your vessel, read up on the outstanding offerings you'll find reading The Best Freshwater Fishfinders.
Design (5 out of 5)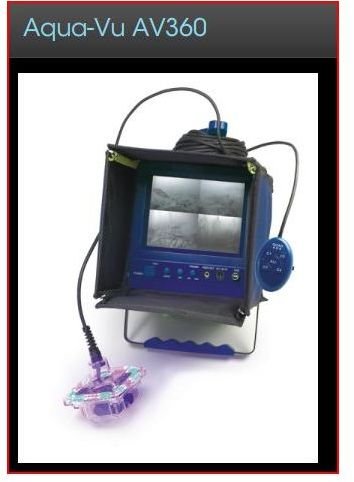 The 360 Series from Aqua-Vu is specifically designed with a rugged encasement for ice fishing. But it will also work well from an anchored boat, a dock, or bridge when there's no ice yet. It's sturdy and has a subdued screen to view easier in heavy sun.
Features and Functions (5 out of 5)
The 4 tiny, suspended cameras covers all 4 directions underwater, and the 7" CRT display screen is split in 4 so you can see all angles, not unlike a security guard at his viewing post. What's more, a switch toggle allows you to change to a single view when one angle is where the action is at. The Spectral Response Lighting System is responsible for the great views you see. Are you an avid hiker or backpacker when it's not the season to sit around in a shack or the open frigid air and hope the fish aren't biting? If you are, and you're gadget hungry, then you might want to take a gander at these top rated portable GPS units that will you well on while engaged in those adventurous hobbies.
User Interface (3 out of 5)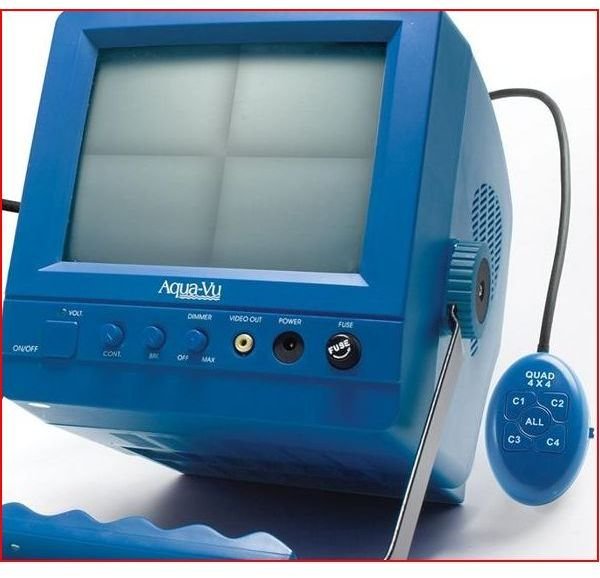 Grumpy old men, far removed from technical know-how, can figure out how to use it in no time. The toggle switch works the cameras, and several buttons on the unit itself adjust things like contrast and brightness.
Performance (5 out of 5)
With a 200lb test cable that can dangle the camera underwater to depths of up to 60 feet, you might almost think that the watertight lens could withstand an angry shark mistaking it for food and taking it for a ride. But having 60 feet to play with is great considering how different species of fish travel at various depths so you can set it appropriately to match your prey. The cord wraps conveniently around a prong that juts out from the top of the unit. The 12 volt 9 hour amp gives you plenty of time to ice fish during those short winter days but if you're really hard core, a charger is included for additional fishing if you're not too far from the rig. Remember this isn't a fishfinding transducer, it won't tell you where the fish are, it just allows you to see, in real-picture quality (not a digitized representation, the fish that are in the vicinity of the camera's viewing capabilities. The picture quality is excellent for all 4 split viewing screens (hence the 360 moniker for viewing every direction down there). The only down side might be the 60 foot cable limitation as some fisherman would prefer greater depth capabilities.
Price to Value (5 out of 5)
You'd be hard pressed to find it for under $500, but that's about standard for ice fishing cameras with this many features and capabilities. Here's one available at the manufacturer's amusingly named shoptimusprime website for that price. Since you can also use it the rest of the year too, that's a factor that makes it more worthwhile. There are actually other offerings that cost more and, in my opinion, include bells and whistles you don't really need. Overall, the Aqua-Vu 360 is a prime-time ice fishing camera that will impress your fellow fishing enthusiasts on the ice and, perhaps more importantly, keep the kids in tow occupied viewing icy, reality TV, instead of whining about the cold. As you can see from below, this article is part of a series to suit all your outdoor photographing needs. So if you're looking for the best ultra compact camera for all your outdoor adventures, we've got the most rugged options reviewed and categorized for your convenience.
This post is part of the series: Best Compact Digital Point-and-Shoots for Outdoor Enthusiasts
If you frequent the outdoors enjoying any activity from backpacking to snow boarding and you want a rugged compact digital camera to capture all that beauty, even underwater, this series is for you. We review the best choices - and don't exclude ice fishing folks from the mix either.