Best Digital Cameras for Elderly Photographers
Choosing a Camera
Thinking of giving a parent, grandparent or any older person a digital camera? For beginner, amateur photographers and seniors looking to take snapshots, point and shoot models are the top choice. Designed with user-friendly features in mind, these small cameras fit conveniently in a pocket or handbag. Most make it easy to download photos to a computer or connect to an in-store kiosk for printing.
There are so many digital cameras on the market, trying to narrow down the choices can be confusing. To help you choose the best digital cameras for elderly folks we have listed five cameras based on the following 6 features:
LCD display size - The camera LCD, or viewing screen, should be 2.5 inches or more. Anything smaller than that will make it hard to see your shots. When it comes to LCD size, the bigger the better.
Optical Zoom Capability - An optical zoom lens with a minimum of 3x zoom. This helps show the image 3 times closer to help focus in on photo details.
Ease of Handling - An ergonomic grip with large, easy to reach buttons and scroll wheel for easy access.
Image Stabilization Capability- This feature is standard on many digital cameras for sharp, focused photos even when the photographer is not so steady.
Features - Automatic focusing, flash and lighting adjustment help capture great photos effortlessly. Some of our recommendations may offer more advanced features but they all offer fully automatic operation.
Competitive Price - The price of digital cameras has dropped dramatically in the last few years making them more affordable than ever. We have included cameras ranging from under $100 to over $200.
Kodak EasyShare C190 12 Megapixel Digital Camera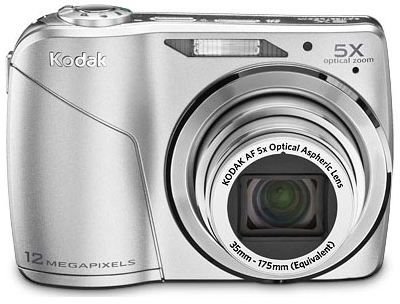 This Kodak features 12 megapixels and up to 5x digital zoom. The 2.4 inch color LCD display is bit small, however it makes up for it by having an indoor/outdoor light adjusting feature that adjusts the brightness for better viewing. It is loaded with advanced features like Intelligent scene detection to detect and analyze scene conditions for optimum performance. To make life easy for beginners it can also run in full auto mode. Part of Kodak's picture sharing software, the high-tech, wireless picture mail feature allows photos to be sent between wireless devices for easy printing and sharing. This camera comes in at an average price of about $119, very affordable indeed.
Nikon Coolpix S8000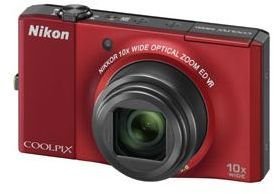 This camera's worry-free operation makes it perfect for all beginners. The 3" LCD screen is easy to see and the image stablaization system, combined with total manual operation allows even first time shooters to capture stunning images. Many advanced features are available for more adventurous users. This camera lacks the rubber hand grips comparable models offer; however, it's small size make it convenient to carry in a pocket or handbag and with all the extras this is a camera to grow with. Average price: $250.
Fujifilm A170
This 10 megapixel camera includes Face Detection software that goes beyond basic image stabilization. The software works by identifying and focusing on up to 6 faces at a time optimizing for brightness and focus; great for shooting friends and family. The camera features a small curved hand grip area, 3x digital zoom and a USB interface. One of the best features of this camera is that it takes 2 AA batteries so there is no learning curve figuring out how to use battery chargers and cumbersome cables. While its not packed with features, that may be an advantage for beginners and coming in at an average price of about $75-$100, it is very affordable.
Panasonic Lumix DMC-ZR1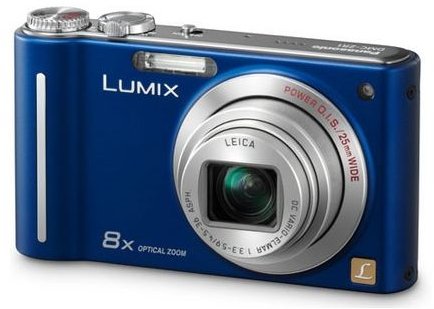 In addition to full-auto mode still photography, this camera also offers easy-to-use video. Basic features include: 2.7-inch LCD, respectable 8X optical zoom, intelligent auto mode, image stabilization, video capability and image tracking which focuses on moving subjects. This camera is a little larger than some models, which may be an advantage for some users and many will appreciate the elegant metal buttons on the body. There are a few fun features available to create special effects such as Film Grain and Pinhole Camera modes.The USB connection port is the only option for downloading pictures, but for the price its still not a bad deal: $239.
Canon PowerShot A3100IS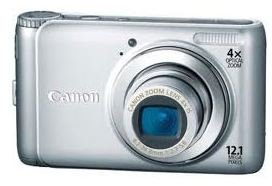 One of the most popular digitals on the market, this camera features 12.1 megapixels, 4x Optical Image Stabilized Zoom and 2.7-Inch LCD. It has plenty of advanced features to experiment with such as poster mode which allows the high-resolution 4000 x 3000-pixel images taken by the PowerShot A3100 IS to be enlarged up to 13 x 19 inches. Easy to use, and handle, It comes in three colors. Average price: $110.
Resources:
Elder Gadet.com - https://www.eldergadget.com/reviews/top-five-digital-cameras-for-the-elderly
Bloomberg Business Week - Panasonic's Camera Strategy: Women and Elderly First
https://www.businessweek.com/blogs/eyeonasia/archives/2008/09/panasonics_camera_strategy_women_and_elderly_first.html