Design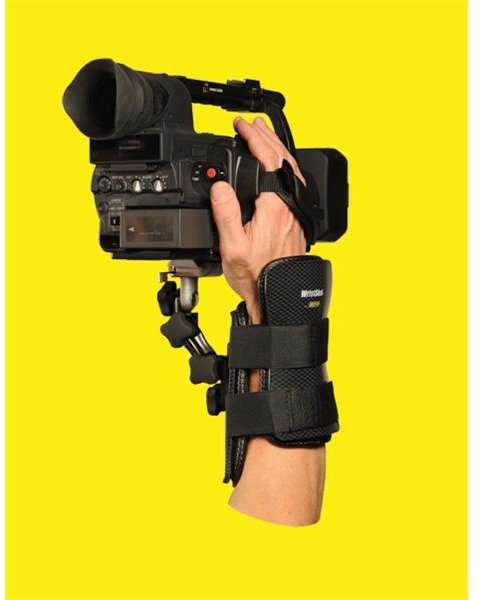 The Hoodman Wristshot supports the user's forearm snugly with the assistance of several knobs and straps. It also takes away the fatigue of holding a hand-held camcorder. The device supports up to 10 pounds and can be fitted easily.
The Wristshot fits on with two Velcro straps and an articulating arm. It is flexible and can be adjusted in a multitude of ways. A quick-release plate attaches to the camera before the wrist strap is able to be attached. This makes it difficult to continue to attach the rest of the device with one arm. It is completely doable, but will take a little effort at first.
The entire attachment process was relatively easy and quick once I got used to putting it on and taking it off. My forearm was completely supported by the inner mount and straps. The articulating arm wasn't as awkward-looking as it may seem after getting everything in place. My first preconception was that the contraption was going to be uncomfortable and in the way while filming. Fortunately, I judged prematurely and was wrong.
There are five knobs to adjust the device. I did find it quite difficult to adjust al of the scraps and knobs with just my left hand. With the help of one of my colleagues, everything adjusted securely and quickly. The experience reminded me of trying to put on a bracelet with a clasp on my right arm; it's simple with help but completely frustrating on your own. This small annoyance can cause a challenge for individuals trying to attach the Hoodman alone. If you are quite skilled at attaching things with one hand, then you are perfect. For people like me, it was a challenge.
Pros
· Great support for forearm
· Handy device for people suffering with carpal tunnel syndrome
· Simple attachment process
· Easy and quick to adjust with the help of others
Cons
· Some of the design aspects need improvement
· Difficult to snugly secure with one hand
· Difficult to completely adjust on your own
Verdict
The Hoodman Wristshot is going for around $199.99, so it is expensive. Other than the price and minor design problems, the Hoodman is essential for using handhelds. I enjoyed my experience using it while it supported my arm for a long length of time. Carpal tunnel or not, the Hoodman Wristshot should be your preferred attachment for recording with a handheld camcorder.