Kodak Dual Lens Camera: KODAK EASYSHARE V705 Digital Camera Review
Body (4 out of 5)
The KODAK EASYSHARE V705 digital camera is a Kodak dual lens camera, which means just what the name implies - it has two lenses. While that may be the big draw with this camera, there's actually more to it than just the two lenses. The camera is extremely small, being only 0.8 inches thick, but it boasts a whopping 7.1 megapixel resolution.
This is a point-and-shoot camera that is perfect for someone looking for a versatile but small camera. You can fit this camera in nearly any purse or pocket. And, it's fairly easy to use. There aren't a lot of manual controls for you to learn so you just need to pick it up and shoot.
The overall design of the camera is simple. The only colors that are available right now are black, pink and silver. So, it won't be winning any style points. But, it makes up for that in other ways. The buttons are easy to reach, and the camera sits nicely in your hand.
The camera does not come with an optical viewfinder, only the LCD screen. This could be a little disappointing for those that are used to looking through the viewfinder, but the LCD screen works fine. You'll just have to remember to compensate for the disparity between the viewfinder and what the camera actually captures.
Dual Lens
Before moving onto the features, it's worth mentioning what a dual lens camera means.
A dual lens camera uses two lenses to capture an image. You can use one of these lenses to take standard 2D images, but the dual lens also allows you to take 3D photographs. This is done because the camera not only has the two lenses, but it also has two shutters.
When you release the shutters on both the lenses, you get a stereo image pair. This means that you get images from two separate planes, adding extra depth to the photograph. This actually simulates the human eye depth. You are basically taking two images at different depths that when combined create a 3D image.
You can also combine the two lenses to improve the overall zoom of the camera.
Features (4 out of 5)
It has a 230 K-pixel, 2.5 inch LCD screen, and it has a 23mm wide-angle lens, located on the top lens. The bottom lens is a 3x zoom.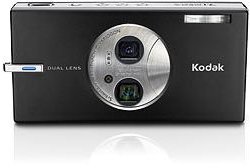 Combined, the two lenses give you 5x zoom, which isn't too bad for such a small camera.
But, that's not the whole story when it comes to the lens. You probably want to keep the zoom around the 3x zoom since your pictures and video can become fairly grainy the more that you zoom in on a subject. This is especially noticeable in the video setting.
The camera features 22 scene modes, including panoramic, portrait, landscape and sunset. It also has a self-timer, which gives you between 2 and 10 seconds to set up your scene.
A really nice feature of this camera is that it will store up to 30 email addresses. This allows you to send selected pictures to these people as soon as you connect your camera to your computer.
Picture Quality (3 out of 5)
The KODAK EASYSHARE V705 digital camera, however, falters in low-light situations. The flash is not really powerful, and pictures are extremely noisy in low-light situations. And, it has trouble focusing on subjects in these conditions.
While the photo quality was decent, the colors were sometimes off. Overall, however, the pictures were sharp and clear.
Bang for the Buck (3 out of 5)
When comparing this camera to others, it's hard not to notice one major flaw: it's a little expensive. The price ranges from $275 to $350 online. Now, compare that to the Canon PowerShot, which sells for between $200 and $300. But, it also boasts higher megapixels, generally between 12 and 14 megapixels. And, you can get the Nikon Coolpix for even less with nearly the same megapixels as the Canon.
This Kodak dual lens camera does have its flaws, especially the low-light and zoom issues. Overall, however, this is a nice camera, and it's just so small. It's perfect for people who are constantly on the go, but don't wish to lug around a larger camera. You may just want to wait for this camera to come down in price a bit.