Canon PIXMA Pro9000 Photo Printer Review - This 13x19 Photo Printer Has A Lot To Offer - Including Pros and Cons of the Canon Photo Printer
The Canon PIXMA Pro9000 printer features a high quality 4800 x 2400 dpi resolution that will print beautiful prints that will last a lifetime. The Pro9000 uses 8 dye-based inks, and will print on photo paper as large as 13" x 19". This established photo printer includes the very user friendly Easy-PhotoPrint Pro software for editing and printing your favorite photos.
Canon PIXMA Pro9000 Printer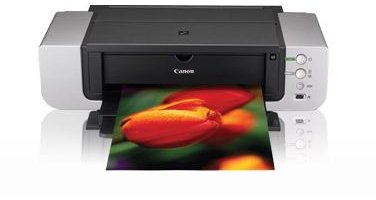 Not the Latest, But Still Recommended
Although the PIXMA Pro9500 was released more recently, featuring 10 pigment-based inks that produce better monochrome (black and white) photographs, the Pro9000 is still a great choice for the amateur photographer. With the same printing resolution as its successor, the Pro9000 is almost half the price. On top of this, the owner has two less ink cartridges to replace. We all know how expensive ink cartridges can be! The Pro9000 will still produce fantastic color and black-and-white photos, despite the dye-based inks.
Features (5 out of 5)
• Brilliant photo quality – unmatched by most other photo printers, which is why the Pro9000 has taken so many awards over the years
• Prints wide-format – prints from 4" x 6" all the way up to 13" x 19" with crystal clear quality
• Prints photos quickly – 8" x 10" photos print in approximately 50 seconds
• Comes with a full set of ink – not partially filled, starter cartridges
• Excellent Price – suggested retail price is $499.99, but many retailers and online stores are selling it for closer to $400
• Trusted Canon reliability – Canon has one of the best track records in reliability and customer service among printer manufacturers
• PictBridge port – allows you to easily hook up your digital camera to make prints via a USB cable
Cons
• Dye-based inks generally don't last as long as pigment-based inks
• Not the "latest and greatest" on the market
• Slow when printing text
• No memory card reader on printer
My Experience (5 out of 5)
I have owned the Canon PIXMA Pro9000 printer for about three years now, and I must say that it is the best photo printer that I have ever had. I bought it just after the Pro9500 was released and was able to get it on clearance at a local computer store. I was very impressed by how many 13" x19" prints I was able to make on my first set of ink cartridges. The printer is very slow when it comes to printing text (learned that the hard way in college), but it is very efficient when printing photographs.
I've learned to always use the Canon photo paper, which really does make the best prints possible. I messed around with the cheaper, store-brand photo paper and was not as impressed. The photos still turned out good, but the Canon Premium and Pro photo papers really made the pictures jump off the page. Also, I would never recommend using remanufactured/off brand ink cartridges in this printer (or any printer for that matter). Since the print heads are built into the printer (and are not on the cartridge itself), if the viscosity of the generic ink messes up the print head, you will have an expensive repair on your hands, not to mention the photo quality that you will lose.
The ink can get expensive, but that is the price one pays for such vivid photos. I try to use the printer every week in order to use the ink up before it dries up, which unfortunately is a symptom of every inkjet printer.
Summary
In my opinion, the Canon PIXMA Pro9000 photo printer is a great choice for the amateur photographer, the photo enthusiast, or even the professional photographer. These prints look better than most that are professionally developed, and the printer is a fraction of the cost of its successor, the Pro9500. I know a few photographers personally who wouldn't use any other printer to produce their wedding pictures and portraits. Overall, the Canon Pro9000 is STILL a wise choice for a great, wide-format photo printer.