Panasonic Lumix DMC-G2 Digital Camera Review: Is It Worth the Money?
LCD Screen (4 out of 5)
The Panasonic Lumix DMC-G2 comes backed with features including a 12.1 megapixel sensor and a three-inch LCD screen. It is similar to previous Panasonic Micro Four Thirds digital cameras, and it is even close to the same price (approximately $799.95 online). But, perhaps the most interesting part of this system is the touch screen.
Unlike most cameras where you need to scroll through the camera's features via buttons on the side of the screen, you simply have to touch the right button on the screen. You can do this via your fingertip or the included stylus. It allows you to have a wider screen and less clutter on the back. Like all touch screens, however, you need to get used to the setup, and you'll probably be hitting the wrong buttons when you first start shooting with this camera.
Design (4 out of 5)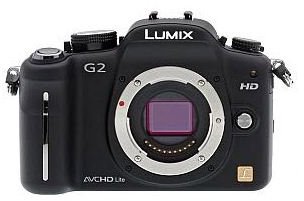 The Panasonic Lumix G2 is set up like a traditional DSLR camera, but it's significantly smaller than many others available on the market. In fact, it only weighs 13.09 ounces, and its dimensions are 4 x 3.3 x 2.9 inches. This makes it perfect for throwing in your backpack, and it makes it easier to carry it around your neck. The camera comes with its own shoulder strap, a DMW-BLB13 lithium-ion battery, a stylus pen and USB and AV cables. It also comes with photo editing software, which you can install on your computer.
The body of the camera is also similar to standard DSLR cameras, and it balances well despite its smaller size. It's got a good right handgrip, and you can easily reach all the buttons on the top and back of the camera.
The one problem with the body was that it is too smooth. After a while of using it, the Lumix G2 could get slippery. So, you may have to spend some time between shoots wiping it down.
Features (4 out of 5)
The Lumix G2 also comes with a built-in flash that you can raise up or lower depending on your needs. The flash is effective within about 20 feet with a wide angle lens and within 13 feet with a telephoto lens.
You can pull out the camera's LCD screen and move it either up or down, which allows you to easily take pictures at a variety of angles. Another nice feature is that you can set up the camera to shut off the LCD screen when you use the viewfinder. It will do this when it senses that the camera is being raised to eye level. You can also turn the viewfinder on and off manually, and you can adjust the viewfinder's diopter control, which helps people with vision problems.
Controls (4 out of 5)
The Lumix G2 comes with a full set of menu controls, which you can access by pressing the menu button. These items allow you to adjust your exposure settings, add effects to your pictures and change the color of your photos. There are also settings for taking close-ups, scenery, night photography or portraits.
Picture Quality (4 out of 5)
The overall performance of the camera is decent for both video and photo quality. The video is sharp whether you are using a wide angle or telephoto lens. Outdoor photographs are clear and sharp, and you have the option to shoot in RAW.
The only major issue with the camera's photo quality came with the indoor white balance. It didn't capture the colors correctly, and the photos looked overexposed at times.
Bang for the Buck (4 out of 5)
Overall, however, the Lumix G2 is a good camera, and it takes nice pictures. But, it is a little expensive for the beginner photographer.