A Review of the Mamiya RB67 Pro SD Camera
Body (3 out of 5)
The Mamiya RB67 Pro SD is a medium format SLR film camera. At between $600 and $1,800 (depending on the model), this camera is clearly geared towards professionals, or those with deep pockets, but, is it really worth the money?
The first thing that anyone notices about this camera is that it is big. The body is fat and boxy. Handling the Mamiya is nothing like handling a traditional camera, but this is typical of medium format cameras from this era. You need big hands to get them all the way around the body of this camera, but ideally you will not be operating this camera without a tripod.
As well as being large, the camera is heavier than most its size. It weighs almost six pounds. It is 5.7 inches high, 4.1 inches wide and 9.2 inches deep, so if you do plan on lugging this around, invest in a good strap. The weight and size of the Mamiya RB67 will prevent you from using nothing but the sturdiest strap. This is not a day hike camera, and while some people do use this for regular photography, the main aim of this camera is studio photography.
Features (4 out of 5)
The body may be a turn off to some people, but the rest of the camera more than makes up for this. For instance, the RB moniker stands for it's for rotating back - an amazing and innovative feature of this camera. Let's say that you want to switch your images from vertical to horizontal. To do this with a tradional camera, you must rotate the body, but, that's not the case with the RB67. Instead, you simply rotate the back of the camera. You just keep looking in the viewfinder until the image is what you are looking for, and then you take your picture. The viewfinder has frames to help you keep the foreground image lined up.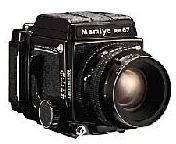 With this camera, you can also switch out film backs, depending on your image needs. For example, you could start out your session using a black and white film back. But, when you are done with this, you can quickly and easily switch it out for the color one. However, this does mean that you have to purchase and carry several film backs with you. In situations like this, you will probably want to plan your shoot in advance so that you are not carrying too much gear with you. Remember, the camera already weighs six pounds.
Other features of this camera include the ability to focus from waist-level. This allows for easier shoot-from-the-hip photo sessions or candid photographs of people or party scenes that can leave your subjects oblivious to the fact that they are being photographed.
You can also change out the lenses on this camera, but, again, these are something else that you are going to have to carry if you travel very far with this camera. You should also consider the cost of additional lenses, as Mamiya lenses are built to the highest specifications and are not as economical as the mass market zoom lenses from Canon or Nikon.
Image Quality (5 out of 5)
Now, it's on to the important subject of negative and image quality. Despite the difficult ergonomics of the camera, you cannot deny the power of the film quality. The negatives are quite large, (6 x 7 centimeters), but they create wonderful, crisp contrasty photographs that compare very well with today's best DLSR cameras.
Bang for the Buck (4 out of 5)
Overall, despite a few minor quirks, the Mamiya RB67 is a great professional camera, but it is best used by professionals. You have to know to how to wind the film and use the different adjustment levers on the camera. The price is also prohibitive for many amateur photographers, but bargains can be found on eBay, and the image quality cannot be argued with.