Tips on Finding the Best Low-Light Digital Video Camera
What to Look For
When it comes to finding a video camera that works well in low-light situations, it can be difficult to find best low-light video digital camera. Many multiple CCD (charge-coupled device) camcorders want as much light as possible to work well. And, the problem with this is that multiple CCD camcorders are all the rage. But, if you are willing to sacrifice some low-light usability, these could also be a good choice.
First of all, what makes a good low-light camcorder? Well, it is one where you can manipulate the settings. When taking video in low-light situations, it is best to have a camcorder where you can increase the ISO. ISO helps you take crisp, clean videos even when it is dark outside or when you are taking video inside. If the camcorder is going to work well in low light, then you should be able to at least push the ISO up to 400.
Next, get one allows you to manipulate the white balance, which gives you the ability to manipulate the color settings on your camcorder. And, this also helps counteract the problems associated with subjects that are too dark. But, before you start messing around with white balance, read the manual first. This can be tricky to use.
The overall message here is that the camcorder should have a variety of controls. Further, it should come with some type of optical stabilization technology, which will help counteract blurriness in shots. Just to be on the safe side, however, you should invest in a tripod, and always use it when taking video in low-light situations. The stability will help with any problems associated with low-light, including graininess or noisiness.
Canon Camcorders
Also, if you are willing to spend the extra money, some camcorders like Canon XL1 have the ability to switch out lenses. Sometimes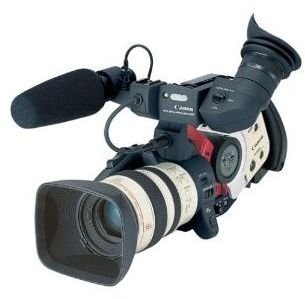 changing the lens can help with low-light situations since you can get a lens that has image stabilization technology. Or, you can invest in a low-light filter that will assist with the darker situations.
Now, it's time to give you a few recommendations. As mentioned earlier, the Canon XL1 could be a good choice since you can switch out lenses. Another Canon worth noting is the Canon GL2. This 3 CCD camcorder does surprisingly well in low-light situations, and it comes with 20x optical zoom lens, which is great for even when filming standard clips.
The camcorder comes with Canon's optical image stabilization technology, and it can take 1.7 megapixel still images. The Canon GL2 is packed with automatic and manual controls, which give the filmmaker a lot more options when it comes to filming. This camcorder is mainly geared towards professionals since it sells for close to $2,000 online. But, for prosumers or professionals, it is well worth the money. The only major problem with it is that the handle is quite small.
Sony DCR-VX2100
Sony's DCR-VX2100 may actually be better than Canon's GL2 when it comes to low-light situations. Clips taken in low-light situations using this camcorder are very crisp, and they are beautifully detailed. It is even able to pick up water reflections from the lights of a city. The images always come out clean when other camcorders would be producing noisy and unattractive images.
Other features include the ability to record up to nine hours of video, and it comes with 12X optical zoom and 3CCD. It has a decent-sized 2.5 inch LCD screen, and it comes with optical image stabilization. Unlike the Canon camcorders, however, this camcorder is geared towards amateurs. While the price tag is still a little high (about $1,500 online), it's a lot less than other camcorders in this range. The major issue with this camcorder, however, is that it just doesn't have the features of the others.