Detailed Kodak EasyShare M420 Review: Is This Digital Camera Worth Buying?
Kodak EasyShare M420
This Kodak M420 review discusses what is lacking in the camera but it emphasizes its features that make it a decent compact automatic digital camera. It combines a pretty exterior with a wide range of features to give users a pleasant picture-taking experience. We'll start this Kodak EasyShare M420 review by taking a look at the camera's exterior.
Design (4 out of 5)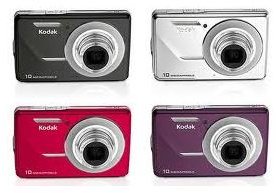 Measured at 3.8 x 2.4 inches and weighing in at about 5 ounces, this camera is very lightweight, slim and compact. Being an extremely portable camera combined with its sleek design that allows for easy handling by users, the Kodak EasyShare M420 can be considered as one of the handiest cameras available that users can flaunt and carry around wherever they go. It comes in four different colors: black, silver, red, and purple. However, some clicking can be heard from the lenses which gives the camera a somewhat unstable feel. Also, the casing doesn't feel like it's very sturdy. The design of the Kodak M420 gets a 4 out of 5.
User Interface (4 out of 5)
The user interface is pretty straightforward with easy to understand menus. Navigating through the features and settings of the camera is very intuitive. The large LCD display also helps in making the interface easier to navigate. Its simple user interface sure deserves a good rating.
Features (5 out of 5)
The Kodak Easyshare M420 is a 10 megapixel digital camera which includes the common camera features like image stabilization, internal memory, face detection, supports for additional storage media and color modes. It allows users to view the details of distant targets with the camera's 4X optical zoom lens manufactured by Schneider and Kreuznach. It can also manage low lighting conditions, thanks to its high ISO of up to 6,400 and can capture events at 8–1/1000 seconds shutter speed.
The main draw of the Kodak EasyShare M420 for most consumers is its Share button. This button lets users easily share their photos through this feature, which is nice. Users can also use the camera as a slideshow machine to show off their photos to friends and family using its slideshow feature. If photos don't turn out to be in their best quality, don't worry. On-camera editing tools are present to help you modify and edit your photos. Not only that, this camera can capture memories with its VGA (Video Graphics Array) at 640 x 480 or Quarter VGA at 320 x 240 video recording capability of 30 frames per second. For its wide range of features, this camera receives a perfect score.
Performance (4 out of 5)
The Kodak M420 has in-camera charging which acts as a backup power source for the lithium-ion rechargeable battery. It doesn't consume much energy but if you use it regularly to view slideshows and play videos, it may need to be charged more frequently. All in all, you get the performance you can expect from cameras in its price range. We give its performance a rating of 4 over 5.
Price to Value (4 out of 5)
For a $164.95 digital camera, the Kodak EasyShare M420 is pretty cheap. You would think that it's a steal considering the amount of useful features it has that include easy sharing of photos. However, the photo quality, even with the help of its smart capture feature, can definitely be better. For an overall rating, the Kodak EasyShare M420 sure gets a good score.