Kata R-104 Camera Backpack Review & Buying Guide: Is The Kata R-104 What You Need?
Kata R-104 is a heavy duty camera backpack that can haul a decent amount of gear
Camera backpacks are versatile tools not just for hiking photographers but also for photographers who need to bring a lot of gear to a shoot. There are a lot of options on the market these days. The Kata R-104 is a mid-sized bag suitable for a day hike carrying a dSLR body, four to five lenses, plus other accessories and a tripod. It also has a pocket for a 17-inch laptop (or smaller).
The Kata R-104's designers appear to have put some thought into the conditions your typical hiking photographer experiences. It's made of waterproof cordura nylon, has lots of padding, plus it comes with its own rain coat to help protect your camera from the wet. Its zippers are designed to seal out trail dust and its heavy plastic zipper pulls are large enough to be manipulated even if you're wearing heavy gloves.
While this bag will carry a day's worth of gear, it still meets airline carry on regulations (as of this writing). Its exterior dimensions are: 14.2" long, 10.6" wide, 20.9" high.
This bag can serve as both a camera bag and/or a video bag.
The Kata R-104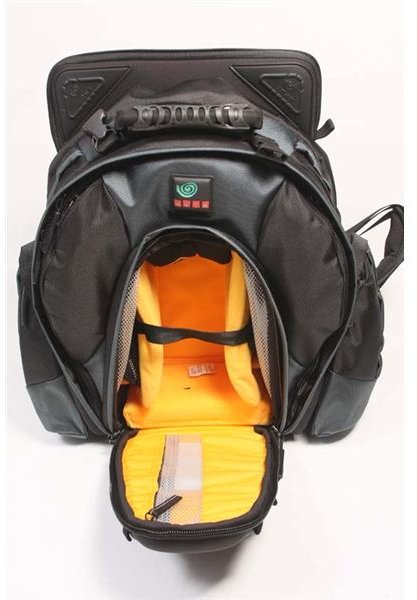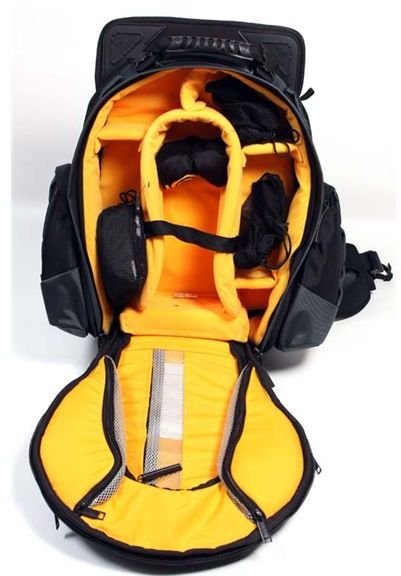 In use (4 out of 5)
The Kata R-104 has an excellent hip belt, which is both customizable and adjustable. Hip belts are an important feature in backpacks in general, and camera backpacks in particular since they help take some of the weight off your shoulders. A good hip belt transfers the weight from your shoulders to your hips, which are much better suited to carrying heavy loads.
The bag also features numerous attachment points for use with clip-on camera straps (so the camera's weight is borne by the backpack straps rather than a neck strap) and a neck extension strap included. It also includes a tripod holder that can be attached to either the side or the back of the bag, plus a lens pillow for supporting lenses. The bag can be used with a collapsible luggage cart (separate cost accessory) thanks to a rear sleeve attachment point.
You can also add a belt pack to it for greater capacity (another additional cost accessory).
Price to Value (4 out of 5)
The Kata R-104 camera backpack is a well-constructed and durable camera carrier that offers a wealth of pockets and dividers. Its shoulder harness suspension system gives the user the ability to precisely distribute the weight of the bag and gear comfortably on the body.
The bag includes several methods of gaining access to the main compartment. Since taking off a camera backpack and then putting it back on is a bit of a bother, the Kata R-104 offers access from the back end so a hiking partner can slide a zipper and pull out a lens for the hiker. At 7.5 pounds, it's moderately heavy, but that weight goes toward protecting your equipment.
The Kata R-104 can be found in stores for less than $300.
If you need help deciding which camera bag is right for you and your photography needs, read Tips for Choosing the Best Camera Bag for a detailed buying guide.