Kodak Slice Touchscreen Camera: Design, User Interface, Features and Performance Reviewed
Kodak Slice Touchscreen Camera
The Kodak Slice Touchscreen Camera is not just your average touchscreen camera. It boasts features that social networking fans should be excited about. With its slim design, it is extremely portable. From anywhere, you can take pictures and share them immediately with family and friends using its integration with social networking and online photo album sites.
Design (5 out of 5)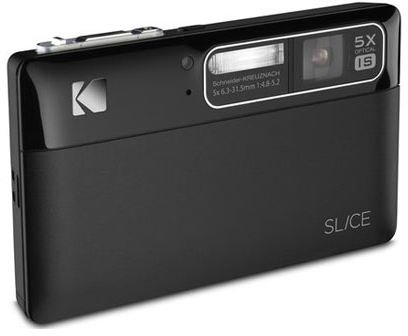 Whether in black, radish or nickel, the Kodak Slice Touchscreen Camera looks stylish, elegant and sleek. Its slim lightweight frame makes it easy to carry, hold and store. The large 3.5 inch touchscreen display lets you view photos without hassle. Thanks to the anti-reflective coating on its LCD screen, you can view your photos as clearly as possible. Navigating through your photos is also easy using the touchscreen controls. The Kodak Slice Touchscreen Camera's simple, elegant and lightweight exterior deserves a solid excellent score.
User Interface (5 out of 5)
A Share button is conveniently present on the Kodak Slice's touchscreen display, letting users access the sharing features instantly (more on these features in the next section of this review). The user interface allows for easy navigation through menus, features and settings. Items can be read easily and efficiently thanks to the intuitive interface and the large LCD touchscreen. Menus are pretty straightforward, giving users an easier time navigating through the camera's features and settings.
Features (5 out of 5)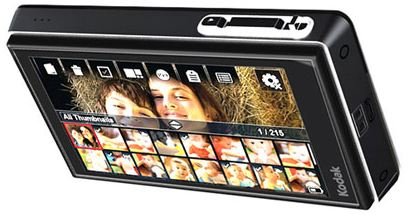 Kodak Slice has a 14 megapixel CCD sensor which allows you to take amazing quality photos with an ISO manual and auto adjustment range of 64-3200 and shutter speed range of 8–1/2000 seconds. It also has the capability of zooming-in distant objects for a closer look with its 5x optical zoom lens by Schneider-Kreuznach, one of the well-known companies producing high quality optics. Aside from those, the most interesting feature of the Kodak Slice Touchscreen Camera is its face recognition capability. This feature allows for easy searching of photos in the camera's internal memory for the same person. The face recognition feature also integrates with the tagging feature which allows you to tag people and upload photos directly to your online accounts such as Facebook, Flickr and YouTube. Instant sharing of quality photos is clearly the aim of this camera. This touchscreen camera has a 2GB internal memory with expandable slot for MicroSD and MicroSDHC. For its superb features, we give it a rating of 5 out of 5.
Performance (5 out of 5)
The Kodak Slice Touchscreen Camera includes a Lithium rechargeable battery that gives it enough power to last a few days of constant picture taking. Using the video feature and viewing photos often will take a significant part of the battery life, though. In general, it's all reasonable. Its fast and intuitive picture taking features also improves the experience of using this camera. With 2 GB of internal memory, the Kodak Slice Touchscreen Camera can hold many high quality photos in HD, so it could effectively function as your portable photo album if you wanted. For its great performance, a perfect score is given.
Conclusion (5 out of 5)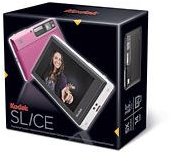 Overall, the Kodak Slice Touchscreen Camera is a beauty to behold. With great features across the board, it's almost the perfect camera. People who are into social networking will definitely love this camera. The final rating? A well-deserved excellent score of 5 out of 5. You can buy it from Amazon.com for $299.00.