M-Rock Olympic 674 Compact Camera Sling Backpack: Camera Bag Review & Buying Guide
M-Rock Olympic Sling Bag Makes for a Versatile and Easy to Use Camera Bag
M-Rock is a relatively new entry into the camera bag market. It was founded by Michael Rockwell in 1995. The company offers a variety of camera bag choices, ranging from tiny to large and in a number of different designs. Rockwell, who's something of a one-man band company – more because he wants total control over quality and design – produces modestly priced and well-designed camera bags.
The M-Rock Olympic 674 Compact Camera Sling Backpack is a sling style camera bag that can also be worn as a small camera backpack capable of handling a DSLR, several lenses and other accessories. Since this is a modestly sized sling bag, it's really not capable of handling a pro camera system. M-Rock's list of compatible cameras includes such DSLRs as the Canon Rebel series, Nikon's D40, D60 and D90, and Panasonic's Lumix DMC, among others.
Like many bags in this class, the M-Rock Olympic 674 Compact Camera Sling Backpack offers numerous pockets and access points to the main chamber. As is also typical, it's outfitted with a number of Velcro attached dividers and partitions, including the company's foam cradle designed to support and protect the lens mounted on the camera. As is typical of M-Rock's bags, this one includes a tethered microfiber cleaning cloth and a backpack rain coat. The company says this "weather jacket" can also be used as a lens changing bag in bad weather. While it can be used as a backpack, the Olympic 674 really shines as a sling bag. In this capacity, the bag offers multiple side access points from both sides of the bag.
M-Rock Olympic 674 Compact Camera Sling Backpack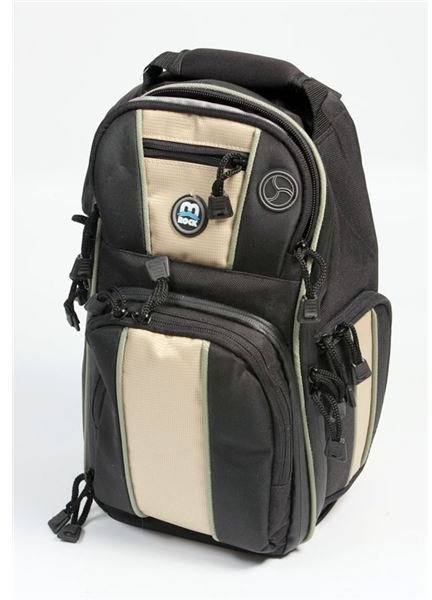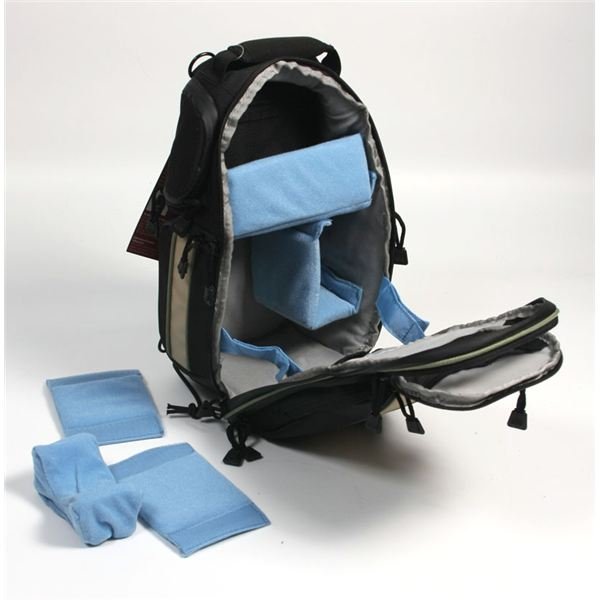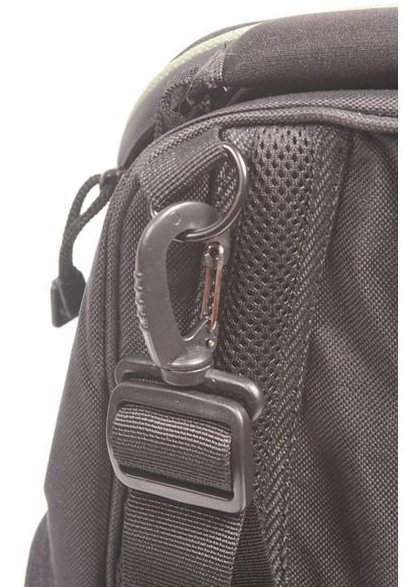 In Use (5 out of 5)
This camera bag offers a number of pockets and pouches and can be configured in many different ways depending on the gear you need to carry. Its shoulder straps attach and detach easily and carry the weight of the bag comfortably. Two front panel pockets provide handy places to store memory cards, cell phones, and other small odds and ends, as well as providing a storage space for the camera bag raincoat. There's also an elastic attachment rig on the bottom of the bag that can hold a small tripod or light stand, an attachment point for head phones and a snap holder for car keys.
The bag is nicely designed, taking care to provide strong attachment points and quality stitching. Its nylon construction is strong enough to stand up to normal and even heavy use.
Price to Value (4 out of 5)
I'm a big fan of sling style bags because they put less strain on my neck and shoulders than the heavy shoulder bags I carried for years. This class of bag is comfortable to wear and highly functional and the M-Rock Olympic 674 Compact Camera Sling Backpack is a nice representative of the type so long as you remember it's not designed to haul a lot of gear.
At $85.00 this bag is a worthwhile choice for the photographer with a small camera system and modest amount of equipment. The bag is well constructed and durable. While it's not designed to carry a lot of gear, the gear it does hold will be well cushioned and protected from dust and moisture. The bag comes with a pair of straps so the user can rig it as either a sling bag or a camera back pack. An accessory waist belt is also available as a separate purchase item.
While there are cheaper bags on the market, the M-Rock Olympic 674 Compact Camera Sling Backpack combines functionality, durability and thoughtful design for a good, useable sling bag.
Check out this review of the M-Rock Great Smokey Mountains Messenger Camera Bag for a look at another great bag.