Detailed Sony Handycam HDR-CX110 Independent Review
Sony HDR-CX110
This Sony HDR-CX110 independent review discusses the design, the user interface, the features, the performance and an overall impression of the digital video camera. If you're considering buying this digital video camera, it would help you make the final decision if you read this Sony HDR-CX110 independent review.
The Design (3 out of 5)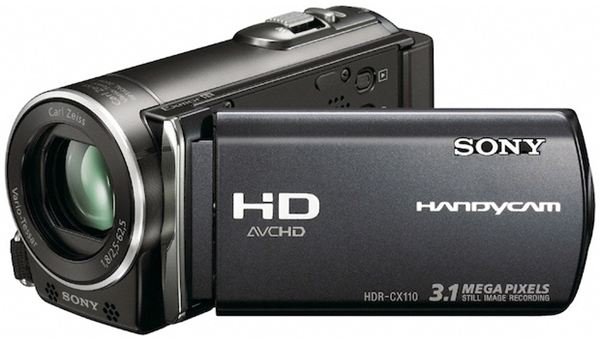 The Sony HDR-CX110 is very compact. Its relatively small size coupled with rounded corners make it easy to grip. It weighs approximately 260 grams with its InfoLITHIUM AccuPower battery and measures 2 x 2 1/4 x 4 1/2 inch. Its design also makes it ideal for shots being taken below eye level. Its screen is understandably small, which makes it a little hard to view, especially in sunlight. Its shape, though, may prove uncomfortable to handle for people with small hands. Being small enough to fit in jacket pockets, it can still prove bulky for some people. It does come with several colors like black, blue and red, so it has that cute factor to go with it. For its ultra-compact design, we give the Sony HDR-CX110 an average score.
User Interface (3 out of 5)
The record and zoom buttons are virtual ones located on the Sony HDR-CX110's touchscreen display. As mentioned in the previous section, this camcorder has a small screen. This may prove inconvenient for some people. The record button works just fine as a virtual button, but the zoom controls are a little hard to handle on the touchscreen interface. Once you get the feel of it, though, you will find that it's quite intuitive and convenient to use. The rest of the interface is pretty basic with some other controls like spot focus and spot metering appearing on the touchscreen display instead of being controlled through physical buttons on the camcorder's surface. One very convenient component of the user interface is the customizable menu that can contain up to 6 menu items. It's a pretty straightforward user interface but it can get tedious when you navigate deeper into the menus. For its user interface, we give it a good score.
Features (4 out of 5)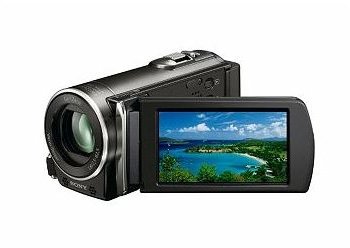 This video camera supports face detection which enables the camera to focus on the recognized face seen on the screen, at the same time, it has a smile shutter feature which automatically captures smiling face with the camera's 3.1 megapixel still image recording. There's no reason to stop shooting videos if in need to capture still images because both can be done at the same time - capture still images while taking video. It may not have advanced features but the functionality you will find in this camcorder provides good to excellent quality. It doesn't have a built-in memory so you will be transferring digital video between your camcorder and your computer a lot if you regularly shoot videos or have at least 3 or more memory sticks on hand. Its bare bones list of features may not satisfy some advanced users' tastes, but it does somehow justify its price of $418. Among the other areas of this review, the Sony HDR-CX110 stands out higher in features but not high enough to compete with other models of Sony digital video cameras.
Conclusion (3 out of 5)
Th Sony HDR-CX110 camcorder performs pretty well given its size, with video quality ranging from good to excellent. However, filming in low light, it can prove inferior. The only big downside to its performance is its saving time for buffered video. It just takes too long to save video in buffered recording mode.
It has an affordable price, a handy design and above average features. The video image quality, however, is not the best you can get out there. Bottom line is is you're looking for an affordable basic digital video camera, the Sony HDR-CX110 will do the job. If you're looking for better quality, you'll just have to look for something else. We give this camcorder an overall rating of 3 out of 5.