Lowepro DryZone 200 Camera Backpack Review: Protects Your Camera and Equipment in Any Condition
Lowepro DryZone 200
DryZone is the world's first fully waterproof camera backpack with soft sides from the trusted house of Lowepro. The Lowepro DryZone 200 is a perfect carrying case for any medium sized compact camera models such as the Mamiya 645, or small field cameras and even professional video cameras too. This camera backpack floats easily even when it is fully loaded, thus giving full protection to your gear in any difficult situation – be it the snow of Antarctica or dust of the desserts.
Overall Specification (5 out of 5)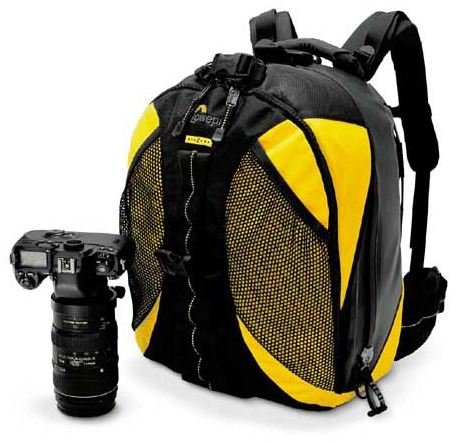 Measuring around 12(W) x 5.9(D) x 16.9(H) inches along the interior and 14.6(W) x 11.4(D) x 19.1(H) inches in exterior dimensions, the DryZone 200 camera backpack weighs approximately 6.94 lbs. The fabric used for the outer structure of this camera bag is water resistant 600D TXP and 2000D Ballistic Nylon material. For further waterproofing, Waterproof Drypod is used, which is a water-resistant plastic coated nylon. With so much of waterproofing and TIZIP EasySeal zipper with sealed seems, there's hardly any chance of even a single drop of fluid to get inside – thus giving full protection to the camera and its accessories.
Design and Capacity (5 out of 5)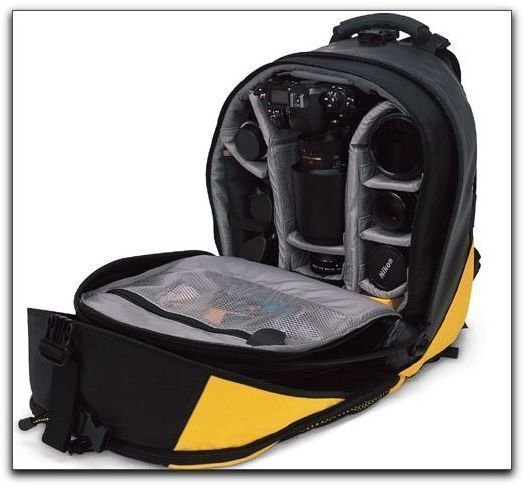 The Lowepro DryZone 200 has been designed keeping in mind all the needs of a photographer. In addition to the main camera system, the backpack is large enough to accommodate any large 35mm or digital SLR, 4 to 5 reversed hood lenses of up to 300mm and f/2.8. This is not all as there are further spaces for your flash and accessories too. The bag comes in two vibrant color combinations of gray/black and yellow/black.
Features (4 out of 5)
Balancing the load becomes a common issue with a lot of camera backpacks. But, this Lowepro's camera carrying bag has been designed with optimum balancing features. You can tuck-in your tripod upright in the tripod holder for a better balance. Featured with an adjustable and scientifically designed harness with lumbar support, you can hardly feel the weight of all the camera equipment you're carrying. For additional comfort, you get CollarCut straps, DryFlo mesh covered padding, waistbelt and load adjusting straps with this DryZone 200 backpack model only.
Why Lowepro DryZone 200?
The main concern of any camera backpack models is to give protection to your valuable equipment including the digital camera, camera gear and other accessories along with your personal items. The Lowepro's DryZone 200 is crafted with a purpose to give full protection to all your valuable gear. The material and fabric of the backpack is highly trusted and reliable to carry all over the world and in any environmental conditions, making it perfect for those who love nature photography or for the travel photographer.
Price to Value (5 out of 5)
With a price tag of $269.95, you get the highest reliability and valued trust in terms of security and protection of your camera and equipment. Be it any traveling assignment and any environmental condition, the Lowepro DryZone 200 will never let you down.