Panasonic Lumix DMC-GF1 Review: This Micro Four Thirds Camera is a Pleasure to Use
Meet the Panasonic Lumix DMC-GF1
I've spent years working with big, bulky dSLRs such as the Canon 1D and 1DmkIIn and the 20D and 40D. Add on L series lenses such as the 70-200 2.8L and you've got a superb camera outfit capable of fantastic images and proven reliability. You've also got a camera bag that promises a bad back and sore shoulder. So when a new imaging standard came about, I noticed. And while the time wasn't right for me to switch systems (I'd been working mainly as a sports and event photographer where blazing fast autofocus and rugged equipment was mandatory) I did wish I could take advantage of the smaller, lighter options the Four Thirds system offered.
Then, about a year ago, Olympus announced the Pen EP-1 camera. This was an homage to the old Pen F series, a camera I once used back in the late 80s and found to be a lot of fun. I started thinking this might be a good time to look at a Micro Four Thirds camera and its interchangeable lenses. One thing led to another and I ended up working on user guides for both the Pen EP-2 and the Panasonic Lumix DMC-GF1 along with my co-author, David Busch. I've already reviewed the Olympus E-P2 for Bright Hub, now I'm going to share my thoughts on the Panasonic Lumix DMC-GF1.
The Panasonic Lumix DMC-GF1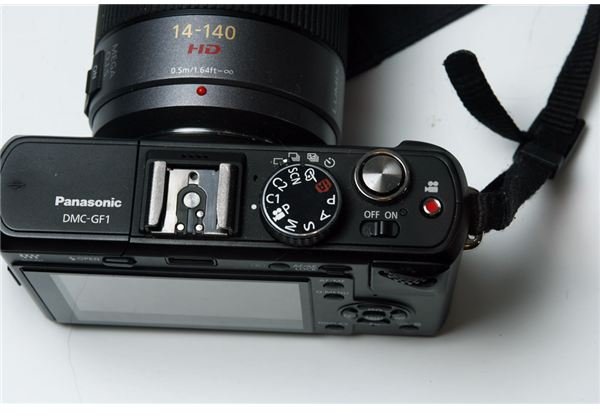 The Panasonic Lumix DMC-GF1 is a Micro Four Thirds, interchangeable lens mirrorless camera. It includes a 12.1 megapixel sensor, which can operate at an ISO range from 100 to 3200. Among its many features is a sophisticated facial recognition capability which can even be trained to recognize faces you photograph often.
The camera features a spartan, but attractive design and fits comfortably in the hand. While small and lightweight, it is capable of excellent images and for most uses, excels.
The basic Panasonic Lumix DMC-GF1 kit comes with a battery, charger and image processing software. Two kit versions of the camera are available, one comes with the 20mm 1.7 lens, the other with the 14-45mm zoom lens. Both versions run somewhere around $800 at this point. I bought mine used off of eBay since I didn't want to buy the kit. I have to buy the cameras I write about for these user guides I mentioned previously, so I have to shop as carefully as Bright Hub readers do for this gear.
Since I already had the Olympus E-P2 and several lenses for it, I wanted to take some time before buying a Panasonic lens or two. Once of the really nice features of the whole Micro Four Thirds approach is that lenses are interchangeable between systems (with varying degrees of compatibility depending on whether you're using a Four Thirds system lens or Micro Four Thirds system lens). I did eventually end up buying the 20mm 1.7 and 14-140 Panasonic lenses. I also purchased lens adapters so I could use Nikon and Canon EOS mount lenses on my Micro Four Thirds cameras.
In Use (5 out of 5)
I've been shooting with the Panasonic Lumix DMC-GF1 since March and have grown quite fond of this camera. It auto focuses faster than the Olympus E-P2 (at least when used with Panasonic lenses) and performs well at most ISO settings. While its auto focus speed can't compare to that of my Canon dSLRs, it is good enough for anything except sports or birds in flight. Since I'm no longer really doing much of that kind of photography, it's not a big deal, plus I'm still keeping at least one Canon body just in case.
I've added the electronic viewfinder. Even though this is a $200 accessory, I really feel it's worth it because I'd much rather compose and shoot images with the camera pressed against my face rather than held at arm's length. While the Panasonic Lumix DMC-GF1 electronic viewfinder isn't in the class of the one that comes with the Olympus EP-2. It is certainly useable. Just like the EP-2, the Panasonic version also tilts to 90 degrees to serve as a waist level finder.
Unlike the EP-2, the Panasonic Lumix DMC-GF1 does not offer in-camera image stabilization. Instead, only lenses that offer this feature can provide it when used with the GF1. Olympus lenses that offer IS can provide that when used with the GF1.
Lenses and Accessories (3 out of 5)
Panasonic offers a nice set of lenses for its Micro Four Thirds systems and the two I've been using (the 20mm 1.7 and the 14-140) are both excellent optics. There are also some Leica made lenses available for the Panasonic Lumix DMC-GF1 that score very high in lens tests and user reviews while also running up high price tags. I'm itching to try Panasonic's 7-14mm extreme wide angle zoom, but my budget is making me hold off for now (the lens runs around $1,000).
I love the 14-140 and usually keep this lens on the GF1. The lens performs beautifully with the camera and balances well even though it's a fairly heavy lens. It's price tag runs in the range of $800, so it's obviously not cheap, but if I were going to buy a single lens for this camera, this is one I'd get.
When it comes to flash units, the Panasonic Lumix DMC-GF1 isn't quite as exciting. The camera does have a pop-up flash which does a decent job of providing fill flash when needed. There are several Panasonic flash units that work with the camera, including the FL-360 I purchased (I picked up a refurbed unit off eBay for about $140, new they go for about $100 more). The FL-360 runs off two AA batteries, provides a decent amount of light, but as you might expect, takes a while to recycle even with fresh batteries. The flash is an identical twin to its Olympus counterpart, the FL-36R. (I have both, if you remove the names, you can't tell them apart). Ironically, while the Olympus flash does work on the GF1, removing it is hard enough to make me worry about damaging the camera. The Panasonic flash on the other hand slides on and off quite easily. Panasonic does not offer any wireless flash control system for the GF1, which is a real disappointment. At this point your choices are to either use a flash in the hot shoe (losing the ability to use the electronic viewfinder) or use the pop-up flash to trigger a slaved remote flash (using a slave designed to work with digital cameras of course).
Third party accessories are available, and considering the price tag for batteries for this camera (about $50 each) looking for a low cost alternative (there are third party options for less than $20) is tempting. Supposedly though, Panasonic cameras check to make sure a battery is Panasonic made and won't function with any other. I have several third party batteries which work fine with my Panasonic Lumix DMC-GF1, but I haven't gotten around to installing the latest firmware update. Several websites are claiming this upgrade will change that. If I ever get around to installing the firmware upgrade I'll post the results to this article.
Images from the Panasonic Lumix DMC-GF1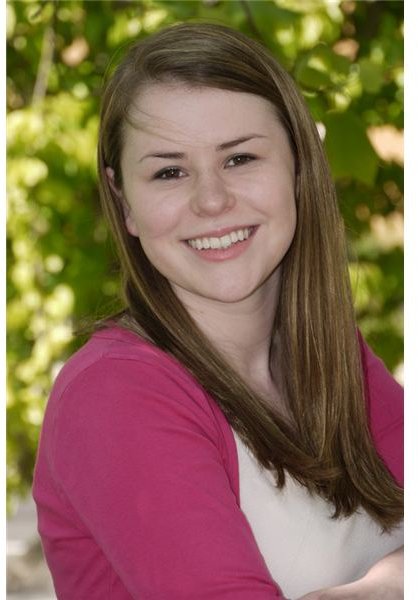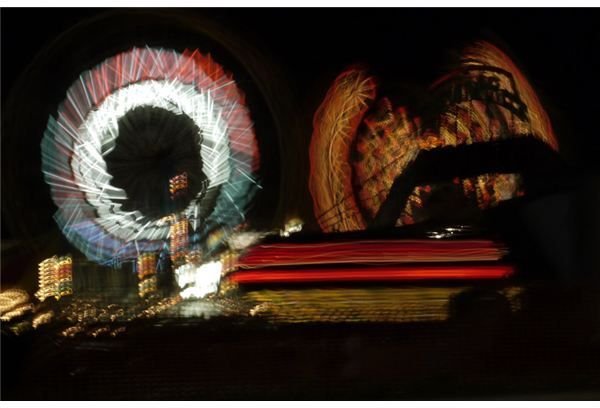 Price to Value (4 out of 5)
The Panasonic Lumix DMC-GF1 is an excellent camera for most photographic applications. Coupled with the 14-140 lens it's a great camera for almost any shooting situation with the possible exception of fast action photography. This is an amazingly capable camera in a very small package and when used with the 20mm 1.7 pancake lens is almost pocketable (it will fit in many pockets that are just a little bit roomier than those in your jeans).
I like mine enough that I plan on keeping it even when I'm done writing the user guide for it. I'm not sure I'd use the Panasonic Lumix DMC-GF1 in the studio (I wish it had a PC connection for studio flash), but this is the camera I carry most of the time these days.
The David Busch Panasonic DMC-GF1 Guide to Digital Photography (David Busch and Dan Simon) will be available in July 2010.