Sony DCR-SX41 Handycam Camcorder Review: Is The Sony SX41 Camcorder worth Buying?
Introduction (3 out of 5)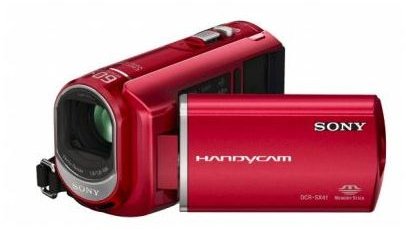 The Sony DCR-SX41 Handycam is the company's flash-memory-based standard-definition camcorder that comes with quite easy and amazing functions and technical details for home and personal use. Released in early 2009, the basic-ranged small capacity camcorder is quite easy to use partly due to its lack of shooting options and due to touchscreen-based menu navigation. But, the DCR-SX41 Handycam, similar to most camcorders in its series, provides mediocre video results especially when you are viewing them full-screen on a larger HDTV or have got inured to the detail of hi-def content.
The Technicalities (4 out of 5)
The technical details of the Sony DCR-SX41 Handycam camcorder are rather simple. The 680K pixel sensor is sized at 410K pixels (16:9) and effective for about 340K pixels (4:3) with a 1/8th inch CCD. With a zoom capacity of 60X and focal length as good as any 35mm lens, the Sony DCR-SX41 Handycam is at the top of its range. With a flash memory of 8GB, it is fortunate that there is a dual Memory Stick Pro Duo feature incorporated in this model. Overall, it's a great candidate for its class against competition.
The Sony DCR-SX41 camcorder has optical image stabilizing, allowing EVF-like functions but, obviously, no EVF. Motion and on-motion video resolution isn't too bad, but falls short to other camcorders in a similar price range. There is a minimum 6 lux illumination capacity and a 2.7 inch LCD with touch screen; attractive additions to such a basic model.
As a unique addition, the camcorder has a mini USB port and dual Memory Stick Pro Duo slots for more functionality and memory. You can attach an upgrade by making use of VRD-P1 DVDirect DVD burner for making this Handycam more flexible to use.
Design (3 out of 5)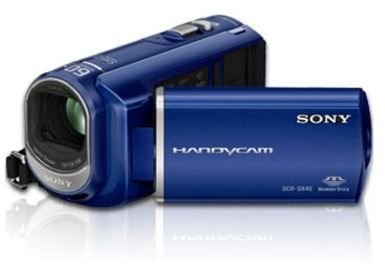 The Sony DCR-SX41 Handycam camcorder doesn't come in quite an alluring design; it's just a quaint and small Sony Handycam. With 2.4 x 4 x 1.3 inches (WHD) dimensions and at 10 ounces along with battery and media, this model is a small and pocket-friendly camcorder, but don't expect it to be very tough.
The manual would help understand the functions with the detailed Menu Tree, whereas the body itself has just the basic few buttons such as power, picture mode and a zoom rocker.
Performance (4 out of 5)
While explaining the technical details and design in this Sony DCR-SX41 review, I have pretty much given you an open picture of how this small and pocketable camcorder performs. It's not exactly the best you could get, but the 4-star rating shows that it is a viable choice. A review must be fair, so I won't hold back the flaws as well. The resolution of the video and photos are at 720 X 480 and 640 X 480 correspondingly; but somehow, in HDTV or in high resolution expectancy, the Sony DCR-SX41 falls short. The batteries are Lithium-ion rechargeable. Continual recording is fairly good for this range at 2 hours. The MPEG-2 video and Dolby Digital 2 channel stereo allows a moderate picture and sound quality, while the photo resolution is fairly good.
Price to Value (5 out of 5)
Rating the price to value in this Sony DCR-SX41 review, I find it nothing short of 5 stars. It's just a basic starting camera at $299.99, but with more than a year from launch, you could get it at as low as $250. With nice features and functions, as well as moderate performance, the Sony DCR-SX41 camcorder is indeed a good buy for those who are looking for a family-friendly personal camcorder. So, if you're looking for a cost-effective and user-friendly camcorder, and are not worried about high quality video, then do give your kind attention to the Sony DCR-SX41 Handycam which, though quite simple to look at, has got a lot of goodies in its simplicity.