Review of the Nikon D700 Digital SLR Camera
Introduction
The Nikon D700 is a FX (full-format) digital SLR camera which has been shrunk into the smaller body of a 'compact' DSLR. It resembles the Nikon D300 in terms of build size, camera body and form factor and uses a 12.1 megapixel full-format sensor. The Nikon D700 digital SLR also includes a built-in flash and a self-cleaning mechanism.
It is a professional Nikon DSLR and should not be confused with entry level DSLR cameras.
Key Features (4 out of 5)
The key features of the Nikon D700 digital SLR camera are:
12.1 megapixel CMOS sensor (FX format) in a 'compact' body
Self-Cleaning Mechanism
LiveView with phase detect or contrast detect autofocus
Support for DX format lenses (Functions as 5.1 megapixel with DX lenses)
ISO 200-6400 which can be boosted up to 25600 and down to 100
Supports 14-bit RAW mode
51-point autofocus system
5 frames per second continuous shooting without optional battery pack
Features Lacking in the D700
Some features which are present in other similar cameras and could have been included in the Nikon D700 digital SLR camera to make it better are:
No professional 5:4 aspect ratio
Lack of the a note taking function and audio ability
Has a plastic CF card door instead of a spring-loaded alloy door
Performance (4 out of 5)
Image Quality & Processing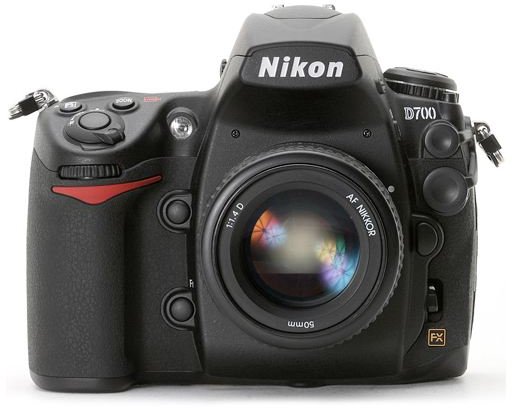 The image quality on the Nikon D700 digital SLR camera is very good because it uses the 12.1 CMOS sensor and the Nikon EXPEED image processor.
Ease of Operation
The Nikon D700 is one of the fastest and most responsive DSLR cameras from Nikon. Startup, shutter lag, and continuous shooting (with the optional battery pack) are all extremely quick.
Excellent Noise Reduction and High ISO Performance
The Nikon D700 digital SLR camera performs admirably well in terms of noise reduction and takes perfectly usable images up to ISO 6400. Until about ISO 400, the images are very good after which noise begins to show but the noise reduction treats it very well and the images are still clear and detailed.
Price to Value (5 out of 5)
The D700 offers an excellent price to value proposition for the following reasons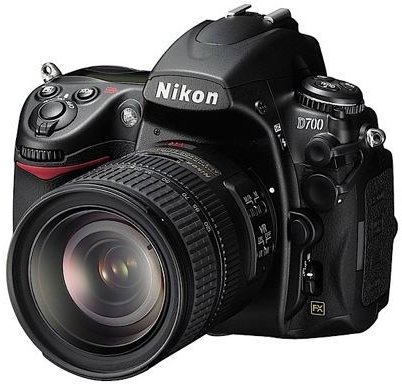 :
It retains the FX sensor (full-format) while using the form factor of a D300 effectively combining the best of both worlds and providing photographers with a compact DSLR equipped with a full-format sensor.
While certain features have been removed/changed such as the shutter and the CF card slot, the addition of a self-cleaning mechanism and a built-in flash provide some compensation.
With an additional battery pack (Optional MB-D10), the D700 can go up to eight frames per second.
The Nikon D700 digital SLR is attractively priced and cheaper than the D3 by almost $1800 but retains the best of the D3's features
Click here to purchase the Nikon D700 digital SLR camera body from Amazon.Com. (Camera body only, lens not included)
Due to the above reasons and the attractive pricing, the Nikon D700 digital SLR camera will appeal to professionals who want a smaller, compact camera body as well as serious enthusiasts who have the money to spare and are looking for an affordable full-format camera.