Canon EF 50mm F/1.8 II Camera Lens Review
Introduction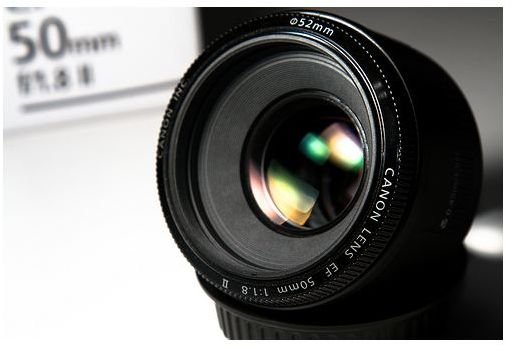 The Canon EF 50mm F/1.8 II camera lens is Canon's most affordable lens at around $100 or less. It is a classic design dating back to the early nineties when 50mm lenses on Canon's EF mount were a staple for all photographers with EOS film bodies as a 50mm is the "normal" lens focal length. By normal, it approximates the field of view of the eye. It is neither wide, nor tele. As a prime lens, it allows for a wide aperture of F/1.8 for use in low light and situations when you want a small depth of field (DOF). It is perfect for portraits, control over DOF, and sharp landscapes.
The mark II version was introduced in December 1990 and maintains the same optical design of the mark I version but uses a plastic body to make the lens more affordable, lighter (130g), and more compact. The lens comes with just the lens itself and the two end lens caps. It does not come with a case or the optional Canon ES-62 lens hood.
Photos by dr4gon
Specifications
Focal Length: 50mm (80mm Equivalent on an APS-C Camera)
Filter Size: 52mm
Minimum Focus Distance: 1.5ft (0.45m)
Maximum Aperture: F/1.8
Minimum Aperture: F/22
Aperture Configuration: 6 elements in 5 groups
Dimensions (LxW): 68x41mm
Weight: 130g
Build Quality (3 out of 5)
The Canon EF 50mm f/1.8 II camera lens is made up a black plastic body, has an AF/MF focusing switch on the side, and a loose, but smooth focusing ring (when in MF). It feels very lightweight but solid enough. It features no weather sealing. It is simply adequate.
Autofocus (3 out of 5)
Auto focus is a mixed bag. On the 7D it performs admirably well, especially when using the most sensitive center AF point to focus in low light. If well positioned, it will not hunt and be able to lock focus. On other points and other cameras (from anecdotal reports), the Canon EF 50mm f/1.8 II camera lens can be a hit and miss. Because it features a micro motor, it makes quite a bit of noise when it focuses. The barrel also extends while focusing, but does not rotate (therefore using circular polarizers will not be a problem).
Image Quality (4 out of 5)
Distortion: Distortion on crop and full-frame cameras is very negligible.
Sharpness: On a crop camera, center and edge sharpness is very good wide open at F/1.8. By F/2.8, the image is very sharp edge-to-edge. At F/4-F/8, this lens is tack sharp.
On a full-frame camera, the entire image is quite soft at F/1.8. At F/2.8 center sharpness is excellent, but dramatically falls off toward the edges. Like the crop cameras, it is tack sharp from F/4-f/8.
Chromatic Aberrations: Lateral chromatic aberrations (CA) are well controlled. Longitidunal CA (LoCA) however are slightly apparent in the bokeh with green and purple fringing but disappears at F/4.
Bokeh: The bokeh can be a bit challenging in certain situations (foliage, reflected lights in the background, etc). Personally, I find the pentagonal (5-bladed) aperture to be more pleasing than the hexagonal aperture found in the Canon EF 50mm F/1.4 USM lens.
Vignetting: On crop cameras, the vignetting is slight at F/1.8 (~2/3 a stop) and on full-frame cameras vignetting is quite significant (~3 stops at F/1.8 and 1 stop at F/2.8). Both are virtually non-existent beyond F/2.8.
Value (5 out of 5)
Value: At less than $100, it's hard to pass this lens up. You get a fast aperture, low-light prime that has an infinite number of uses. You certainly get what you pay for. It can be hard to justify spending an additional $250 for the F/1.4 USM version just to gain a better build, USM, and a slightly larger aperture. The Canon EF 50mm f/1.8 II camera lens is certainly worth the price.
Conclusion
So, overall it's an excellent lens, especially on a crop camera. For the MSRP of $99.99, the Canon EF 50mm f/1.8 II camera lens is second to none! If you are on a tight budget, this is definitely the lens for you. Some of the image quality critiques sound harsh, but in reality, you will not notice most of these unless you are pixel peeping at 100% (1:1) size on your computer. Printed images are also much more forgiving in this respect. If you absolutely need the sharpest of pictures, stop down the lens for excellent results across the frame.
Pros:
Cheap
Relatively Sharp
Large Aperture to work with
Cons:
Potentially slow and noisy focusing
Plastic build quality not as strong as other Canon lenses
You might also be interested in reading Prime Lenses vs. Zoom Lenses: Which Should You Use?
Sample Images with the Canon EF 50mm F/1.8 II