Is the Kodak Zi8 Camcorder the Best Choice for Uploading Videos to YouTube?
The Kodak Zi8 Camcorder
In the first article in this series, we discussed the ideal features a cheap, digital camcorder would need to be a good choice for creating and uploading videos to YouTube. In that article, we identified four attributes: portability, video quality, audio quality, and the features that make uploading to YouTube easy.
In this final review of the series, we uncover the features of the Kodak Zi8 digital camcorder. Among other cheap digital camcorders, the Zi8 stands out as a the best choice for those YouTubers who want to step their videos up and out of the amateur level and into a more professional production.
Portability (4 out of 5)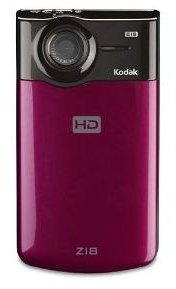 What sets the Flip UltraHD apart from the SONY Bloggie was 8GB of memory that allowed for 2 hours of record time. The Kodak Zi8 takes a middle-of-the-road approach to memory shipping with just enough to shoot a few test shots. Still, this memory is not enough to shoot any length of video that would allow the owner to avoid having to buy an SD/SDHC card. Impressively, however, a 32 SD/SDHC card will allow you to shoot up to 10 hours of video.
A relatively inexpensive Li-Ion battery powers the Kodak Zi8. The inexpensive part is important allowing you to buy several if needed to satisfy your camcorder's thirst for power as you shoot extended videos in the field.
Finally, being able to shoot 5MP still images eliminates the need to carry other equipment around. Compact, lightweight, and easy to handle, Kodak made the Zi8 for ultra portability.
Video Quality (4 out of 5)
The video quality of a cheap digital camcorder in this class can hardly be expected to compete with the video quality of a larger, more expensive camcorder solution. Still, the Kodak Zi8's video quality is a bit above average for a portable camcorder of this kind.
Capable of shooting up to 1080p High Definition video, the Kodak Zi8 camcorder outclasses the Flip UltraHD, the number one selling ultra portable camcorder. Unfortunately, the Zi8 does save videos in MOV rather than the MP4 format such as with the Flip UltraHD and the SONY Bloggie. Luckily, however, the MOV is still compressed with the H.264 standard, the same standard used by YouTube. By compressing in YouTube's native format, you can be assured that what you get from the camera is what you will see when uploaded to YouTube.
Audio Quality (5 out of 5)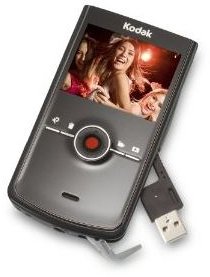 Surprisingly, the Kodak Zi8's audio capabilities really make it stand out. Often, not enough attention is paid to the audio captures in a video so much so that many YouTube videos could be improved 100% if the producers had considered sound before they hit the record buttons on their camcorders.
Unlike the other two cheap digital camcorders reviewed in this series, the Kodak Zi8 camcorder ships standard with an external miniplug (1/8th-inch) microphone port. This port opens up a whole new world for YouTubers who want to get more than amateur results from their videos.
Unlike the internal mono microphone in the Kodak Zi8, the external port is capable of capturing stereo sound. This is a great option for when you want a higher quality production but don't want to spend more money for a digital camcorder that isn't as portable.
Uploading to YouTube (4 out of 5)
The Kodak Zi8 features a swing out USB connector for uploading videos to your computer. Unfortunately, you have to hold the camcorder to the height of your USB port while offloading or uploading your videos if you don't buy a USB extension cable. You are out of luck and must buy an extension cable if the only USB ports on your computer are located at the back of your PC. If you use a laptop exclusively with your Zi8, this is not an issue.
The Kodak Zi8 camcorder comes pre-installed with ARCSOFT MEDIA IMPRESSION software for basic editing, offloading, and uploading of your videos to YouTube. Pre-installed means you won't have to lug around disks to keep active while in the field. Any computer with a spare USB port and an Internet connection means you can upload your videos to YouTube anywhere you are. Unfortunately, Mac users are left behind with this software as it is for PCs only.
Overall Rating for the Kodak Zi8 (4 out of 5)
This review reveals that the Kodak Zi8 offers good portability, excellent video quality, outstanding audio options, and decent software for creating and uploading videos to YouTube. Among the Flip UltraHD, SONY Bloggie, and Kodak Zi8, the Zi8 is the clear winner for those YouTubers wanting to produce more than just amateur content.
At a MSRP of US$179.95, the Zi8 is not only a bargain, it is an excellent all around choice for a YouTube camcorder. It is surprising that only Kodak considered an external microphone port to be important enough to include it as a standard option in a cheap digital camcorder. Although good in their own right, the other two camcorders automatically assign any YouTuber's videos to the amateur category. If you want the option to produce better quality videos, check out the audio options of the Kodak Zi8 camcorder.
This post is part of the series: Reviews of Cheap Digital Camcorders for Uploading Videos to YouTube
In the first article, we discuss the ideal features a digital camcorder should have for easily uploading videos to YouTube. The remaining three articles in the series review the Flip UltraHD, SONY Bloggie, and Kodak Zi8 digital camcorders.