A Review of the Flip UltraHD Youtube Camcorder
The Flip UltraHD Camcorder
In the first article in this series, we discussed the ideal features a cheap digital camcorder should have to make it a good choice for creating and uploading videos to YouTube. We identified four major attributes: portability, video quality, audio quality, and features making it easy to upload the videos to YouTube.
Overall, the Flip UltraHD is a good choice, meeting or exceeding the ideal conditions set forth in the earlier article. However, some features of this camcorder may not appeal to some users who create certain kinds of videos. Read on to see if the Flip UltraHD is the right, cheap digital camcorder for your YouTube creations.
Portability (5 out of 5)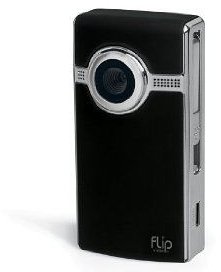 There is no denying that Cisco's Flip UltraHD camcorder was made for portability. One of the problems with many portable camcorders is that they don't ship with any appreciable amount of internal memory requiring the buyer to immediately invest more money to get the device to work. Not so with the Flip UltraHD. With 8GB of internal storage, Cisco claims that you have 2 hours of record time before you must offload your videos to make room for more.
A standard AA rechargeable battery pack powers the Flip UltraHD but Cisco got it right when it comes to making a portable device. Unlike other cheap digital camcorders, you can power the UltraHD with two standard AA alkaline batteries. You will not be tethered to carrying around a laptop or always needing to be within cable's reach of an outlet to shoot video all day long.
Video Quality (4 out of 5)
As stated in the first article, portable camcorders capable of capturing video in High Definition do not often rival the video quality of larger, more capable camcorders. Still, the Flip UltraHD's video quality at 720p/30 frames per second seems unusually clear for a digital camcorder of its size and class.
The MP4 file natively supported by the Flip UltraHD is a standard in the industry for a reason. Taking advantage of H.264 video compression, you can save, view, and upload your videos directly to many destinations including Blue-ray discs, QuickTime Player, Windows Media Player, iTunes, and, of course, YouTube. In fact, YouTube compresses videos using the H.264 standard so what you see on your camera is pretty much what you'll get after you upload to the video sharing site.
Audio Quality (2 out of 5)
All camcorders are notorious for offering substandard sound recording capabilities forcing most advanced amateurs to seek external microphones solutions. The Flip UltraHD records audio with its built-in mono microphone with quality no more or no less than the average camcorder of any design.
What's missing from the UltraHD is an external mic port to offer users the option to record higher quality sound. In fact, many people should shy away from Cisco's portable camcorder if high quality sound is necessary in their creations. Lacking an external mic port, the Flip UltraHD should have featured a built-in mic with stereo capabilities. If you buy this cheap digital camcorder, be prepared for mono only audio captures.
Uploading to YouTube (4 out of 5)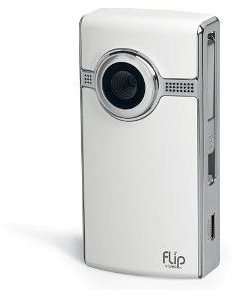 In keeping with the portability aspect of its camcorder, Cisco outfitted the Flip UltraHD with a flip out USB arm for fast uploads to your computer and directly to YouTube. The length of the arm clearly makes it convenient for laptop users but unless you have a USB port on your desktop computer that is level with your desk, you must either hold the unit during transfers or buy a USB extension cable. If your USB ports are located in the back of your computer, the extension cable is essential.
The Flip UltraHD comes pre-loaded with Flipshare software. This means that you don't have to carry the software around with you to stay portable; as long as you are near a computer with a USB port and an Internet connection, you can upload your videos to the web. Although sparse on features, the Flipshare software allows you to instantly upload your videos to YouTube as well as MySpace and Facebook.
Overall Rating for the Flip UltraHD (4 out of 5)
With a MSRP of US$199.99, the price of the Flip UltraHD comes just under our requirement for a cheap (under $200) digital YouTube camcorder. Compared to most amateur camcorders, the UltraHD is portability personified with its 8GB built-in storage, 2 hours of record time, 2 power options (rechargeable power pack and operation with 2 alkaline AA batteries), flip out USB, and pre-loaded Flipshare software.
Lack of an external microphone port that forces the owner to shoot video with the UltraHD's internal, mono mic will likely not appeal to all but the most amateur YouTubers. As a serious video/audio capture solution, this digital camcorder's audio falls short of the ideal device. However, if portability is the most important feature to you, the Flip UltraHD may be the cheap, digital camcorder you've been looking for.
This post is part of the series: Reviews of Cheap Digital Camcorders for Uploading Videos to YouTube
In the first article, we discuss the ideal features a digital camcorder should have for easily uploading videos to YouTube. The remaining three articles in the series review the Flip UltraHD, SONY Bloggie, and Kodak Zi8 digital camcorders.