Finding the Best 10 MP Digital SLR Camera - Looking at Digital SLR Camera Reviews
Nikon D80 (4 out of 5)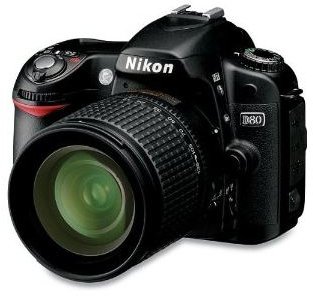 The Nikon D80 DSLR camera features a compact and slimmer body than previous DSLRs from Nikon. It's a high performance and high resolution camera with an intuitive interface that is ideal for those upgrading from point-and-shoot to DSLR. In other words, the Nikon D80 is a mid-level DSLR that is both good for advanced and novice photography enthusiasts. Top features of the Nikon D80 include: a 10.2 megapixel CCD sensor, 2.5-inch LCD display with a power-up time of approx. 0.2 seconds, supports RAW and JPEF, burst modes, image optimization functions, in-camera image retouching. The D80 also comes with 18-135mm AF-S DX Zoom-Nikkor kit lens. (Price: $1999.95)
Read our detailed review of the Nikon D80 camera to learn more. Additionally, this Nikon DSLR camera buying guide can further assist you in making the right choice of DSLR camera for your photography needs.
Sony DSLR-A300 (4 out of 5)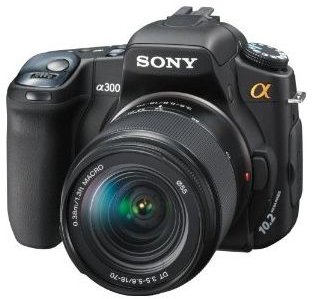 The Sony DSLR-A300 suits first-time DSLR users with its 10.2 megapixel CCD sensor, DT 18-70mm f3.5-5.6 standard zoom lens and live preview on its tilting 2.7-inch LCD monitor. Nothing can be simpler than this camera's point-and-shoot simplicity. This camera features super-quick AF response, 3 fps continuous shooting, and high sensitivity (ISO 3200) which is perfect for great low-light shots. The Sony DSLR-A300 also features creative style settings and in-camera super steadyshot image stabilization. This camera's battery juice allows you to shoot up to 740 shots per battery charge and comes with an auto pop-up flash. (Price: $679.99)
Read our detailed review of the Sony DSLR-A300 for more information. If you'd like to learn more about Sony DSLR cameras, please read this Sony DSLR camera buying guide.
Canon Rebel XTi (5 out of 5)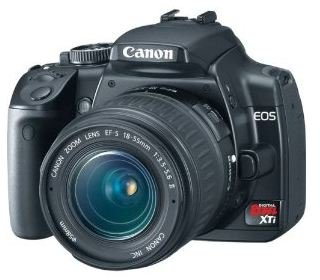 This is my first DSLR camera and probably the first DSLR camera of other advanced photography enthusiasts as well when they jumped from point-and-shoot to DSLR. Three things which make this camera perhaps the best data-entry DSLR are - performance, ease-of-use and value. The Canon Rebel XTi (aka Canon 400D) features a 10.1 megapixel CMOS sensor, a 2.5-inch LCD monitor, EOS Integrated Cleaning System composed of a self cleaning sensor and picture style technology. Of course, to make it easier for new DSLR users to use this camera, Canon made its ergonomic body lightweight. While this DSLR camera may be too old already, it's still worth your money especially if you're looking for a durable and dependable DSLR. (Price:$759.95)
Read our detailed review of the Canon Rebel XTi to learn more about this digital SLR camera. Also, you may be interested in reading this Canon EOS DSLR Buyer's Guide for helpful information on various Canon digital SLR cameras.
Olympus Evolt E520 (4 out of 5)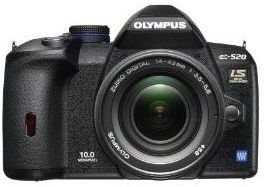 This DSLR camera from Olympus is perhaps one of the most under-rated cameras and yet, if you will take a closer look at its features and specs, you'd know that it is a power-pack camera. The Olympus Evolt E520 can produce brilliant images with its advanced features including: built-in image stabilization that enables images to come out sharp and blur-free even at low shutter speeds, autofocus live view, and HyperCrystal II LCD. Other key features and specs of the Olympus Evolt E520 include: Supersonic Wave Drive technology, face detection, shadow adjustment technology, and perfect shot preview. The best thing about this camera? Its price. (Price: $456.98)
Pentax K200D (3 out of 5)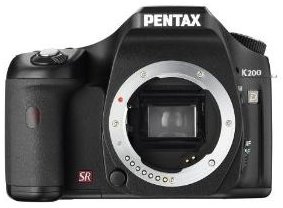 Here's another great entry-level DSLR which is very appropriate for a newbie photography enthusiasts. Three major features of the Pentax K200D which makes it one of the best entry level camera to help get started into using DSLR are its easy-to-use interface, compact body and advanced imaging technology. This 10.2 megapixel camera also features a 2.7-inch wide-view LCD, auto picture and scene modes, weather and dust-resistant body, custom image functions, dust reduction, and the Pentax dust reduction system. The Pentax K200D boasts of 2.8 fps speed bursts and while images that it produce are fairly clear in some instances, sometimes it appears blurry as well.(Price: $530.00)
Read our detailed review of the Pentax K200D.