Think Tank Photo Urban Disguise 70 Pro Camera Bag Review & Buying Guide
Think Tank Photo Urban Disguise 70 Pro camera bag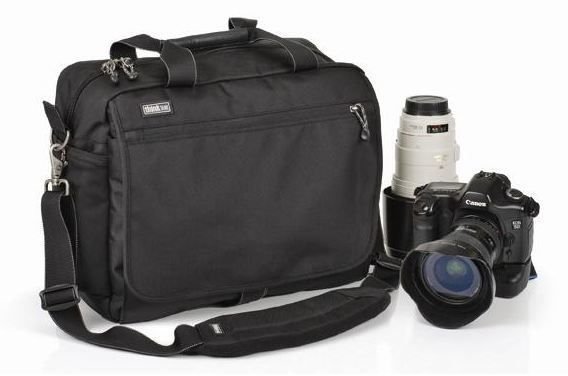 While a camera bag is a necessary accessory for many photographers, sometimes one just screams expensive photo gear and "steal me." Think Tank Photo's Urban Disguise line is designed to look more like any old work or travel bag and not something that carries expensive photographic equipment.
Features (5 out of 5)
The Urban Disguise 70 Pro is a big and sturdy camera bag that can haul a lot of camera equipment and also carry a laptop computer. The bag will hold a pair of pro sized DSLR bodies in two outer pockets while fitting multiple lens and other gear in its main compartment, which is deep enough to accommodate a pro 70-200mm 2.8 lens. There is also a rear compartment that can hold a small laptop computer or various books and magazines. It also has a "secret" compartment for travel documents and other important papers. Another typical Think Tank Pro touch is a business card pouch for storing business cards. The bag includes a seam sealed rain cover and leather handles in addition to a padded shoulder strap. There are also several straps for keys and other items. The bag also comes with its own memory case, a Think Tank Pro Pixel Pocket Rocket, which can hold half a dozen compact flash cards plus a trio of SD media cards.
The bag's main compartment offers multiple lens chambers, which can be reconfigured according to the photographer's needs thanks to the ubiquitous Velcro closures. Two of the compartments are curved to better accommodate lenses. In addition to the full depth dividers, a separate bag of eight smaller dividers is included to provide even greater bag outfitting versatility. On the outside of the bag is a zippered pouch for documents and a pouch to hold four pens or pencils. A secret compartment in this pouch zips open to reveal a small compartment that's just perfect for a passport.
Construction (5 out of 5)
The Urban Disguise 70 Pro is a solidly constructed and rugged bag capable of standing up to a lot of heavy use even under rough conditions. The bag is made of ballistic nylon and has YKK RC-Fuse zippers for closure. The rear of the bag has a sleeve so it can be mounted on a luggage cart and can be stowed either under an airline seat or in a luggage compartment. At the bottom of the sleeve is a zipper that can be used to turn the sleeve into another pouch while pouches on the bag's sides provide a place for water bottles or other items.
Price to Value (4 out of 5)
At $189, the Urban Disguise 70 Pro is an expensive bag. Its solid construction, heavy duty design, and generous supply of little odds and ends such as the memory pouch and extra dividers make it a good choice for the photographer who asks a lot of his or her camera bag and needs said bag to blend in with other luggage. Zipped shut the Think Tank Photo Urban Disguise Pro 70 looks like just another piece of luggage instead of a camera bag.