Sony Cyber-shot DSC-H20 Compact Digital Camera Review & Buying Guide
About the Sony Cyber-shot DSC-H20
The Sony Cyber-shot DSC-H20 is an impressive and affordable digital camera. The Sony Cyber-shot DSC-H20 offers features that are great for beginners and features that appeal to experts. If you are looking for a camera that delivers great image and video quality, that's easy to use and lightweight, then take a look at the Sony Cyber-shot DSC-H20.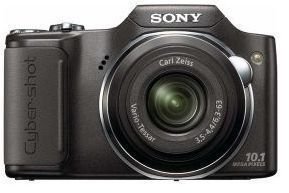 Specifications (5 out of 5)
10.1 megapixel image sensor.
10x optical zoom.
720p high-definition movie capture.
3.0" LCD screen.
11 megabytes of built-in storage.
4 1/4" x 2 3/4" x 1 7/8".
9.8 ounces.
Design (5 out of 5)
The Sony Cyber-shot DSC-H20 is a fairly light and small point-and-shoot digital camera. It only makes sense to have this camera with you during photo shoots or just out in town, versus a standard point-and-shoot or a bulky SLR, since this camera is the best of both worlds. It's compact enough to fit in your purse or pocket, and is very easy to hold on to. Despite the fact of having a small body, you can still take detailed, zoomed-in images.
You can only buy the Sony Cyber-shot DSC-H20 in black.
In the Box (4 out of 5)
Upon opening your Sony Cyber-shot DSC-H2, you'll see a rechargeable battery, battery charger, USB cable, A/V cable, software CD-ROM, manual, and lens cap in the box.
Ease of Use (4 out of 5)
You don't have to be a professional to use the Sony Cyber-shot DSC-H20. Although it has a long list of features, the camera is very easy to learn to use. It comes with a Function Guide that helps you navigate through various camera functions. There are no unnecessary buttons so you don't have to press twenty different buttons to find what you're looking for. Operating the camera for general point and shoot use is simple, and the resources are available if you want to learn to use different settings or Manual mode.
The Sony Cyber-shot DSC-H20 comes equipped with two different automatic modes: auto easy mode and intelligent auto mode. While using auto easy mode, you only have to focus on framing the image and pressing the shutter, everything else is controlled by the camera. Intelligent auto mode is also controlled by the camera, but it allows users to control settings like white balance.
Features (5 out of 5)
Battery Life: The Sony Cyber-shot DSC-H20 has a fairly decent battery life that lasts about 290 images.
Face Detection: This camera can detect up to eight faces per image. The camera automatically brightens faces, reduces blur by accelerating shutter speed, and enhances image quality. It can also reduce red-eye and detect blinking so the image can be taken before or after the subject blinks.
Convenient Photo Modes: The camera comes equipped with 13 modes that adjust quickly to the specified shooting conditions, like Fireworks, Twilight, Beach or Snow.
In-Camera Retouching Tools: In-camera retouching tools allow photographers to enhance images with ten retouching features on-the-go. With the retouching tools, you can add neat frames and decorative stamps to your images.
Burst Mode: With burst mode, you can take about 100 shots in a row at 0.62 second intervals.
High Sensitivity Mode: High sensitivity mode allows you to take better quality images without a flash or in bad lighting, since the camera increases shutter speed.
Anti-blur Solution: The camera automatically compensates for shaky hands to produce sharper, clearer images.
Face Memory: This feature is really neat if you're taking images for a photo shoot or a special event where you're using the same subject in various shots. The camera automatically memorizes the details of the face of the subject so that each picture you take, the subject is always in focus.
Cons (3 out of 5)
Flash: If you use the pop-out flash, you have to manually pop it back in, which some might find to be a nuisance.
Lack of Viewfinder: Most new point-and-shoot cameras are no longer equipped with a viewfinder, and the Sony Cyber-shot DSC-H20 is no different. You have to use the LCD screen to map out images.
Colors: Colors are occasionally off (and grainy) in intelligent mode, since the camera automatically alters the settings to enhance photo quality, which doesn't always allow photos to come out the way you want them to.
Lens Cap: You have to manually remove the lens cap each time you use the camera.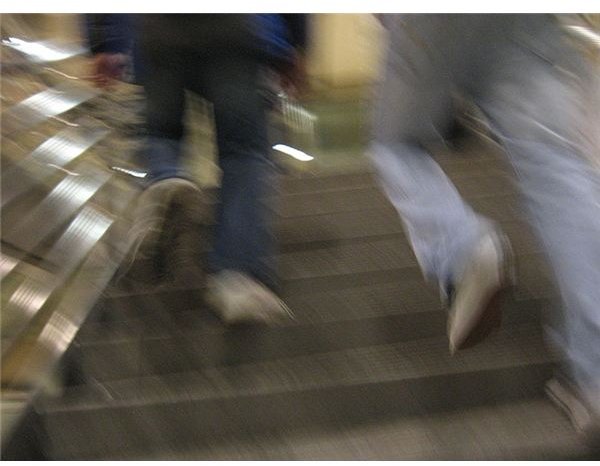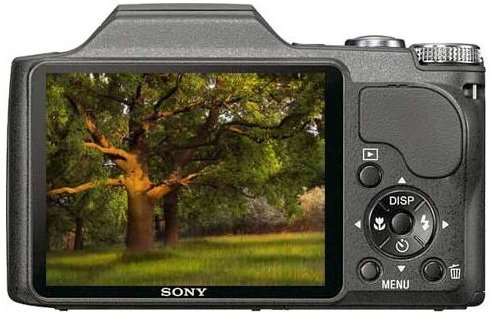 Price to Value (5 out of 5)
If you're looking for a camera with all of the features of a digital SLR, without the weight and price, look no further. The Sony Cyber-shot DSC-H20 is small enough to fit in your pocket, but it packs a powerful punch. From in-camera image editing to face recognition, learning and using this camera is fun and simple. Overall, the Sony Cyber-shot DSC-H20 takes beautiful pictures, has numerous features and is extremely user-friendly.