Kata DB-453 Camera Messenger Bag Review and Buying Guide
Overview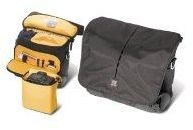 Whenever I am looking for a new camera bag, I prefer ones that are more plain and do not resemble camera bags. I try to avoid bags with Canon or Nikon logos and ones that make it obvious that I am carrying around expensive equipment.
The DB-453 is part of the Digital Photo Series line from Kata that provides storage for a DSLR and up to two lenses. Perhaps my favorite thing about the Kata DB-453 is the fact that it looks more like a messenger bag than a camera bag. I also like that the camera compartment is removable allowing it to double as a simple day pack on days I choose to leave my camera equipment at home.
Features
The thing that really drew me to the Kata DB-453 was the understated appearance of the messenger style bag. I was looking for something I could bring to a museum or a wedding that did not scream camera bag. I also liked the fact that contents of the bag could be accessed easily and quietly using the two sturdy front clips. This is a pleasant change from the velcro that holds many messenger bags closed which makes opening such bags harder in quiet surroundings.
Another nice feature of the Kata DB-453 is the removable camera compartment. The compartment has room for a DSLR with a lens mounted and an additional smaller lens. While this bag does not provide room for a lot of camera equipment, it does provide room for all the things I would carry on a normal day trip.
Pros and Cons
Pros:
Compact and simple messenger bag that does not look like a camera bag
Removable camera compartment allows it to double as a messenger bag
No velcro straps that would make opening the bag loud
Front zippered pocket for storing memory cards and additional batteries
Cons:
Strap that comes with the bag can become uncomfortable after a few hours of use
The camera compartment is shorter than the bag itself making it hard to get larger zoom lenses inside
The mesh side pockets only hold smaller water bottles
Conclusion (4 out of 5)
Since the Kata DB-453 only holds up to two lenses in the camera compartment, it may not be for all users. I tend to travel lighter than most so I find the setup ideal. This bag is perfect for those looking for a messenger style bag to carry their DSLR, kit lens, and a smaller primes lens. Once the camera insert is full, there is sufficient room on the side for a flash unit or a small sack lunch.
Overall, I think the Kata DB-453 is a great bag and I recommend it to anyone that needs a smaller pack for short photo outings. The bag is well made, water resistant, and very easy to clean. With the camera insert removed, it is even wide enough to accommodate a 10 or 11-inch netbook to double as a small computer bag.