SANYO VPC-E1090 Digital Camera Review: A Great Camera for Under $100
Introduction
The last time I had a brand new digital camera was nearly five years ago, and it quit working nearly two years ago. I'd been looking for a new camera for quite some time, but ended up making a rather spontaneous decision to purchase this one from Wal-Mart.
I didn't need the camera for anything fancy, just something to take family photos with for the holidays. I'm a novice photographer but love photos, so I was looking for something that could provide me with good quality photos without breaking my budget. I was looking for something under $100 and tried to take advantage of the fact that many cameras would be on sale for Christmas. Once I learn more about the art of photography, I'll be willing to spring for something more expensive, with more frills.
Specifications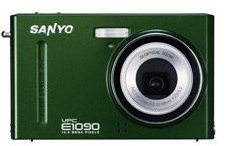 The SANYO VPC-E1090 has the following specs:
10 MP resolution
Lithium Ion battery for in camera charging
16 MB internal memory with SD card slot for up to 16 GB.
Records video.
In the package, you will find:
Camera
Battery and Charger Cable
USB/Video Cable
Camera Bag
Lanyard Strap
Photo is a stock photo provided by Walmart.com.
Performance (5 out of 5)
Overall, the pictures I have taken with the camera are fantastic. I haven't experienced a single issue with the camera, and all the photos I have taken with it have turned out wonderfully. There are many different modes to choose from to capture pictures including: a self portrait mode, night portrait mode, snow mode, kids and pets mode, beach mode, party mode, and more. The timer makes it easier to take pictures of yourself with no one else around, though it is designed for tripod use.
Features (4 out of 5)
This camera has a wide variety of features, some of which include:
Anti-Shake
Face and Smile Recognition
Red Eye Reduction: Helps to reduce the red eye
Voice Memo Record: After a picture is taken, you can record up to a minute's worth of audio to accompany it.
Adjustable Image Resolution: You can change the resolution of the photos down from 10 MP to VGA mode, which is less than 2 MP.
Design (5 out of 5)
The camera is sleek and slim. It is light weight, so it is easy to take pictures nearly anywhere you go. It fits nicely in the cloth drawstring bag provided with it, and can fit in your pocket or purse with no problem. Keeping the battery charger on hand may make it a bit more difficult to travel with, but the battery life is decent enough to be able to take a few hundred pictures with no worries. This particular model camera is only available in the dark green color seen in the photograph.
Price to Value (4 out of 5)
For $99.00, this camera is an excellent deal. The only additional expense is the SD card, but considering batteries and a charger are not necessary, it's a fair trade. The only thing is, another SANYO camera, model VPC-S1275, was positioned next to this camera on the display, for $89.00. The difference: the cheaper camera had the better resolution, at 12 MP, and instead of green, was purple. It doesn't seem worth it to spend $10 more to get less resolution. The only reason I did was because Wal-mart was out of the cheaper one, and it's been so long since I've had a functional digital camera I didn't want to wait any longer. A 90 day warranty is available on parts and labor.