Camera Bag Review of The Urban Disguise 35 by Think Tank Photo
Introduction
Sometimes you just don't want to make it obvious you're a photographer. Sometimes you want a camera bag that doesn't look like a camera bag but still keeps your gear well protected and accessible. Think Tank Photo's Urban Disguise series of camera bags is designed with that need in mind. These tough, rugged bags don't look like camera bags, but they can carry your equipment safely while making it accessible too.
The Urban Disguise 35 is a small to medium bag that's deep enough to handle a pro DSLR with a big 70-200 2.8L mounted on it with space for a flash unit and at least one more lens (so long as it's not too big). It can also hold a laptop computer in a separate compartment. Depending on how loaded the camera compartment is, the laptop space can hold either a 10" computer or up to a 13" model.
The bag has multiple pockets, including an outer pouch that can fit a pro sized DSLR body. Two stretchable side pockets provide handy storage for water bottles, cell phones and other small items that you need to reach while on the go. Behind the outer camera pouch is another small pouch with holders for pens, memory cards and other small items.
Like most modern camera bags, it includes a variety of Velcro partitions. Strategically placed leather handles make it easy to pick the bag up and carry it comfortably even when it's fully loaded. A front flap covers the outer camera pouch and offers a zippered pouch for documents or other small items. In the bag's rear there's a business card holder that's large enough to hold multiple cards.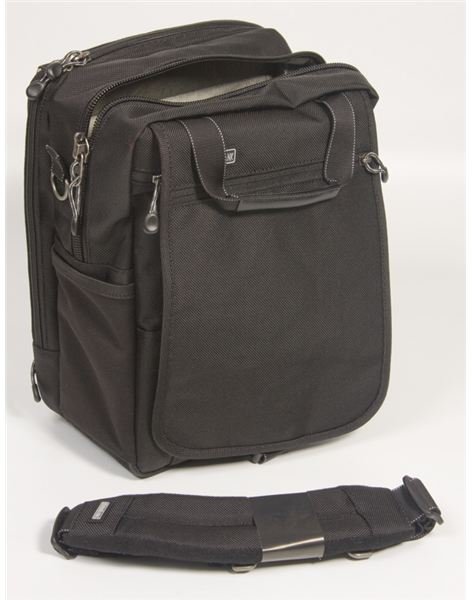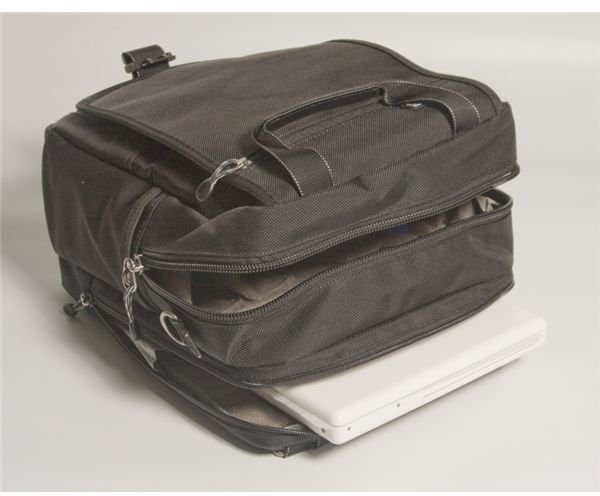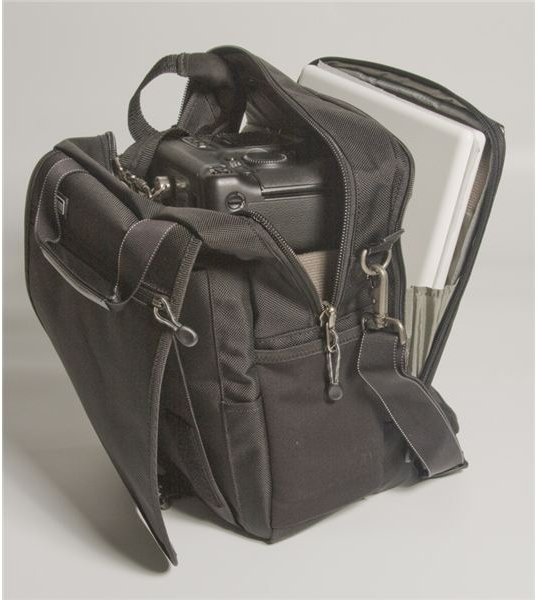 Construction and Details (5 out of 5)
The Urban Disguise 35 is made of ballistic nylon with YKK zippers and can be fitted onto a luggage cart. It comes with a non-slip shoulder strap and an accessory backpack harness is available as an extra cost purchase from Think Tank Photo ($27.00). The Urban Disguise 35 comes with a built-in raincoat. The bag's dimensions are: Interior, 10" Long, 13.25" High, 4.25-6" Deep; exterior, 10.5" Long, 13.5" High, 6" Deep. The laptop compartment measurements are: 10" Long, 13.5" High, 1.5" Deep. The bag weights 2.6 lbs. and comes with a lifetime warranty.
Price to Value (4 out of 5)
At $149.00, the Urban Disguise 35 is a little pricey, but its solid construction and durability make it a worthwhile consideration for the photographer who needs a quality bag. This is a tough camera bag that will hold up to a lot of abuse. One downside is that when a camera is mounted on a big lens and stored in the main compartment, it is a little bit of a struggle to extricate the combo.