Sony DSLR-A300 Review - Pros and Cons of Sony DSLR A300 Features
Specification Highlights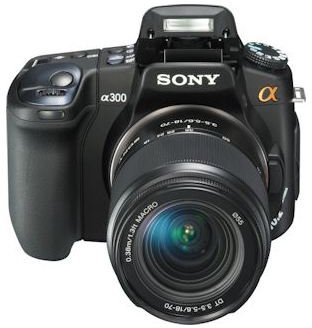 General Overview
Even though it's robust enough to be an asset to more advanced users, the Sony DSLR-A300 was definitely designed with the beginning digital SLR photographer in mind. Without even digging into the more advanced settings, the camera takes great pictures in automatic mode. Assuming that you remembered to buy a memory card, you should be able to take pictures within moments of the battery getting charged up.
Speaking of memory, the Sony DSLR-A300 uses compact flash. There is no built-in memory for the camera and a memory card is not part of any of the standard packages. This isn't too big a deal though since you can pick up a compact flash card almost anywhere these days.
Specifications
Digital SLR (single-lens reflex) camera
10.2 megapixels
Built-in flash
Interchangeable lenses
Super SteadyShot
Live View with Tilting Screen
Weighs approximately 20.5 oz (582 g) without battery or any accessories
Features (4 out of 5)
Other than the standard SLR features, one of my favorite aspects of the Sony DSLR-A300 is the Live View with tilting screen. Even though the screen only tilts vertically, this has considerably improved my photography. I take a lot of shots where I have to hold the camera away from my face, but with this tilting screen, I'm still able to see what I'm shooting.
I also am very impressed with the Super SteadyShot feature. If you have problems with trembling hands or take shots under less than ideal conditions, this feature can make all the difference in the world. The Super SteadyShot feature compensates for camera movement as well as subject movement. You can turn this feature off, however, if you are using manual settings or trying to achieve certain photographic effects.
Although the Sony DSLR-A300 came with a USB connector so that photos could be downloaded to the computer directly from the camera, I was unable to get the process to work. I've never had problems with my computer reading any other digital camera, but I didn't spend a lot of time troubleshooting this situation so I'm not sure what the source of the problem was. I have a compact flash card reader so I just popped the card out of the camera and used that instead. I want to give a fair warning though, that the camera may not be as plug-and-play as advertised.
Overall Rating (4 out of 5)
I think this is a great camera for the price. Currently, Sony is offering a deal where you can purchase the DSLR-A300 with the DT-18-70 standard zoom lens for $599.99. For an extra $200, you can add on a 55-200mm telephoto lens. I haven't tried this second lens out, but it's on my wish list.
The camera takes fantastic pictures and because of the auto settings, you don't have to be a genius to figure out how to use it. While many cameras with automatic features are pretty rigid in the way they can be customized for shots, this is not true of the DSLR-A300. There are still lots of opportunities for manually applying your own settings for those who are so inclined.