Mid-Range Canon EOS DSLR Cameras for Semi-Pro Photographers
Canon's Semi-Pro Range
The following four cameras are the best of what Canon currently offers advanced amateur photographers. They are a step above entry-level DSLR models and include a lot of what you would find in a top of the line pro model. They are aimed at amateur photographers looking to upgrade their Rebels, and at professionals who may be looking for a reliable back-up body. They are rugged, dependable cameras that offer advanced features for an increasingly demanding consumer, and they represent some of the best cameras that money can buy today.
Canon EOS 50D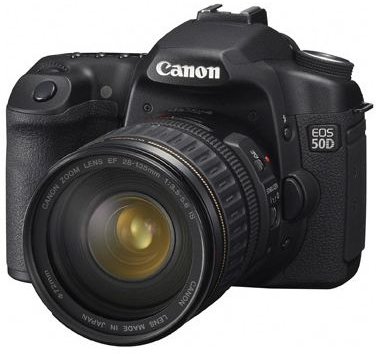 A year after the release of the Canon EOS 40D, almost to the day, Canon announced the 2008 launch of the EOS 50D. This upgrade to the EOS 40D included a larger 15 megapixel sensor that, despite the larger file sizes, was still able to churn out over 6 frames per second. An HDMI output was included to view images on HDTVs, a new high resolution 3" LCD was added, and so was a new DIGIC 4 image processor. The 50D's ISO range was also expanded, but overall, this modest upgrade was worthwhile, if a little expensive when first launched. Today, the Canon EOS 50D, complete with kit lens, sells for around $1100, and that puts it in direct competition with the Nikon D90.
Canon EOS 60D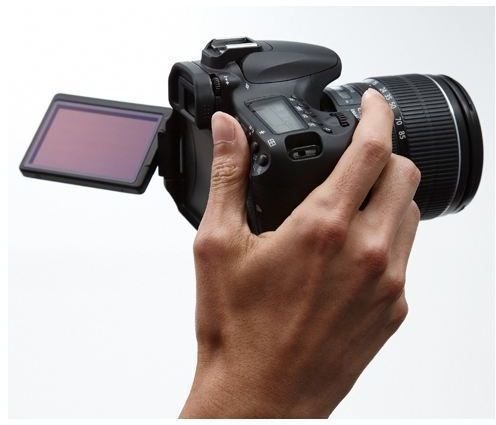 The Canon EOS 60D was launched in August 2010, and looks set to be the natural successor to the aging EOS 50D. The megapixel count was increased to 18, and a new image processor was included to help ensure quality with the greater resolution that it offers. It is the first of a new line of Canon EOS DSLR cameras to feature a 3-inch high resolution vari-angle LCD screen, (see picture left), and it includes an expanded ISO range that can be set as high as 12,800. The EOS 60D can shoot full 1080p HD video at 30, 25 and 24 frames per second, and has a pop-up flash that has a built-in Speedlite transmitter for controlling off camera flash units. It has 9 precision focus points and even includes an artificial horizon indicator to keep your shots straight. All in all, the 60D is a worthy update to what was already a popular model. The body is priced at $1,099.
Canon EOS 5D Mk II
In September 2008, Canon unveiled the EOS 5D Mark II. This was the well-deserved update for the original EOS 5D. In the three years since the release of the 5D, camera technologies had moved on a lot. The release of the EOS 5D Mk II, was a good opportunity for Canon to bring an already successful camera up to date with the latest photographic advancements. This new 21 megapixel, full framed, digital SLR now included a full HD movie mode, a larger hi-res 3" LCD, an integrated sensor cleaning system, live view, and in camera picture editing. Although not for sports shooters, (it tops out at 4 frames per second in burst mode), its image resolution is hard to match, and it has earned a reputation as one of the most reliable and accurate Canon EOS DSLR cameras in the current line-up.
Canon EOS 7D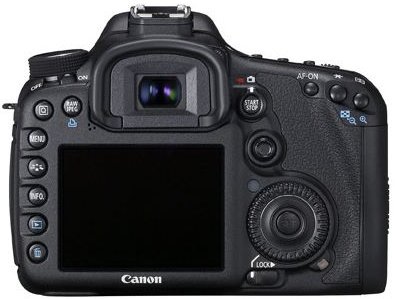 The Canon EOS 7D is the latest semi-pro camera to be announced by Canon. It is a great alternative to the 5D Mk II if you can sacrifice the advantages of a full frame sensor. Released in September 2009, the 7D boasts an 18 megapixel sensor that can shoot up to 8 frames per second. Like the Mk II, it also has an HD movie mode, and a self-cleaning sensor. There are 19 focus points that make up the quick and accurate autofocus system. Canon claim 100% accuracy from its viewfinder, and have introduced a 63 zone dual layer metering system to make sure your exposure is handled correctly by the camera. Whether you are a serious amateur or a professional looking for a backup body, the Canon EOS 7D is undoubtedly one of the best rated Canon digital cameras.
Top Picks
The stand out cameras in this line-up have to be the EOS 7D and the 5D Mk II. The 7D is arguably the best Canon you can buy that does not have a full frame sensor. The 5D Mk II is beginning to show its age, but the only reason it has not yet been replaced is because it is so good! The images it produces are still beyond reproach, and it is the most affordable full frame DSLR on offer from Canon.
References
Images courtesy of Canon USA
Bright Hub's review of the Canon EOS 5D Mk II
Bright Hub's review of the Canon EOS 7D
This post is part of the series: Canon DSLR Buyer's Guides
This series of camera guides takes you through all the DSLRs in the current Canon lineup and puts them in order from entry-level Rebels all the way through to the latest professional grade cameras.