Tamrac Aero Speed Pack 85 Camera Backpack Review & Buying Guide
Overview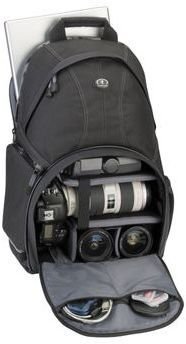 Like most photographers, I have spent many hours looking for the perfect bag for my photography gear. While I have concluded that there will never be one bag for all occasions, I was lucky enough to find a great travel backpack earlier this year. After months of searching online and at local camera stores, I purchased the Tamrac Aero Speed Pack 85 for a three week trip to Hong Kong. I was a little hesitant because of its size but soon realized a bit of bulkiness was well worth the extra protection this backpack offered.
Features
The two things I wanted in a travel backpack were a compartment for my 15-inch Macbook Pro computer and plenty of space for my Canon 40D and three lenses. The Tamrac Aero Speed Pack 85 met both these requirements while offering plenty of protection for all my gear.
In addition, the side door of the Speed Pack 85 allows for quick access to my DSLR without completely removing the backpack. Even though this was not a feature I originally wanted, having it has made using the bag in a crowd much more convenient. Other nice features include a small zippered compartment above the camera compartment for holding a jacket or snacks and external mesh pockets for storing a water bottle and other miscellaneous items.
Pros and Cons
As I mentioned before, no camera bag is perfect and the Aero Speed Pack 85 does have a few drawbacks. To provide an overview of what I like and dislike about this backpack, here are lists of Pros and Cons for this pack from Tamrac.
Pros:
Sufficient protection for DSLR and lenses
Internal zippered pouches for filters and memory cards
Side access door
External mesh pockets
Compartment for 15-inch widescreen notebook computer
Cons:
Bulky due to padding in the camera compartment
Design of notebook compartment makes the backpack uncomfortable to wear for long periods with notebook inside
Straps can be uncomfortable when the backpack is loaded with gear
Weather-proof zippers for the camera compartment are hard to open
Conclusion (4 out of 5)
So while the Tamrac Aero Speed Pack 85 is not perfect, I still highly recommend it to anyone looking for a good travel backpack for their camera gear and notebook computer. The protection offered by this backpack put my mind at ease while traveling throughout Hong Kong with my gear strapped to my back.
The size and weight of this backpack make it better for longer trips than for shorter photo excursions. However, in a pinch it will work as your only bag for a weekend photography outing if you leave the notebook at home. As with most things photography related, the best way to know if something will work for you is to try it out at a local camera store. For those that cannot see this bag in person, more information is available online at the Tamrac website.