The Kata GDC Series E-702 Elements Cover Review & Buying Guide
Introduction
Sometimes the best time to take pictures is when the weather is the lousiest. Brave the elements with a good camera raincoat. Experienced photographers know that often the best photos come in the worst weather. In order to protect expensive camera gear it's necessary to have the right protection for your camera. Shooting in the rain and snow can be a real challenge for both the photographer and the equipment and finding the right protection for your gear can be a real challenge.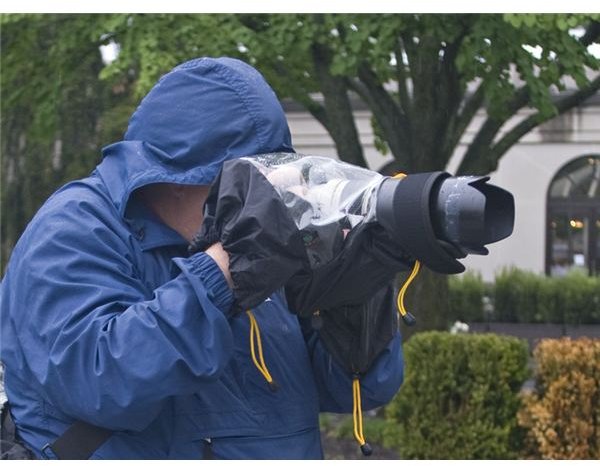 User Friendliness (5 out of 5)
The Kata GDC Series E-702 Elements Cover is one choice. This cover is large enough to use with a pro DSLR and 70-200mm 2.8 zoom lens. It slips on the camera easily and cinches in place thanks to Velcro at the lens end, cinch cords on the two sleeves where the photographer inserts his or her hands and has a zippered bottom to it and the camera can be mounted on a tripod or monopod and then zipped in place. Its plastic/vinyl construction makes it completely water repellent and it doesn't take up a lot of room in a camera bag either. The cinch cords are long enough that grabbing and cinching them with gloves on isn't a problem.
This is an easy rain cover to work with. The side sleeves provide easy access to all the camera controls and you can see the camera's LCD screen easily through the clear back of the rain cover. It can even be fitted with an extension cover to accommodate a larger telephoto lens such as a 300mm 2.8 or 400mm 2.8 lens.
Price to Value (5 out of 5)
At $59.94, the Kata GDC E-702 Elements Cover is pretty inexpensive for a high quality camera raincoat. It is well worth the price being easy and comfortable to use and reliable even in terrible weather conditions. I shot a two-day marching band competition in Scranton, PA a few years ago. It rained almost non-stop for the entire event and we were shooting for 15 hours each day sometimes in pouring rain and not a drop got on my camera. This is easily the best camera raincoat I've ever used.