Canon Speedlite Transmitter ST-E2 Provides a Nice Wireless Flash Control Answer - Review & Buying Guide
Speedlite transmitter offers Canon DSLRs, some Canon point-and-shoot cameras wireless flash control for certain flash units (Canon and third party).
Canon users who want to get their flash units off the camera have a few choices. One is to use an off-camera shoe cord. Another is to use a PC cord and adapter (since most Canon flash units don't have a PC connection). You can also dedicate a 550EX or a 580EX series flash unit as a master on your camera to trigger other wireless flash units. This option provides E-TTL flash, but has the drawback of tying up a flash unit. A smaller (and possibly cheaper option) is the Canon Speedlite Transmitter ST-E2 wireless flash controller. This small hot-shoe mounted device provides E-TTL wireless flash control while allowing for wireless control of flash output via lighting ratio control with multiple flash units.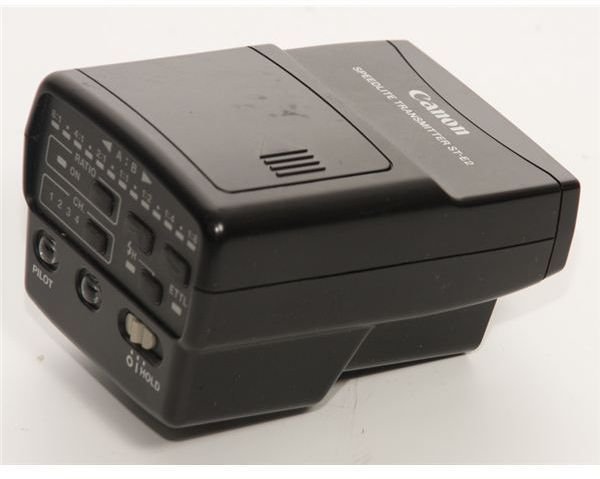 User Friendliness (4 out of 5)
The Speedlite Transmitter ST-E2 locks into the camera's flash hot shoe. The user makes sure the flash units are positioned so they can "see" the ST-E2 (the infrared signal can be bounced off of walls) and determines which group each flash should belong to. The ST-E2 can control multiple strobes (as many as three) in each of two groups (Group A, Group B). The device's infrared signal can be effective from 30 to 40 feet indoors, and slightly more than half that outdoors. It can also take advantage of a strobe's high speed flash sync capabilities.
Compatible flash units: Canon 420EX, 430EX, 550EX, 580EX, 580EX II, EX series ring lights (limited capability), certain third party Canon dedicated strobes may also be able to work with the ST-E2. I use a Sigma EF-Super 500 with it and the pair work quite effectively. Other Sigma dedicated (Canon) strobes have been reported to work with the ST-E2 too, but I haven't been able to test them myself.
Cons: limited effectiveness outdoors. Takes hard to find, expensive 2CR5 batteries. Costs about as much as a used 550EX flash unit which does a slightly better job.
Price to Value (3 out of 5)
The Canon Speedlite Transmitter ST-E2 isn't a no brainer. Going with a 550EX or 580EX series flash unit or investing in an EOS 7D (which has a built-in wireless flash controller) may be better choices for some photographers. Still, if you want a wireless flash capability, it is a viable option. Since the device can be used with a Canon G series camera, it would be possible to put together a nice, lightweight outfit using a G9 or G11 with a 430EX, 550EX or 580EX series flash, a small portable light stand and light modifier that fits in a belt pouch style bag. This would make a nice photo "grab" bag that could be ready to go at a moment's notice while offering the ability to make high quality images. I often use an ST-E2 with my flash units (580EX II, 550EX, 420EX and Sigma EF-Super 500) with excellent results indoors, and decent results outdoors.