Review of Canon 24-105 f/4L IS USM Lens - Canon Lens Review & Buying Guide
Overview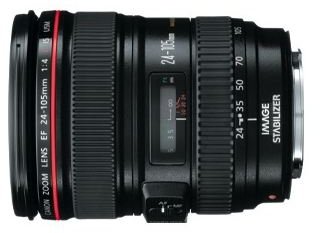 The Canon EF24-105 f/4L IS USM lens is part of Canon's L series lens lineup and offers image stabilization along with a constant aperture throughout the 24-105mm zoom range. All Canon L series lenses are denoted by the red ring around the front of the lens barrel.
While the red ring does come with a hefty price tag, it is worth considering for those looking for a great walkaround lens to replace the kit lens from their SLR cameras. Unlike Canon's consumer level series of lenses, all L series lenses come with a lens hood and carrying pouch. Even though these items can be purchased separately for other lenses, having them come in the box is a nice bonus.
Features (4 out of 5)
Canon's L series lenses are noted for their excellent build quality. The Canon EF24-105 f/4L IS USM is no exception to this rule. It is well built and feels quite solid in your hands. Mounted on cameras like the Canon 40D or 5D, the lens feels perfectly balanced. For users of smaller Canon DSLRs such as the Rebel, the combination may feel somewhat front heavy when paired together. Before ordering online, I recommend going to a local camera store to try the lens on your camera to test the feel in your hands.
Another feature that makes the Canon EF24-105 f/4L a great lens is the image stabilization system. Canon claims their Image Stabilizer Technology is capable of steadying camera shake by up to three stops. This along with the constant f/4 maximum aperture allows for handholding of shots at much lower light conditions than a non stabilized lens.
The only real drawback of this lens is that the f/4 maximum aperture is not capable of producing portrait images with the blurred backgrounds I like. At the same time, I realize that increasing the maximum aperture to f/2.8 would make for a much heavier and more expensive lens.
Image Quality (5 out of 5)
Having always read about the exceptional image quality that comes with using a Canon L series lens, I admit I was skeptical until I used the Canon EF24-105 f/4L for the first time. After using this lens in a variety of shooting situations, I can now say I am a believer. I have found that unlike many consumer grade lenses, images captured with this lens throughout its zoom range at its maximum aperture are very sharp. Admittedly, I am not a pixel peeper and rarely check my shots at 100% for sharpness, but the ones I have checked were plenty sharp for my taste.
The color of images shot with this lens also tend to be more vibrant than with consumer grade lenses I normally use. In comparing similar images shot with this lens and a consumer grade lens like the Canon EF28-135 IS USM, those coming from the Canon EF24-105 f/4L definitely have a look closer to what I saw with my own eyes. Since this may be a subjective issue, I recommend renting this lens for a weekend to see the difference for yourself.
Conclusion (4 out of 5)
At its suggested retail price of $1249, the Canon EF24-105 f/4L IS USM is certainly not for everyone. For professional photographers or serious enthusiasts looking for top notch build and image quality, this lens is a worthy upgrade. However, for those just getting started with digital photography, this may be one to keep on your wish list for a future purchase.
Having used this lens and many other of Canon's consumer grade lenses, I can honestly say this is the one I rent when I want to take the best images possible. The useful zoom range, constant aperture, and image stabilization make this lens ideal for me when traveling. The Canon EF24-105 f/4L combined with a 50mm prime lens make a terrific travel kit suitable for most shooting situations.
So while I truly enjoy using this lens, I can only recommend it to those that can justify spending over a $1000 for a lens. For everyone else, I recommend renting this lens to try out for yourself before taking the plunge.
Canon EF24-105 f/4L Sample Images