Think Tank Speed Freak Belt Pack is a Quality Camera Bag - Review & Buying Guide
Introduction
Think Tank Photo specializes in camera bags. The company (made up of photographers and designers) says it studies how photographers work and designs its bags accordingly. The company's web site says, "If we can design products that help photographers travel easier, take pictures faster, and organize their gear more efficiently, then we will have accomplished something beyond the bags themselves." The Speed Freak is one of the company's camera beltpacks.
This model is designed to carry a pro 70-200 2.8 lens vertically, while leaving room for other accessories such as batteries, flash units and smaller lenses. It also has useful side and back compartments as well as a small pouch in the part of the back that rests against the body. This is a useful place for putting a reporter's notepad, ID or some emergency cash. Side mesh pockets are available on each side of the beltpack as places to store lens and body caps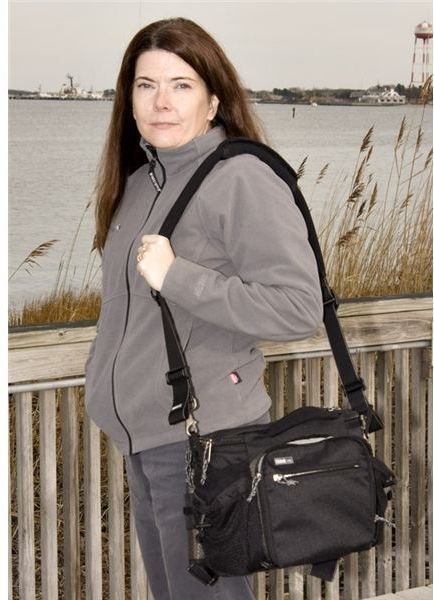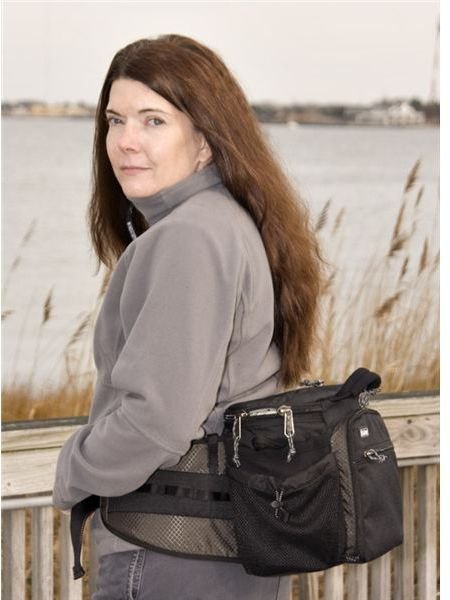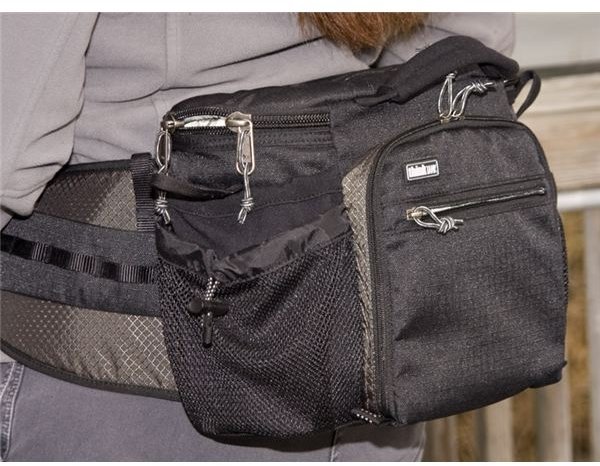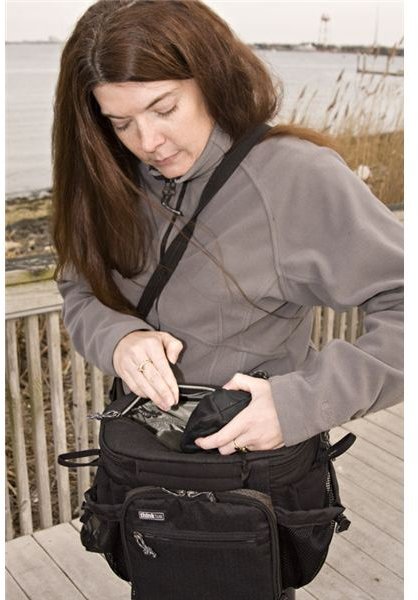 Construction (5 out of 5)
The bag is solidly constructed, a characteristic of the company's products. It offers secure stitching, multiple attachment points and a large, secure waist belt and padded shoulder strap so it can be worn as either a beltpack or shoulder bag (there's a sleeve behind the hip pad that the hip pads slide into making this a very practical shoulder bag). Among the list of features the bag includes is a Pixel Pocket Rocket memory card pouch that can hold up to 10 compact flash or smaller memory cards. This is a nice add-on since this memory pouch would normally be a worthwhile purchase of its own.
This is what would generally be considered a small to medium sized beltpack and about as large a beltpack as I'm normally willing to consider. This is a personal preference, but it's based on the experience of trying to use a fully loaded large beltpack and having it constantly slip down no matter how hard I tried to tighten the belt. Like most camera bags of any kind made these days, it offers adjustable dividers that attach via Velcro. It also comes with a seam sealed raincoat that fits snugly over the beltpack quickly and easily. Its interior dimensions are 10.75" long by 4.5" wide by 9.25" deep and its outer dimensions are 11.75" long by 7" wide by 9.75" deep. A useful carrying handle is stitched into the outside front of the bag. It comes with a lifetime warranty.
Features (5 out of 5)
The bag also features a padded hip cushion and large, oversized hip belt helping it fit and wear comfortably and snugly. An outer belt on the hip pad has attachment points for the company's accessory pouches, so the beltpack's capacity can be expanded. There is also a set of attachment points so the bag can be clipped to a harness for a different approach to carrying/wearing it. The top of the bag features a zippered opening, which lets the photographer access items in the bag without having to open the main compartment. The inside of the top compartment features a narrow and long clear plastic compartment that would be useful for business cards and other small items.
In Use (4 out of 5)
This is comfortable and well thought out bag to use. It supports the weight of pro gear nicely and its wealth of pockets and pouches are welcome options. My only complaint is that the waist belt is a bit tough to adjust, a hassle when you figure that beltpacks are often shifted around the body and frequently require belt adjustments. Still, when my wife wore it for photos, she said she had little difficulty making changes (of course she's a lot thinner than I am). What's impressive is that the belt accommodates both my skinny wife's narrow waist and my ample girth without any kind of extension necessary. The company says the belt can accommodate waists ranging in size from 28" to 60".
Price to Value (5 out of 5)
At $130, the Think Tank Speed Freak is not a cheap beltpack, but its construction quality and features make it a worthwhile purchase for a photographer who needs rugged, dependable gear. Add into your considerations that the included Pixel Pocket Rocket is a $16.50 accessory and the bag seems a bit more affordable. This is a superior product and in my opinion, is worth paying a premium for.
Disclaimer: The company provided the author with a Speed Freak bag for inclusion in the David Busch Quick Snap Guide to Photo Gear