Canon 580EX II is a Powerful and Versatile Strobe - Canon Review & Buying Guide
Introduction
The Canon 580EX II speed light is the company's top of the line shoe mount flash. This powerful unit provides E-TTL flash when used both on camera and in wireless flash mode with Canon's ST-E2 wireless flash controller or via the Canon EOS 7D's wireless flash control system. The 580EX II can also be used as a wireless flash controller itself (when mounted on the camera) while still being able to fire itself too. Unlike the ST-E2, the 580EX II can control up to three flash groups (the ST-E2 can only control two). The 580EX II also provides greater wireless control range than the ST-E2.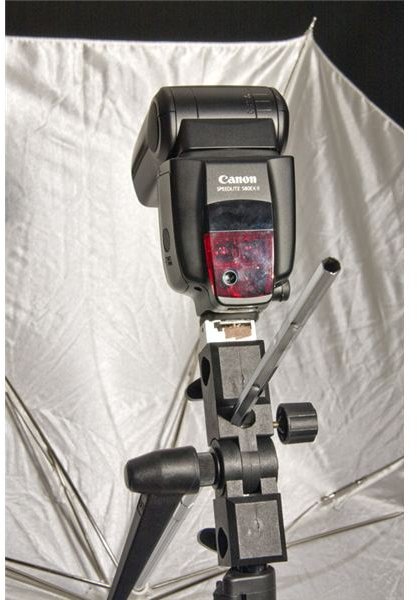 Features (4 out of 5)
There are other improvements over its predecessor, such as the inclusion of a PC connection, making it possible to use the 580EX II more easily with Radio Slaves and Pocket Wizards, plus it offers a control wheel instead of the button input arrangement the 580EX provided. It also provides weather sealing at the point where it connects to the camera making it consistent with the protection Canon's pro cameras offer. This weather sealing does make it harder to mate the strobe to some light stand adapters though.
The 580EX II is powerful flash capable of pumping out a lot of light. It includes a built in white card and a separate diffuser that widens its beam spread to cover extreme wide angle lenses (up to 17mm) while being able to zoom out to cover the field of view of a 105mm lens. It is smaller, lighter and more powerful than the previous top of the line strobe, the 550EX (GN 180). I've used this strobe with a Canon 1DMkIIn and a Canon 40D both wirelessly and on camera. I've found the flash to be an excellent performer off camera, but not always as dependable at least on the 1DMkI
Ease of Use (4 out of 5)
This strobe offers a variety of features and custom functions and offers great versatility, but also making for a steep learning curve. Among its many features include second curtain shutter sync, high speed flash sync, flash exposure bracketing (take 3 shots with the flash changing output by user settable amounts to bracket exposures). It can pivot up to 90 degrees and swivel a full 180 degrees for a variety of bounce options.
The flash can be operated in manual mode and power output set from full to 1/128th in 1/3 f-stop increments. It can also be set to "multi" mode allowing for a stroboscopic flash effect creating multiple images on an exposure. Among the strobe's custom functions is the ability to have it produce a modeling light effect to help judge shadows from the light.
Price to Value (4 out of 5)
With a guide number of 190 at ISO 100. this is a powerful flash unit. A search of the web showed prices as low as $365 for the 580EX II. While this is a lot of money for a flash unit to most hobbyists, for the working pro, this strobe is worth the cost. There are certainly less expensive choices out there, particularly in third party options, but if you're looking for a main flash that will serve you well for years, this is a good choice.