Nikon DSLR Cameras for Semi Pro Photographers: How to Choose Between the D90, D300s and D7000
Overview
The Semi-Pro Nikon DSLR cameras fall neatly in between the entry-level Nikon cameras and the professional Nikon cameras. They are for more advanced photographers who have outgrown the features on their entry level DSLR, or for professionals looking to have an affordable backup body that produces quality, high resolution images. These models include the Nikon D90, D300, D300s and D7000. You can read an overview of each below.
The Nikon D90
The D90 was heralded as a landmark camera on its April 2008 launch, because it was the first DSLR from any manufacturer to include HD video capabilities. Today, it is still highly regarded as a great all-round camera that works well under many different conditions. Its 12 megapixel sensor gives high resolution images that look as good on the 3 inch LCD screen as they do on your monitor at home. Noise reduction is handled very well up to ISO 3200, and the rugged body will autofocus with virtually any Nikon autofocus lens. Read this article for an in-depth review.
The Nikon D300
Like the D90 and the D40, the D300 has proven to be one of Nikon's most popular DSLRs. It was first announced in August 2007, and was soon being touted as a more cost efficient alternative to the pro-bodied D3. Showcase features included focus tracking by color via a 51 point autofocus system, continuous shooting up to six frames per second, a 3-inch high resolution LCD with live view, a self-cleaning sensor, and weather sealing. It left many people wondering why they would need to pay the extra for a D3.
The Nikon D300s
At the end of July, 2009, Nikon gave the D300 a makeover to bring it up to date with some of the latest technologies. Upgrades included the now obligatory HD movie mode, but this time with a contrast based AF system. (The D90 and D5000 use manual focus only in their movie modes). It also now has dual memory card slots for SD and Compact Flash cards. It inherits a virtual horizon indicator from the D3, has a tweaked D-Lighting system, a quiet shutter release mode, and a 7 frame per second shot rate. The changes may not tempt some D300 owners to upgrade, but D90 owners, and entry-level DSLR owners, will be looking to this as their next big camera upgrade. And maybe you will too, because the D300s is one of the best Nikon DSLR cameras.
The Nikon D7000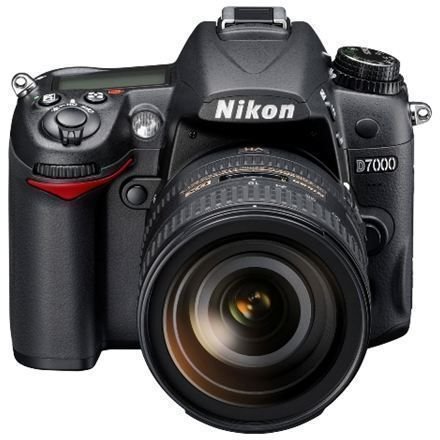 Nikon's latest mid-range DSLR is the D7000. Announced in September 2010, the Nikon D7000 seems to slot in between the D90 and the D300s in Nikon's current lineup. It has a 16.2 megapixel sensor and 1080p HD video recording with an external mic option. The 39 point AF system is a little short of the 51 points found on the D300 cameras, but it will plenty for most. It has 2 SD card slots, a large hi-res 3" LCD screen, and an active, full-time autofocus that works in both live view and movie modes. The D7000 can shoot up to 6 frames per second and has an ISO range of 100-6400, (with the option to extend that further to 25,600). If you are a serious photographer who also wants the option to shoot full HD video, then the D7000 may be the ideal camera for you. Read an in-depth review of the Nikon D7000 here.
Conclusion
These Nikon DSLR cameras represent some of the best camera technologies available today. Each is packed with features, and are capable of taking images of the highest quality. So, whether you opt for the value for money offered by the D90, or the latest D7000, you can be sure that you have one of the best digital SLR cameras that money can buy.
This post is part of the series: Nikon Digital SLR Camera Buyer's Guide
This buyer's guide series provides an overview of all the DSLRs in Nikon's current lineup, and even includes some of those that have been recently discontinued. Everything from the D40 to the latest D3s can be found in this helpful and straightforward guide.