Canon IXUS120 IS Digital Camera Review & Buying Guide
Simply put, the IXUS120 IS is amongst the most good-looking cameras out there today. But is this Canon only about looks, or does it have the substance behind its style? Read on to find if the IXUS120 IS deserves your attention or not.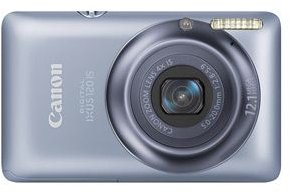 Camera Specs
Dimensions 89x55x20mm
Resolution 12.10 Megapixels
Maximum resolution 4000x3000 Pixels
Minimum resolution 640x480 Pixels
Optical zoom 4X
Zoom wide 28
Zoom tele 112
Storage types SDHC Secure Digital
ISO ratings Auto, 80, 100, 200, 400, 800, 1600
Video Yes, HD
video resolution 320x240 to 1280x720 Pixels at 30fps
LCD display 2.7-inch
LCD resolution 230,000
Battery Li-Ion
Weight 120g
Looks (5 out of 5)
Let's start with the most obvious. The IXUS120 IS is a stunner. Similar to its predecessor, the IXUS100 IS, the IXUS120 IS's rounded, brushed aluminum body and perfectly placed buttons and LCD screen lend an element of style which has to be seen to be believed. Touted as the slimmest wide-angle IXUS ever, this camera offers 28mm (effective 35mm) wide angle and a 112mm (effective 140mm) telephoto lens. Canon wins the first round hands down.
Layout and Functions (4 out of 5)
The button layout is simple and neat, following Canon legacy. The power and shutter release button are on top, with the zoom rocker surrounding the shutter button. The four-way function button offers one touch access to commonly used functions like flash, macro-mode, exposure compensation and timer. The 2.7 inch LCD which occupies most of the rear, is sufficiently bright and quite sharp.
There's also a very useful switch to alter between 'Smart Auto', 'Program' and 'Video' modes. Pressing the function button opens a on-screen 'strip' offering options that can be altered depending on the mode one is in. In 'Smart Auto' mode, only flash on/off, self timer and image quality can be altered, whereas 'Program' mode offers control over metering, white balance and ISO as well.
The Menu button opens up the familiar and very functional Canon menu.
One feature which Canon has added here is called the 'Face Self Timer'. Added in response to the all too familiar scenario of people rushing in to join a group photo and getting captured midway, the camera in this mode waits for up to 30 seconds for an extra face to enter the frame before it shoots.
For people to satisfy their creative urges, Canon provides 22 preset shooting modes, including Night mode, Fireworks, Snow, Beach, Aquarium and Colour Accent.
Performance (5 out of 5)
The camera works flawlessly in its Smart Auto mode. Most of the target audience of this camera would prefer use in this mode and Canon does not disappoint at all. The camera more often than not sets itself up quite accurately and takes sharp photos. The camera still allows flash control in its full-auto mode too, which is quite commendable as well as very useful.
I must mention the Colour Accent mode, wherein one can choose to accentuate a single colour and have the rest of the photo in Black and White. Do try it out and you'll be amazed at the fun results it offers. As with all its cameras, the colour is sharp, deep, vivid and quite accurate without too much digital processing.
The use of Digic 4 processor shows in its agility and response time, which is quite impressive.
Initially, the 4X zoom might seem as too less for a camera of such calibre, with rival companies offering up to 8X. But I promise you it'll only be an initial reaction. The lens is so perfect it offers fantastic image quality right through its zoom range, making it an extremely usable one. Far better than to have more zoom which is not usable in real conditions.
The Image stabilization, needless to say, works flawlessly, as we've come to expect from every Canon. Noise is evident at ISOs higher than 400, again, as expected from this segment of tiny sensor cameras. But I guess one can get away with it upto ISO200, which is again quite good.
Colour reproduction is punchy and aperture of up to f/2.8 can be used at wide angle.
Video (4 out of 5)
HD video now seems to be becoming a standard in all new cameras and this IXUS isno exception. The IXUS120IS can produce 1280x710 30fps video files, which is limited to 10 minutes per clip. Normal video clips (640x480 or 320x240) too can be recorded, and for a longer time. Video quality was impressive and would rival the camcorders of yesteryears. Its amazing how much progress we have made in this front!
There is a mini-HDMI port on board which makes viewing your videos on your HDMI enabled TV quite simple.
Value for Money (4 out of 5)
This camera is certainly not cheap at $279. But then, its got the looks of a supermodel, and I'd guess its well worth the premium. On paper, it doesn't have anything revolutionary, which other cameras would not be able to do. But take it out for a spin and you'll realize it delivers, and with panache. If you're ready to pay that much extra for a fantastic piece of photo equipment is entirely your call. All I can say is you wont be disappointed - when showing off your camera as well as when showing off your photos!