Lowepro Inverse 100 AW Belt Pack - Camera Bag Review
Introduction
Camera belt packs can offer a nice choice for the photographer who wants to travel light, move quickly and only carry a modest amount of gear. These versatile bags can travel comfortably on the hips positioned out of the way until needed, then swung around for access to the gear stowed in them. Still, not all belt packs are created equal. The difference between a good one and a bad one is frustration and discomfort. Photographers who give in to the temptation to buy a big one, often discover to their dismay, that past a certain point, belt packs ought to be shoulder bags instead. Smaller bags on the other hand limit the amount of equipment you can carry.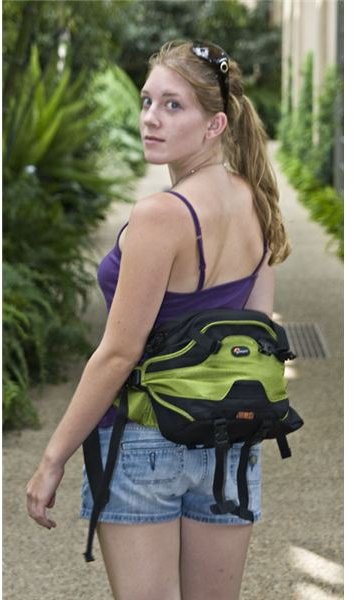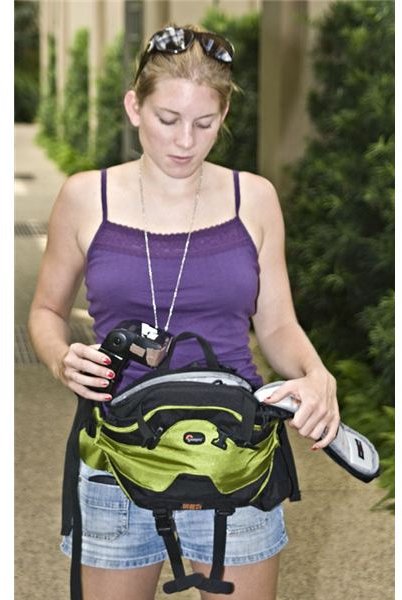 Features and design (5 out of 5)
The Lowepro Inverse 100 AW belt pack is a modestly sized and thoughtfully designed photographer's belt pack. It offers a main compartment, outer pouch and small money/change pouch plus a side pouch for holding a water bottle and under bag straps that can cinch up a small tripod, monopod or jacket. As is typical of many Lowepro bags, the Inverse 100 AW has a built in rain cover to protect the bag from inclement weather. It also has a variety of buckles, D rings and other attachment points and features that make it a worthwhile consideration for a photographer looking to travel light. Its features include a pair of memory card holders located in the underside of the easy open main compartment top, reconfigurable microfiber compartment dividers and sufficient padding to keep your gear reasonably well protected.
Construction (4 out of 5)
Construction: The bag's outer fabric is made of 420D Nylon and 600D Polyester making it sturdy and abrasion resistant. The bag measures 10.1" wide, 7.9" deep and 8.8" high on the outside and 9.2" wide by 5.6" deep and 8.3" high on the inside with 200D polyester and brushed tricot for the interior fabric. It weighs 1.74 pounds unloaded. The manufacturer claims the Inverse 100 AW can handle a pro DSLR with lens attached and still have room for another lens. I tested it with both my Canon EOS 1DmkIIn and 40D with battery pack and found that while the belt pack could just barely accommodate either, squeezing in another lens – particularly an L series lens – would have been difficult. It was possible to squeeze in a 580 EX II though. I'd be more comfortable using this belt pack for the 40D sans accessory grip and non L series lens.
In use (5 out of 5)
This is a comfortable belt pack with generous hip and back padding and is designed to fit nicely to the contours of the body. Its waist belt snugs easily and the side cinch straps allow the user to snug the bag tightly in place, an important consideration for this type of camera bag. The outer pouch can handle a wallet or filter case or manage a power bar or two quite nicely. This is a belt pack that would be comfortable to wear while hiking or cross country skiing.
Price to value (4 out of 5)
The Lowepro Inverse 100 AW lists for $79.99, but can be found at online retailers such as Adorama or B&H Photo for a bit more than $60. This is a reasonable price for a belt pack of this size in this category of camera bag. The bag is well made and the value of the built in rain cover should not be underestimated particularly for outdoor enthusiasts.
Full disclosure: Lowepro provided the author with an evaluation unit of this belt pack for inclusion in the David Busch Quick Snap Guide to Photo Gear.