Nikon P80 Review: A Compact Digital Camera Flirting with DSLR Capabilities
Nikon Coolpix P80 Review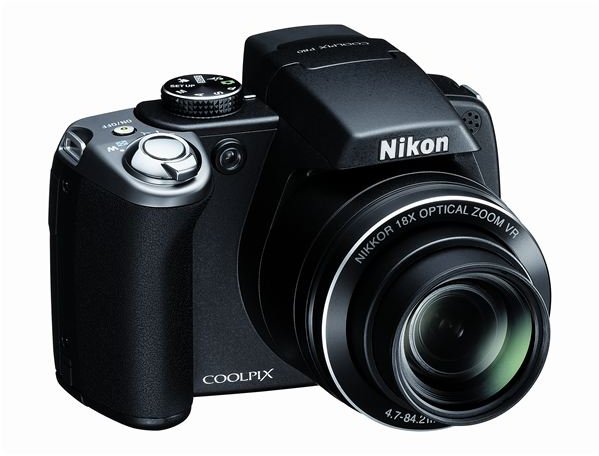 Nikon P80 Specifications
10.1 megapixels (MP)
18x Zoom – Nikkor lens, focal lengths from 27-486mm (35mm equivalent), maximum aperture f/2.8-4.5
CCD image sensor
Lens focal range : 40 cm to infinity (∞), macro from 1cm to infinity (∞)
2.7 inch anti-reflection and wide viewing angle LCD (230,000 pixel resolution)
Electronic viewfinder (230,000 pixel resolution)
Approximately 50 MB internal memory, SD/SDHD memory card slot
Vibration Reduction (VR)
ISO sensitivity: minimum 64, maximum 6400 (for images 3MP or smaller)
Rechargeable Li-ion Battery
Weight: 365 grams (not including battery or SD card)
Dimensions: Approximately 110x79x78 mm (WxHxD)
Built-in flash (pop up)
What's Included with the Nikon Coolpix P80? (5 out of 5)
When you purchase a digital camera, a lot of the time there are hidden costs you might not have thought of. Fortunately, with the Nikon Coolpix P80, there isn't much you'll need (besides a camera case). Here's a list of what comes included with your new Coolpix P80:
Rechargeable Li-Ion battery
Battery charger
USB cable (only built-in USB ports are supported)
Audio-video cable
Camera strap
Lens cap
Nikon's Software Suite (for transferring and organising your digital photos - Mac and Windows compatible)
*Note that an AC Adapter in NOT included, but you do have the option of purchasing separately.
Features (4 out of 5)
The Nikon P80 is a compact camera flirting with DSLR capabilities. In addition to the whopping zoom lens, the Coolpix P80 has enough features to captivate a wide-range of photographers.
Full Exposure
Photographers are given the option to shoot in four different modes:
Programmed Auto (P): This is the all-inclusive option, designed for the beginner photographer, lazy photographer or for people who just like to get it right the first time. When this mode is selected, the Coolpix P80 will take out all the guesswork of proper exposure, automatically selecting the appropriate shutter speed and aperture for the conditions in which the photographer is shooting.
Shutter-Priority Auto (S): This mode allows the photographer to choose their own shutter speed, while the Coolpix P80 decides on the correct aperture.
Aperture-Priority Auto (A): If you'd like to play around with the depth of field (DOP) of your photos but not have to worry about shutter speed, this is the mode you should use.
Manual (M): Manual allows for full exposure control. In this mode, the photographer can select their own shutter speed and aperture settings, just as you would with a D-SLR.
Very Flashy
Nikon's Coolpix P80 sports a built-in pop up flash system with 6 options to choose from: off, auto, red-eye reduction, fill flash, slow sync and rear curtain sync.
I've Scene It All
Nikon's Coolpix P80 has several scene modes, these are:
Portrait, landscape, night portrait, party/indoor, beach/snow, sunset, dusk/dawn, night landscape, close up, museum, fireworks show, copy, backlight, panorama assist and voice recording.
I won't go into detail on every one of these modes (as they're fairly self-explanatory), but one does earn an honourable mention:
Panorama Assist – I had fun playing with this feature. First, you select which direction your panorama photo will be stitched together (more on that in a moment) and then take your first photo. The LCD screen will display a portion of the photo in the first third of the screen. For your second shot, compose your image to overlap the first photo and take the picture. Continue until you have the amount of photos you need for your panorama photo. Upload your photos to your computer. Nikon provides you with the software needed to stitch together photos to create panoramas.
Voice Memos – Carl Weaver's article on Slating describes different methods to documenting your photos. With the Coolpix P80, there is no need to follow Carl's advice (Sorry, Carl!). When viewing your photos on the LCD screen, simply press and hold OK to record up to 20 seconds. I really liked this feature.
Ease of Use (5 out of 5)
It's easy to find your way around the Coolpix P80 and it's very user friendly. The Quick Start Guide and Manual, which come with the camera, is very intuitive. There's always a learning curve when trying something new, but Nikon has made the transition as easy as can be.
The Cons
The Coolpix P80 doesn't support RAW images. However, given that this camera isn't a DSLR, is that a fair gripe?
When viewing photos on the LCD screen, I found the images to be somewhat grainy. What I thought to be an "okay" image when viewing from the camera turned out to be a lot more impressive on the computer screen.
Price to Value (4 out of 5)
Update: The Nikon Coolpix P80 has been on the market for a while now, which means the price has dropped - you can purchase the camera on Amazon for under $350. That's a pretty good price for a camera that has so many features (not forgetting the 10 MPs and a way cool zoom lens.). As with any product, it's not without a few flaws, but overall I'd say you're getting great value for your hard earned money. And don't forget, you're not having to dish out more money for the extras, like a battery and charger!