Review of the Samsung SMX-F34: A Quality, Affordable Video Camera
Body and Dimensions (4 out of 5)
For just around $300 MSRP (or around $250 online), the Samsung SMX-F34 isn't a bad digital camcorder. It's easy to use and very compact. But, if you're looking for something more than just YouTube quality video, you may want to pass on this budget digital camcorder.
The body of the SMX-F34 is nicely designed. It sits in the hand quite comfortably. The strap allows you to move from an underhand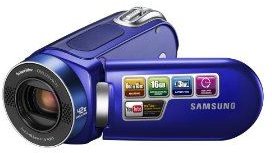 position to the top while never having to actually remove your hand from the strap.
The dimensions of the camcorder are quite small (2.4 X 2.4 X 4.9 inches, weighing only 11.2 ounces), which means that you can easily fit it into a backpack or perhaps even a jacket pocket. The LCD screen is the standard 2.7 inches. Video resolution for video is 720x480 and 800x600 for photos. This is pretty comparable to every other digital camcorder in this price range.
Most of the controls either sit on top or within the LCD screen, and they're easy to handle, especially the zoom button. One neat feature in the LCD screen is the iCheck. This allows you to see how much battery life and storage space is left when the camcorder is turned off. When the camcorder is on, this information will show up on your LCD screen's display.
Features (3 out of 5)
You can take up 380 minutes of video and have 180 minutes of battery life. The battery life should last you a while before you need to recharge. It has a 34x zoom lens, which is nice. While the zoom is great, the camcorder doesn't come with optical image stabilization. So, while you can zoom out really far, the electronic image stabilization isn't just as good as optical image stabilization.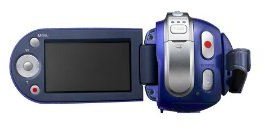 While this budget camcorder does come with a bunch of different features, including manual settings for focus, exposure, ISO and shutter speed, most people should stick with automatic. The manual settings don't improve the look of the pictures. And, this consumer camcorder doesn't do well in low-light situations no matter what setting you have it on. The eight scene modes, however, are nice to play around with. The effects will be fun for almost any amateur videographer.
You can shoot video in one of three settings: TV Fine, TV Normal and TV Super Fine. With the video quality not being the greatest to begin with, the TV Super Fine mode should be the only setting that should be used.
You can take still with this camcorder when you're not shooting video. Unless, however, you're just looking to take a picture for the web or for smaller sizes, you can skip the photo setting. The picture quality is atrocious.
Bang for the Buck (3 out of 5)
Overall, the Samsung SMX-F34 digital camcorder is pretty cheap and would be great for an amateur or YouTube fan. The eight scene modes make adding effects fun to your videos. It's also pretty comparable to other camcorders in this price range. If you're looking for an inexpensive digital camcorder that produces more quality video, then you may want to skip the SMX-F34.