Top 5 DSLR for Beginners - Digital Camera Buying Guide
Should You Buy a DSLR?
The decision to buy a DSLR is a major one. Unlike point and shoot cameras, DSLRs are so much more expensive and the equipment is ridden with features that can easily confuse you. Keep in mind, however, that if you want to take photography seriously, then it is important that you have your own DSLR. It gives you greater flexibility in your shots because you will be able to manipulate the settings of a DSLR. Here are the other features of a DSLR which you can't find in a point and shoot:
1. Interchangeable lenses. Do you wish to try macro or sports photography? Now you don't have to worry about buying a separate camera to do this. By changing lenses, you can now shoot different subjects,
2. Manual controls are important if you want to explore your skills but if you don't wish to be bothered by settings, then you can use auto controls which are already built in with many digital SLRs being sold today.
3. Digital SLRs also have higher ISO settings so you can have better images in any shooting situation.
Of course, you also need to remember that DSLRs have their disadvantages. Make sure you read this article about the pros and cons of a DSLR to determine if DSLR will fit your lifestyle.
What DSLR Should You Buy?
Most people put off buying a DSLR because these are bulky and would need understanding of the basics of photography. But the biggest deterrent is the price. If you wanted to have the latest and most advanced DSLR with a decent lens, then you have to be ready to spend couple thousand dollars. Thankfully, there are several low-cost cameras which have full DSLR features. Here are some of them:
1. Nikon D40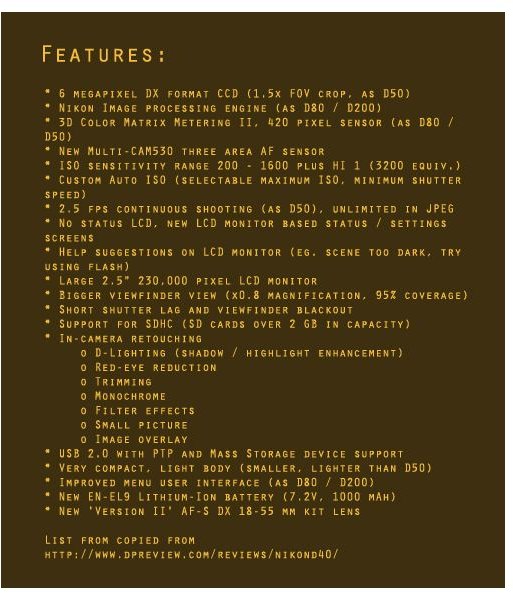 The Nikon D40 is one of the most affordable DSLR models in the market today. It is compact, and works a lot like a point and shoot so it is easy to use for a beginner. While it may not have high megapixels, Nikon has made it a powerful SLR. It has a great viewfinder and can take up to 2.5 frames per second.
The best feature of the Nikon D40 is its in-camera retouching. Now you can remove those pesky red-eye without having to go to a computer! You can even crop your images, darken or lighten your images and change it to monochrome without trouble!
Nikon D40 can be bought at $499 from Amazon.
To get a complete list of its features, click on the image on the left.
2. Canon EOS Rebel XS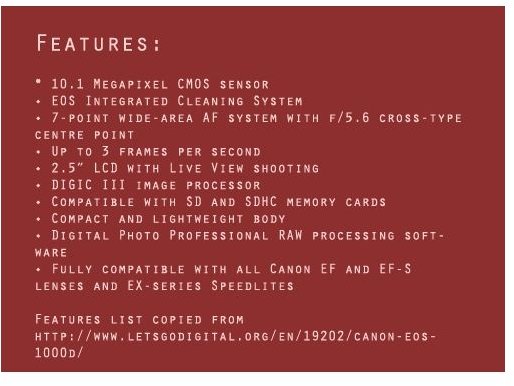 Also known as 1000D or Kiss F, the Rebel XS is said to be a reheated version of the 400D. It is every bit a Rebel with 10.1 megapixel CMOS sensor, an autofocus system and its shooting capacity at 3.5 frames per second. It incorporates all the best technologies that only Canon can offer - the Digic III image processor. The kit includes the Canon EF-S 18-55mm lens, so you can start shooting after you unbox.
The 1000D has its an Integrated Cleaning System so you can get rid of dust without having to dismantle your equipment. Through this cleaning system, you can be sure that the quality of your images will always be at its best.
You can purchase the Canon EOS 1000D between $499 (just the body) to $550 (with kit lens).
3. Olympus Evolt E620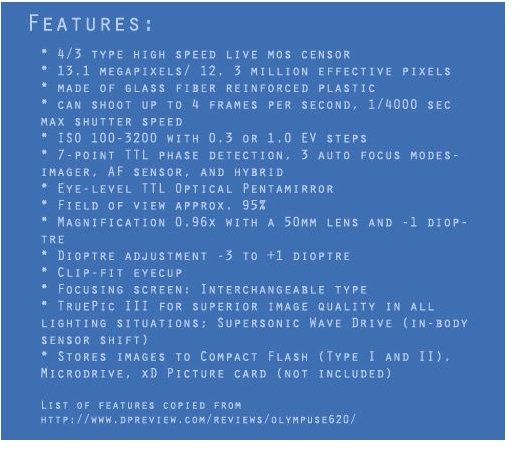 When it comes to entry level DSLRs, the first name that will come up is Olympus. Often referred to as the "500D killer", the E620 is more compact that its predecessors, but don't let its size fool you. It is feature packed and is considered the best in its class. It has a live view system, and allow the user to shoot in different art modes - a feature adapted from the more expensive E-30. The best feature of the Olympus E620 is its Image Stabilization. Now you can change lenses anywhere but still get great shots without trouble!
Olympus Evolt E620 can be bought at $699. The box comes with a 14-42mm kit lens.
To get the complete list of features, click on the image on the right.
4. Nikon D60
Everyone loves a Nikon and those who were not satisfied with the D40 can opt for a better quality camera - the Nikon D60. It works the same way as a D40 so upgraders won't have trouble using its features. The good thing about the D60 is that it has its own dust reduction system so you don't have to worry about image quality even when you need to change lenses in the beach. The kit lens produces great results and are the biggest improvement in this model.
It can be bought at $496 from Amazon. To get a complete list of features, click on the image on the left.
5. Olympus E410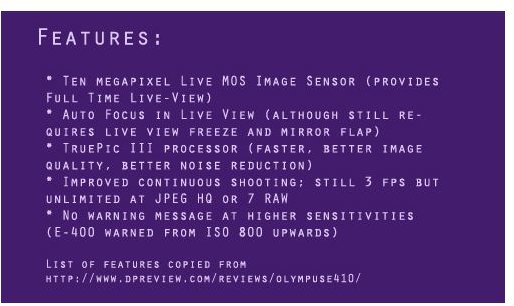 If you are looking for the cheapest DSLR, then you need to check this out. First released in 2006, the E410 is still one of the most lightweight and feature-packed camera being sold today. Equipped with a Matsushita Live MOS Image Sensor, it is a great DSLR even for one who have never used a DSLR.
At present, it can be bought at $350 from Amazon. To see its complete features, click on the image on the left.