Sigma 18-200mm f/3.5-6.3 DC OS Lens Review & Buying Guide
The Sigma 18-200mm f/3.5-6.3 DC OS is the latest in the new series of 'Superzoom with Image Stabilization' dSLR lenses and has amongst its compatriots, the Nikon 18-200mm F3.5-5.6G AF-S VR DX, Canon EF-S 18-200mm F3.5-5.6 IS, and Tamron 18-270mm F3.5-6.3 Di-II VC. This lens replaces the Sigma 18-200mm F3.5-6.3 DC which was launched in 2005 and was without image stabilization. The lens is available only for APS-C/DX format DSLRs with mounts for Nikon (also featuring a hypersonic motor or HSM), Canon and Sigma.
Sigma 18-200mm f/3.5-6.3 DC OS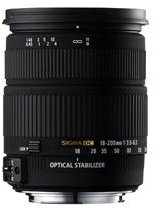 The Basics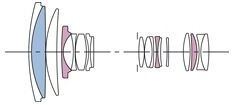 18-200mm or 11X (27-300mm equivalent), F3.5-6.3 maximum aperture
18 elements in 13 groups,1 super-low dispersion glass element, 3 aspherical elements to counter aberrations.
Minimum focal distance 45cm throughout the zoom range
Optical image stabilization with auto-panning detection
72mm thread
Bayonet Hood included
Weight – 600g
Design and Lens Construction (4 out of 5)
The lens body is black plastic with a matte finish, which has a solid look and feel to it, and is quite standard Sigma.
Length is around 4 inches at wide and extends to around 6.5 inches when fully zoomed.
The lens barrel features switches for Zoom lock, Auto-focus and Image Stabilization. The buttons are well placed and using them was quite simple.
The bayonet hood is sturdy and has ribs on the inside to prevent stray light from entering the lens. It fits in place quite reassuringly.
The zoom ring is rubberized and ribbed, offering a good grip and a smooth action. The wide focus ring too has a smooth action and works precisely.
Focusing (4 out of 5)
The Auto-focus on this lens is somewhat on the slower side. The similar lens from the Tamron stable focused much quicker and was more accurate. That said, the trouble is only apparent at high zooms. The 72mm thread does not rotate on auto-focusing, quite important if one plans to use a polarizer with the lens.
Image Sharpness (3 out of 5)
Images were not as impressive as similar lenses from Canon or Tamron. At middle to higher zoom ranges, the image was much softer than I would expect, though wide angle shots were quite sharp.
Chromatic Aberrations (5 out of 5)
Chromatic aberration was not noticeable at all, and that's very commendable considering the high zoom range of this lens. The 3 aspherical elements are certainly doing their job well. Barrel and pincushion distortion too is on the lower side and not apparent in most situations.
Lens flare was also not apparent in most situations.
Value For Money (4 out of 5)
I really shouldn't be too harsh on Sigma, as the lens is quite good per se, and quite fits the bill for budget conscious people looking for an all-in-one travel lens. But comparisons with its compatriots are bound to happen, when you realize that maybe Sigma can improve upon the performance of this lens. It's possible Sigma knows that this lens does not really match up to other similar lenses, and that's why they've placed it in a lower price bracket. I'd say that if you're willing to live with the few flaws of this lenses, its definitely worth the money you pay. But then, how much you're willing to live with the flaws is entirely your call.