Canon IXUS 100 IS Review: Canon's New Point-and-Shoot Fearuring 720p HD Video
Canon IXUS 100 IS Form Factor (5 out of 5)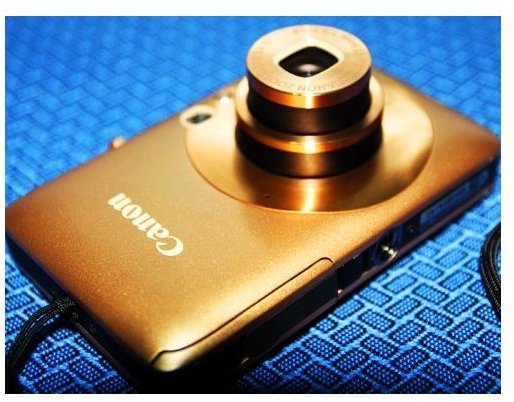 This is the highlight of the Canon IXUS 100 IS' features. Its slim and compact form factor characterized by rounded corners and glossy classic color design makes it a very attractive point-and-shoot camera. With only 18.4mm thick, this camera fits well on your shirt or pants' pockets. It's even smaller than an iPhone although a bit wider than a Flip Mino HD camcorder. The camera was elegantly designed and Canon did away with the usual sharp corners of their digital cameras and made them rounded instead. This made the IXUS 100 IS elegant looking and comfortable to hold and use even with a single hand. Its stainless steel body gives this camera that classic and elegant look.
Canon IXUS 100 IS Features and Specs (5 out of 5)
Who would have thought that you can pack in loads of digital camera features in such a compact body? The Canon Ixus 100 IS boasts of an effective 12.1 megapixel CCD sensor with 3x optical zoom, a 2.5-inch LCD screen useful for composing your subject before pressing the camera's shutter button, HD video recording in 720p format, auto scene recognition, HDMI input and slideshow and other powerful features. The Canon IXUS 100 IS runs on an NB-4L rechargeable Lithium battery pack capable of taking 210 shots under CIPA standards. The battery compartment is accessible at the lower portion of the camera and also houses the camera's SD memory card slot. The camera also has the standard ports for USB, TV output and HDMI port. These ports are protectively covered by a rubber flap. Also underneath the camera is the metal tripod thread.
Canon IXUS 100 IS - Picture Quality (4 out of 5)
If you're a sophisticated point-and-shoot camera user who minds the tiny details of images that your camera produces, you might tend to have second thoughts on getting the IXUS 100 IS. If you will follow experts analysis of the different camera settings of the Canon Ixus 100 IS with different ISO settings, chromatic aberrations, wide angle shot cropping and all, you might miss the point of getting the Canon Ixus 100 IS. Simply put, this camera offers 12.1 megapixel resolution enough to get you to print your photos in a clear photo prints that it's resolution would allow you to. That's as simple as looking at the picture quality of the Canon 100 IS. It's just like any other point-and-shoot camera wherein you are sure to experience noise and pixelation in you output if you extend its capabilities to the limit. To put it simply, the Canon 100 IS gives you above average, decent-looking photos be it a macro, landscape, night scenes, or portrait shots.
Canon IXUS 100 IS Settings and Shooting Modes (3 out of 5)
The Canon IXUS 100 IS offers ISO sensitivity settings from 100 to as high as 3200. That would give you enough room to adjust your picture quality especially in extreme low light conditions. There will be picture noises of course, but the Canon IXUS 100 IS tries to make this as less as possible.
For shooting modes, this digital snapper offers several automatic modes including the usual program, portrait, night snapshots, kids and pets, indoor, and sunset. Those shooting modes are enough to give you great quality photos without worrying to much about what settings to use.
When in use, you have three shooting options to choose - the Auto, Program and Video capture modes. In auto, all the camera's automatic features come into play including auto-focus, images stabilization, smile and red eye detection. The Program mode lets you choose various settings including ISO setting, White Balance, Metering, Color Setting and Shooting Burst (continuous or single shot).
Verdict on the Canon IXUS 100 IS (5 out of 5)
There are three reasons why I would highly recommend the Canon IXUS 100 IS, especially for those who are looking for a highly portable and pocketable point-and-shoot camera. It's slim, small and classic form factor, the decent quality of its photo output and the many features it has. Some of you may get turned off by the price of this camera but if you're a Canon camera user, you'd understand that Canon tends to price its products relatively higher than its competitors and you wouldn't mind this because you believe that you always get value for your money whenever you buy a Canon camera.
Sample Images