Canon Powershot SX200 IS - Digital Camera Review & Buying Guide
Canon PowerShot SX200 IS
After the PowerShot SX100 and SX110, the SX200 is the next in this series of 'Compact Superzooms'. These cameras are different in construction from the SX1 and SX10 series of superzooms, whose ancestry lies with the PowerShot S series of yesteryears. This camera is a blend of the high megapixel, high zoom features of the S series housed in a compact 'IXUS' like metal body. Does the Canon PowerShot SX200 IS digital camera also give the best of both worlds in terms of its performance? Let's find out in this review.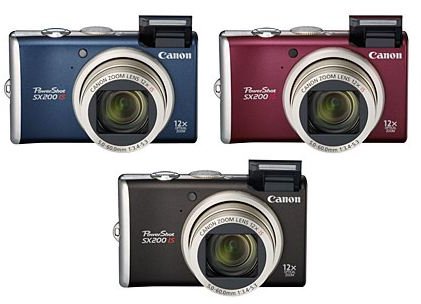 What's in the Box
• The 12.1 effective Megapixel PowerShot SX200 IS digital camera
• NB-5L rechargeable lithium-ion battery
• Battery charger
• Wrist strap
• USB cable
• A/V cable
• CD-ROM featuring Canon Digital Camera Solution
• 168 page camera manual (printed)
Technical Specs
(From the Canon website)
Sensor
• 1/2.3" Type CCD
• 12.1 million effective pixels
Lens
• 28 - 336mm (35mm equiv)
• 12x optical zoom
• F3.4-5.3
Shutter speed: 15-1/3200 sec
LCD monitor: 3.0" TFT
Weight (no battery): 220 g
Dimensions: 103 x 61 x 38 mm
Features that Stand Out
1. A metal body. The earlier cameras in this series had a plastic body, whereas the SX200 IS has an aluminium body, which gives it a premium feel. There's just a hint of a hand grip, but that's enough to help hold the camera firmly.
2. A Li-ion battery. Again, a new feature for a consumer Canon camera, the NB-5L Li-ion battery claims to last for 280 shots. That's lesser than the 450 shots claimed by the two NiMH AA Batteries in SX110 IS. But Li-ion batteries are definitely lighter than AA NiMH cells. The included charger takes two hours for a full charge.
3. Support for hi-res moves and a HDMI port. This camera can shoot 720p high definition movies, not to be confused with full HD 1080p movies.
Image quality (5 out of 5)
Like its predecessors, the Canon PowerShot SX200 IS is top notch in terms of image quality. It generally produces well exposed images with balanced colour. The auto-ISO mode is fairly accurate. But the issues with this lens in terms of chromatic aberration continue. There is visible purple fringing at high zooms and in contrasty situations.
Intelligent Features (5 out of 5)
The 'Smart Auto' uses Canon's Scene Detection Technology to analyze a scene in detail and then select one of the different modes - portrait, portrait w/backlight, night portrait, night scene, sunset, and macro.
An 'Easy Auto' mode is for novices who prefer to simply point and shoot – the only other control which works in this mode is the flash.
The Canon PowerShot SX200 IS improved Face Detection mode now features 'Blank Detection' to avoid photographing people with their eyes closed.
A 'Face Self Timer' waits until the user enters the frame, and after 2 secs, takes a series of 3 photos.
Custom Self Timer lets one program the delay in seconds as well as the number of shots to be taken, a distinctly unique feature.
Motion –Detection helps reduce blur in images
i-Conrast helps improve contrast by brightening dark areas of the image while trying not to blow out highlights.
Image Stabilization (5 out of 5)
There's no scope for error here – Canon's legendary Optical Image Stabilization (IS) works the same magic its been performing in all the IS cameras right from the PowerShot S1IS. The PowerShot SX200 IS offers a distinct three stop advantage over images taken with IS switched off. As with other PowerShot cameras, IS can also be used in movie mode.
Flash (3 out of 5)
The PowerShot SX200 IS has a pop-up flash, which takes its name a bit too seriously and keeps popping up irrespective of its need. But that does not hinder in any way. Photos taken using flash come out well exposed, though the flash range of 2m (tele) and 2m (wide) is a bit on the lower side.
Red Eye Reduction (4 out of 5)
Canon uses a two-pronged approach for this issue. The red-eye reduction lamp first shoots off light to constrict the pupil, and the in-camera red-eye detection software eliminates ay residual red-eye. Overall, effects produced were quite acceptable.
Movie Mode (4 out of 5)
The quality of movies was very good. One can record at resolutions upto 720p at 30fps, with a maximum record time of 30 minutes per clip. Movies are saved using the H.264 codec. Though IS can be used while recording, surprisingly, optical zoom could not. I feel its been overlooked, as this feature is available in S series of Canon Powershots as well as competing models from Panasonic.
Value for Money (4 out of 5)
It retails for around $340. That makes it quite affordable for the features it offers. A 12 MP 12X zoom camera offering a multitude of intelligent modes and 720p movie recording is not such a bad deal at this price at all!
Conclusion
As with all cameras, there are pros and cons.
The good points of the PowerShot SX200 IS include the high resolution and long zoom range, optical image stabilization, sturdy build quality and accurate focusing. The LCD is large and offers good outdoor visibility. It offers a good balance of manual mode and varying levels of automated control.
What I felt irritating was the flash popping up as soon as the camera is turned on, with no way to put it to sleep again. Purple fringing and focus struggles in low light are common problems with the PowerShot line of cameras, with this one being no exception. The other compromises made are a below average burst mode and a lower than expected battery life.
But overall, I recommend this digital camera.