The Sony Handycam DCR-SR47 is a Perfect Camcorder for Amateurs and YouTube Users
Using the Sony Handycam
The Sony Handycam DCR-SR47 is a compact budget camcorder. It has a Memory Stick PRO Duo Media card slot, and it comes with the SteadyShot image stabilization technology. While the camcorder is supposed to be for both capturing YouTube and standard digital video, it may not be good enough for capturing great videos. You'll have to decide.
Features (4 out of 5)
The DCR-SR47 is perfect for YouTubers and amateur videographers, especially with its small size and easy-to-use features. For between $300 and $400, it's fairly inexpensive for a hard-drive, standard definition camcorder. It comes with a 60 GB hard drive, and its highest resolution is 680 pixels, which is fine for this price range of camcorders.
The Handycam DCR-SR47 comes with the standard 2.7 inch LCD screen and touch screen feature navigation. This camcorder comes with a hand-strap to hold it. The hand-strap is fine, but hangs a little low so you'll have to account for that when you use it. The DCR-SR47 comes in blue, black or red.
The camcorder comes with a handful of specialty features, including black and white fader effects. It also has the following scene modes:
Twilight
Candle
Auto
Portrait
Sunrise/Sunset
Sports
Snow
Beach
Spotlight
Landscape
The scene modes work pretty well. The aperture settings are decent, but not spectacular. It only has f-stops between 1.8 and 6.0. Again, however, this is a budget camcorder designed for amateur videographers so you probably won't be worrying a lot about the aperture.
The camcorder can also take still images, but they are extremely low quality. In fact, your cell phone camera may do better with capturing images than the camcorder. If you are looking for a camcorder and camera, then this is definitely a skip. You definitely won't be happy with the stills.
Usability (3 out of 5)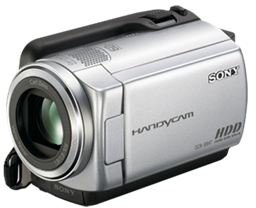 At 2.4 inches by 2.8 inches by 4.5 inches and only weighing 11 ounces, this camcorder can easily be stuck in a pocket to take out at a moment's notice when necessary. It also powers up fast, which is great for capturing things quickly. If you leave the camcorder on Auto, you will probably be able to use this for most standard recordings. Plus, there are just not a lot of other settings to even bother with. You should definitely manually zoom into objects. The button is very responsive, but will have trouble locating objects in low light. Another issue with the zoom is that the camcorder's auto focus has trouble focusing on objects when completely zoomed out.
Most of your clips will be a little noisy, especially on a high-definition television. The sharpest images will come from the Tele Macro mode. But, if you're planning on simply uploading videos to YouTube or other such services, this camcorder will serve you fine. The clips look fine on the YouTube format.
You may also notice an issue with blue to purple edges around subjects. This is quite noticeable when you blow up the images to their full size. When the images are on the small screen, you won't notice it as much. With everyone used to HD video, this type of low-resolution issue can be a major problem if you are looking for an extremely quality camcorder.
Battery life is a little disappointing. You only get about 90 minutes of recording. You have to buy one of the extended battery packs to get up to 11 hours of recording.
Bang for the Buck (3 out of 5)
Overall, the Sony Handycam DCR-SR47 is a decent camcorder, especially for amateur videographers. While the touch screen makes it convenient to get to your features, it can be a little confusing and hard to navigate if you've never used a Sony camcorder before. Buttons for showing display information or Sony's direct-to-DVD recording software and other buttons are located inside the LCD screen. The video quality and photos are also a little soft. You can also find a Mini-USB port here as well. If you are willing to pay an extra $100, you may do better with the Sony Handycam HDR-CX7. The video quality is superb, and it takes really good still photos as well. It's also extremely easy to use.
While as mentioned the video recording comes out fine on the YouTube format, its lower-quality shows when trying to take higher-quality recording. It's noisy in low-light and not as crisp as higher-priced camcorders. But, for the amateur videographer, it's a good deal for the price. You should try this camcorder out before buying it. See if it's what you need. If not, pay the extra money for a better one.
References