Casio EX-FS10 Digital Camera Review & Buying Guide
Features (4 out of 5)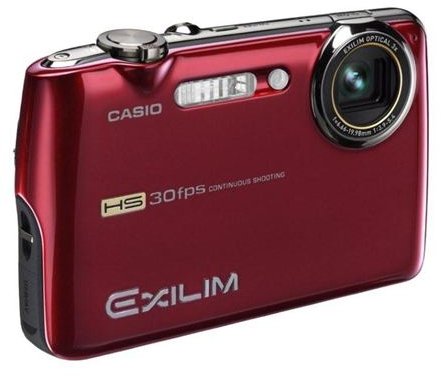 The Casio EX-FS10, a point-and-shoot camera, was recently released and is already a growing favorite amongst reviewers and users. So, Bright Hub wanted to know if there was anything to this little camera that aspires to be a big dog. Well, I will say that there's plenty to like about the Casio EX-FS10 (approximately $350.00 online). This camera would be most appropriate for amateurs and beginners.
First of all, this little camera, which measures only 1.63 cm thick and weighs 121 grams without the battery or memory card, packs a big punch. It has a 9 megapixel sensor, a 2.5 inch LCD screen and a 3x optical zoom lens. But, what makes this little camera is its sheer speed. It can shoot 30 frames per second at 6 megapixels and can record slow motion video at 1000fbs.
It also has the ability to record HD video at 1280x720 pixels, which is pretty amazing for a digital camera this size. The EX-FS10 can take a 6 megapixel shot while in movie mode. The aperture at f/3 9 wide angle and f/5.4 zoom is pretty average for a camera this size. The anti-shake system allows you to record video without having to worry about the images coming out fuzzy, even in low-light.
(Click on any image for a larger view)
Design (4 out of 5)
The EX-FS10 is a nicely designed camera. It comes in gray, red or white in color. The camera`s sleek body makes it easy to slip into a pocket or purse when it's closed, and it can easily fit into the palm of your hand. The tripod mount is nicely placed at the bottom of the camera and is position in the center. The tripod mount is made of metal as opposed to plastic, making it a sturdier choice.
Some of the major defects of the body are that there's no hand-grip, and you can't access the memory card or batteries when the tripod is in place. Also, the door to this compartment is made of plastic that could easily tear off if someone isn't too careful.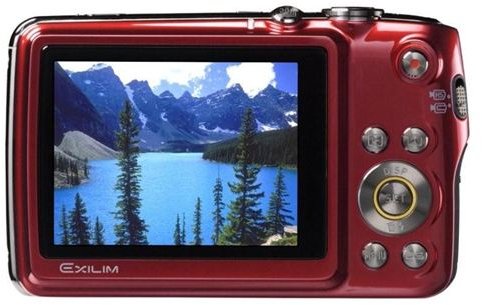 Controls (4 out of 5)
The 2.5 LCD screen has pretty standard controls, including the round navigation pad. Click down on this pad to get to the flash controls. Select the Set button to get into the menu options and the Control Panel. To the right of the LCD screen are a bunch of buttons that provide you access to ISO speed, white balance, exposure compensation, etc.
The camera has standard features and controls, which are clearly labeled. Since the Casio EX-FS10 is only a basic digital camera, the controls reflect that. The Slow and 3-D buttons are located above the LCD screen. The Slow button is something that you'll probably want to get familiar with. This setting pre-records images at eight different speeds. You decide which one will work best for you and click the shutter button. This is great for situations that require a fast shutter speed.
You do something similar to this with the Continuous Shutter mode, where you can take up to 30 shots per second at the lower 6 megapixels. Another great feature for fast-paced situations is the Prerecord CS; this will record up to 25 frames.
To speed up the action, look to the Lag correction function. It will pre-record images when you have the shutter pressed half-way down. The camera will save images that happened right before you pressed the button.
The camera also comes with a dedicated movie button. You can record movies in either High Definition or Standard Definition. There are a couple of problems with the movie recording feature. It records in AVI, which can fill up your memory card quickly, and it only comes with 10 minutes of recording time.
Critical Situations (2 out of 5)
In critical settings, such as low-light or night shots, the EX-FS10 performed rather poorly. The camera's maximum shutter speed is four seconds in Night Scene Best Shot mode. The camera also usually doesn't capture enough light in low-light situations, making for noisy or blurred pictures.
Value for Money (3 out of 5)
The value that you get with this little digital camera is well worth the $300 plus dollars that you pay for it. It's relatively inexpensive and a joy to use.