Review of Canon PowerShot SD880IS - Digital Camera Review & Buying Guide
Intro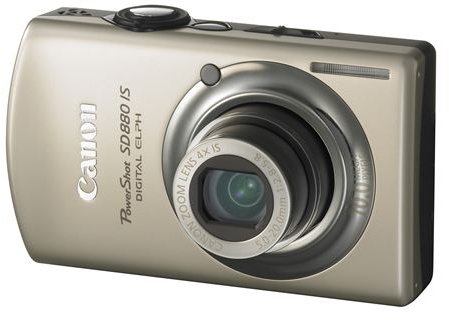 Since releasing the PowerShot SD1100IS, which is reviewed here, Canon has released the PowerShot SD880IS. As of late May 2009, the point-and-shoot model is Amazon's best-selling digital camera. The lower product number might suggest an older or less advanced model, but the camera is largely an improvement over the 1100. It has a couple of significant flaws, but it is popular for a reason. The slim, pocket-size camera will take good family snapshots and vacation photos. The photos will also make for sharp, large prints and online images.
Specifications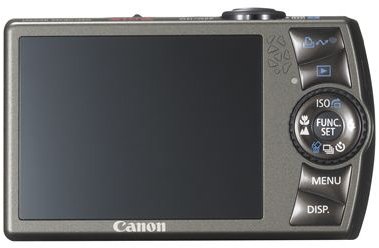 • 10 megapixel resolution
• 4X zoom
• 3" LCD viewfinder (no optical viewfinder)
• 80-1600 ISO
• Rechargeable Lithium Ion battery
• 32MB memory card included
• Dimensions: 3.69x2.24x0.93 inches (93.8 x 56.8 x 23.6 mm)
• MSRP: $300 (available online for less than $250)
Features (4 out of 5)
The PowerShot SD880IS is a nicely equipped, inexpensive camera. The 10 megapixel resolution is impressive at the camera's price point. Likewise, the 4X zoom is pretty nice for such a thin camera. Canon also continues to improve its image stabilization and face detection technologies.
On the downside, the 32MB memory card may be limiting, but that is easily and inexpensively overcome with a larger card. The lithium-ion battery is a tossup. The environmentalist in me likes the rechargeable battery, but my inner adventure tourist might like the versatility of widely available AA batteries, which are sometimes easier to find than power outlets.
The biggest drawback is the lack of an optical viewfinder. I still find greater stability holding the camera to my eye, and the bright LCD screen still doesn't quite compensate for really bright sunlight.
Value (4 out of 5)
If cost is the top priority, the PowerShot SD880IS might not be the camera for you. A cheaper camera will likely be larger, but it will deliver the same features in perhaps a sturdier package. On the other hand, a fair balance of cost and size might leave a buyer firmly in the SD880IS camp.
Design (3 out of 5)
The design might be the biggest drawback of the PowerShot SD880IS. Again, it depends on your perspective. Canon seems to be bucking popular design trends. While many companies focus on sleeker and more streamlined designs, Canon went slightly bulkier and more curvaceous with the PowerShot SD880IS.
Rather than being a symmetrical and square camera, it is more rounded and bulged on the side with the controls. It also has larger and control buttons on the back. Depending on taste, this can be more comfortable and user-friendly. It could also be simply less attractive.
Likewise, it is a matter of taste, but Canon is betting that all its users want basic silver and gold, rather than the bright reds, pinks and blues of other point-and-shoot Canon models.