Canon PowerShot SX1 IS Review - Is This the Right Digital Camera for You?
Introduction
The Canon PowerShot SX1 IS is the most recent successor to the series of worthy superzooms which started back in 2004 with the Canon PowerShot S1 IS. In subsequent years, the S1 IS was furthered refined in terms of processing power and megapixels and more features were added with the release of S2 IS, S3 IS and the PowerShot S5 IS. Now Canon breaks the mould and for the first time, brings in an entirely different lens for this series, and adds an 'X' to the nomenclature, releasing two variants, the SX10 IS with a 20X zoom lens and 10 MP sensor, and the SX1 IS having a CMOS sensor, RAW image capture mode and 1080p full HD video recording. This is the first few of the new generation prosumer digital cameras with a CMOS sensor, with Sony HX1 and Ricoh CX1 being a couple of others. It should be noted here that CMOS is the dominant sensor type used in almost all dSLRs and offers superior image capture ability. Full HD video recording is possible only because of the CMOS sensor. This makes the PowerShot SX1 IS a very exciting camera to work with.
Let's first look at the specifications:
Images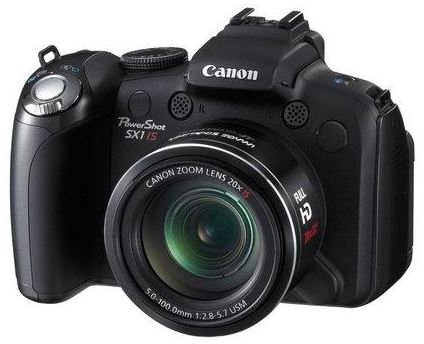 Canon PowerShot SX1 IS Specifications
Sensor: 1/2.3 " Type CMOS• 10.0 million effective pixels
Lens: 28- 560 mm equiv (aspect ratio 4:3), 29 – 580 mm (aspect ratio 16:9)• 20x Optical zoom • F2.8 - F5.7 (max) • 13 elements in 11 groups (1 aspherical element, 1 UD element)
Image Sizes: 3648 x 2736 • 2816 x 2112 • 2272 x 1704• 1600 x 1200 • 640 x 480• 3640 x 2160• 1920 x 1080
Processor: Digic 4
Movie clips: 1920 x 1080 (HD) @ 1080p• 640 x 480 @ 30 / 15fps• 320 x 240 @ 60 / 30 / 15fps• WAVE (stereo) HD) Up to 4GB or 29 min. 59 sec.(L and M) Up to 4GB or 1 hour
Sensitivity: Auto• Hi-ISO Auto• ISO 80-1600 (3200 as scene mode)
File formats: Still: JPEG (Exif 2.2)• Still: RAW• Still: RAW + JPEG Large/Fine• DPOF 1.1•
Movie: QuickTime MOV format
Auto focus: TTL • AiAF (Face Detection / 9-point) • 1-point AF (Fixed center) Focus modes • AF: Single, Continuous • Manual •
Focus bracket AF assist lamp: Yes
Focus distance: Closest 0 cm
Metering: Evaluative (linked to Face Detection AF) • Center-weighted average• Spot
Flash: Auto• Manual Flash On / Off• Slow Synch• Red eye reduction• Flash exposure lock• Flash Exposure Compensation +/- 2EV in 1/3 stop increments• Manual Power adjustment • Second Curtain Synch• Range: 50 cm - 5.2 m (wide) / 90 cm - 4.0 m (tele)
Hot-shoe: Canon EX Speedlites (270EX, 430EXII, 580EXII and older models) • E-TTL with EX series Speedlites, Canon's High Power Flash HF-DC1 Viewfinder •
EVF: (0.40" type) • 148,000 pixels LCD monitor • Vari-angle 2.8" TFT• 230,000 pixels• Adjustable Brightness • 100% Coverage
Connectivity: HDMI Mini Connector• USB Hi-Speed• AV out Print compliance •
PictBridge: Canon SELPHY Compact Photo Printers and PIXMA Printers supporting PictBridge (ID Photo Print, Fixed Size Print and Movie Print supported on SELPHY CP & ES printers only)
Storage: SD / SDHC / MMC / MMC Plus / HC MMC Plus compatible
Power: Compact AC power adapter CA-PS700,• Battery Charger Kit CBK4-300• Ni-MH Batteries NB4-300
Weight: (with no batteries) 585g (20.6 oz)
Dimensions: 128 x 88 x 88 mm (5 x 3.5 x 3.5")
On first look, the features that appeal the most are the 10 MP 1/2.3" CMOS sensor, a 20X zoom range from wide angle 28 mm (equivalent) to 560 mm (equivalent), RAW mode, 16:9 aspect ratio, full HD videos and continuous shooting up to 4 fps. Let us explore all these and other features in this camera.
Please continue on to the second page of this digital camera review to learn what the Canon PowerShot SX1 IS has to offer in terms of design, performance, features and more!
Camera Design (5 out of 5)
Anyone familiar with the PowerShot S series will first notice the huge 16:9 aspect ratio widescreen LCD screen and the different layout of buttons. The lens is different from earlier models and is larger in size. The second most noticeable thing about the PowerShot SX1 IS is the weight. It's definitely the heaviest of all PowerShot S models to date. That said, the grip and the weight of the camera give a very 'solid' and rugged feel to it, which comes quite close to holding a DSLR camera.
Other features summarized:
230000 pixel 16:9 aspect ratio 2.8 inch LCD screen makes up most of the rear of the camera. As with other S series PowerShot cameras, the screen can be swung out through 180 degree and swivelled through 270 degree, offering tremendously flexibility of positioning the camera. It's one killer feature which is impossible to live without.

SX1 IS gets a new 20 X zoom lens with Canon's immensely functional optical image stabilization.

The layout of buttons has been changed with the appearance of a scroll wheel and grouping of similar function buttons. The dedicated movie button still holds place of pride in the rear panel with buttons for manual focus and continuous shoot moving, along with a dedicated ISO button. All these buttons help reinforce the SLR feel a lot!

A dedicated print button makes an appearance, as does an aspect ratio button.

A bayonet hood ships with the camera.

Other features like the shutter release, zoom control and flash are the same as its predecessors.
The placement of the buttons on the PowerShot SX1 IS continues to be excellent and all buttons are easily reachable with the tips of the fingers or the thumb. One would never be found fumbling or hunting for the right buttons, it's all very intuitively placed. A nifty feature is a scale of focal lengths, both in absolute terms (mm) and 35 mm equivalents, printed on the lens barrel.
Features and Performance (4 out of 5)
I was most excited to check out how the new lens performed as compared to the earlier one. I own a PowerShot S3 IS - this particular camera shows a fair bit of purple fringing and vignetting at the longest zooms in high contrast conditions, so I wanted to see if Canon has improved this flaw. I'm not too happy to report that these flaws still haunt the new lens too. But I guess the cribbing stops here. In most other conditions the pictures turn out well and, in full auto mode, the SX1 IS is simply a winner!
The next feature I wanted to check out was the 4 fps continuous shoot. Though the camera delivers what it promises, one caveat here is that 4 fps is achieved only with continuous focussing turned off. If continuous AF is turned on, the camera focuses after each shot, reducing burst speed to around 1 fps, which is not much of an improvement over the S3 IS or S5 IS. That said, the AF does a very good job and the output is sharp and quite impressive. The continuous mode offers unlimited shots in all modes except the 'Superfine' JPEG, where it's around 20 shots.
Canon offers RAW mode in its prosumer cameras. One can also capture in RAW+JPEG mode. This feature would appeal to all photographers who seek more control over their images and would definitely prove to be a deal clincher, as one does not often find RAW mode in non-SLR cameras.
The SX1 IS also offers full HD video capture, amongst the first of non-dedicated-video-cameras to offer this feature. Though one can only capture 30 minutes of video at this resolution in the cut-off 4 GB size, it's still a worthy feature and good to have for all those on-the-spur moments.
Finally, the most significant feature of this camera - the CMOS sensor. Now, my opinion is divided when it comes to this. Though the output of this sensor is definitely good, maybe even better compared to its predecessors, it definitely is not as good as the CMOS sensors of the dSLRs from Canon. For example, ISO200 and above still remains just as noisy as in S5 IS. The PowerShot SX1 IS still struggles to get the exposure right in high contrast situations and often ends up blowing out backgrounds. Maybe I shouldn't expect a performance similar to SLR cameras, as it's comparing two different things, but the combination of CMOS and RAW mode is bound to evoke such comparisons. Let me again make it clear that I'm being finicky here and this camera gives great results most of the time. It's only the fact that it comes from a company from whom I expect the world that makes me so particular!
Please continue on to the final page of this review to find out how user-friendly the Canon PowerShot SX1 IS is and whether or not the camera is worth your money.
User-friendliness (5 out of 5)
The Canon PowerShot SX1 IS scores full marks here. For a novice or a beginner photographer, this camera is a God-send. The Auto mode does an excellent job and gives very sharp and correctly exposed images. The macro mode is simply superb, with minimum focussing distance being 0cms. Additionally, the Auto ISO mode is fairly accurate. The video mode is accessible at all times, irrespective of the still mode one is shooting in, and conversely, one can take a photo at the highest resolution right in the middle of a video being shot. The zoom lever is fully operational while shooting video, and a fine touch is that one can zoom really slow and noiselessly while in the video mode, offering very good control over the shots.
Value for Money (3 out of 5)
Now comes the most important part, which is also quite subjective. The Canon PowerShot SX1 IS retails for around $550. So, is it worth that much money? To put it straight, I think not. The extra money is for the CMOS sensor and HD video capability. But given that the CMOS does not perform as well as one would expect it to, I think it does not justify its high price. A basic dSLR camera is available today for just slightly more. Its sibling camera, the SX10 IS, offers all the features of the SX1 IS but with a CCD sensor and no HD video, it retails for a good $100 less. So for people who wouldn't care too much about HD video, the SX10 IS makes for a more sensible purchase. But if the price of the PowerShot SX1 IS were to fall sometime soon, this camera would be right up there screaming 'buy me'!
Final Conclusion
As a bridge between the advanced compact digital cameras and beginner's dSLRs, the Canon PowerShot SX1 IS occupies a unique spot. It's as close to an SLR as possible without actually being one. So for a person who needs a fantastic camera with high grade performance, an extremely long and usable zoom range, HD video mode, RAW capture and 16:9 aspect ratio mode, without the bother of changing lenses and carrying all that extra weight around, the SX1 IS should feature somewhere near the top of his or her shopping list.
Recommended.