Review of the Nikon Coolpix S220 – 10 MP Ultra Compact Digital Camera under $200
Overview of the Nikon Coolpix S220
Although it is one of the lowest priced digital cameras in Nikon's Coolpix line, the Coolpix S220 still boasts 10 effective megapixels, a 3x zoom lens, and a number of other impressive capabilities. We'll talk more about those capabilities in a moment, but first let's take a brief look at some of the camera's highlights.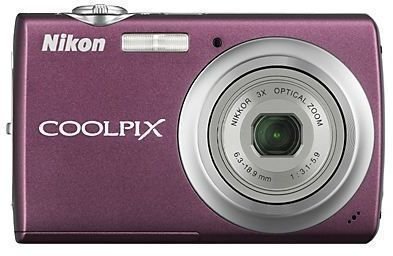 Nikon Coolpix S220 Specification Highlights:
10 megapixels (MP)
3x Zoom-NIKKOR lens
1/2.3-in. CCD image sensor
44 MB internal memory, supports SD/SDHC memory cards
Electronic Vibration Reduction (VR)
ISO Sensitivity: minimum 80, maximum 2000
2.5 inch TFT LCD monitor
Rechargeable Li-ion battery EN-EL10 (included with camera) – battery life of approximately 180 shots
Features (4 out of 5)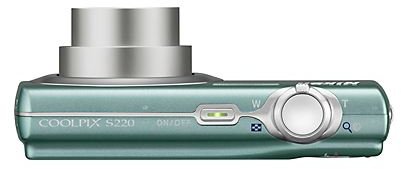 Like any Point and Shoot, the Coolpix S220 puts a huge emphasis on automated features that place a fair amount of the burden of "taking a good photograph" on the camera rather than the photographer. One of these features is the Smart Portrait System that is able to detect up to 12 distinct faces in an individual shot. When taking single-subject photos, the Smile Mode and Blink Proof function make it a lot easier to capture that perfect moment. As I was testing these features, I immediately thought about how handy they would be when taking pictures at family gatherings or holiday parties.
The Coolpix S220 also includes four movie modes that allow you to capture short videos with the digital camera. While this camera is certainly no replacement for a device that specializes in video recording and the results can be a little grainy, it's still a nice supplement to the camera's other capabilities.
Despite all of the automated features, you probably will need to experiment some with the settings and options in order to get the most out of the Coolpix S220. You certainly can start using the camera "right out of the box", but your pictures will turn out a lot nicer if a little effort is put into understanding the capabilities of the camera.
Design (5 out of 5)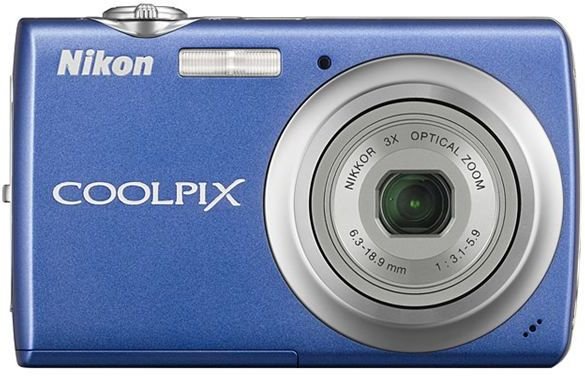 After lugging around a DSLR camera for so long, I had almost forgotten how nice it can be to use a lightweight, compact Point and Shoot. Not counting the battery and memory card, the Coolpix S220 only weighs about 100 g (3.5 oz.). With ultra slim dimensions of 89.5 x 55.5 x 18 mm (3.5 x 2.2 x 0.7 in), it's small enough to slip into a pocket or the side compartment of a handbag.
The major controls for the camera are easy to locate and large enough that you shouldn't have to worry about too much fumbling around when operating it. Although this may not seem like such a noteworthy point to some, this issue can cause frustration in other digital camera designs due to the compact form factor.
The Coolpix S220 is available in several different color schemes, including purple, magenta, cobalt blue, and aqua green.
Ease of Use (4 out of 5)
As I mentioned earlier, you shouldn't have any trouble snapping decent photos with the Coolpix S220 as soon as you get the battery initially charged. The camera controls are easy to interpret and use, and the LCD screen does a pretty good job with helping you line up your shots. However, if you want to take advantage of all of the features found in this digital camera, be prepared to spend a little bit of time reading, experimenting, and practicing.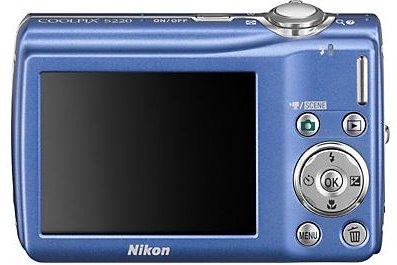 Price to Value (5 out of 5)
The Nikon Coolpix S220 has a suggested retail price of $199.95 Canadian. (The U.S. list price is $149.95.) This price includes the camera, the Li-ion rechargeable battery, a battery charger, a USB cable, an audio/video cable, a camera strap, and accompanying software.
The only thing missing is a memory card for additional storage, but since the camera has a small amount (44 MB) of internal memory, you can still start taking photos as soon as the battery is charged. I still recommend purchasing a memory card as soon as possible – that initial 44 MB gets used up awfully fast, especially with 10 MP photos.
Depending on your planned usage, you may also want to check into getting a spare Li-ion EN-EL 10 battery at some point.
Overall Rating (5 out of 5)
The Nikon Coolpix S220 is an excellent choice for those that don't want to invest a lot of money but still want access to a lot of excellent automated features. It would also make a great starter camera for those who aren't quite sure just how far they want to take their digital photography hobby yet. If you're a bit more serious about your photos and want more flexibility and control, you would probably be better served to check into some of the higher-end models in the Coolpix line. But, for its price and intended audience, the Coolpix S220 is a deal that's hard to beat.